Dancing on the Square Project 2018: Work Is Under Way
January 19, 2018, 4:47 pm
The Dancing on the Square project is set to continue in 2018, with plans to involve 526 students from 24 schools this year. And preparations are already under way! The first and most important step is that to ensure that the teachers and dance instructors working with the children are able to commence this months-long period of rehearsals equipped with the necessary inspirational and educational toolset. Our collaborating partner, the Foundation for Democratic Youth, will be there to support us and will organise two workshops for project participants.
The aim of the Dancing on the Square project is for children to create an artistic production together with the Budapest Festival Orchestra. We believe it is just as important, however, for them to develop a number of other skills during the rehearsals, performances and other related programmes: collaboration, teamwork, persistence, empathy, attention, striving to reach long-term goals and self-discipline. We would like to show that it is possible even for children coming from the most diverse origins and backgrounds to work together in a fantastic way and even to forge lasting friendships.
We heard a vast number of ides and outstanding thoughts, and witnessed so much enthusiasm, at the first session with the educators on 13 January. We are looking forward to seeing the next group on 22 January!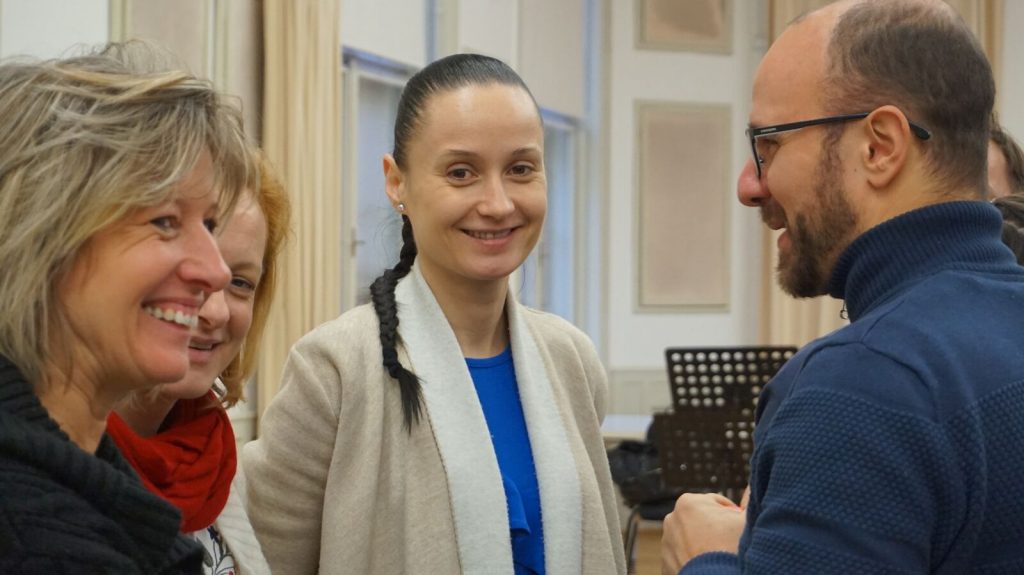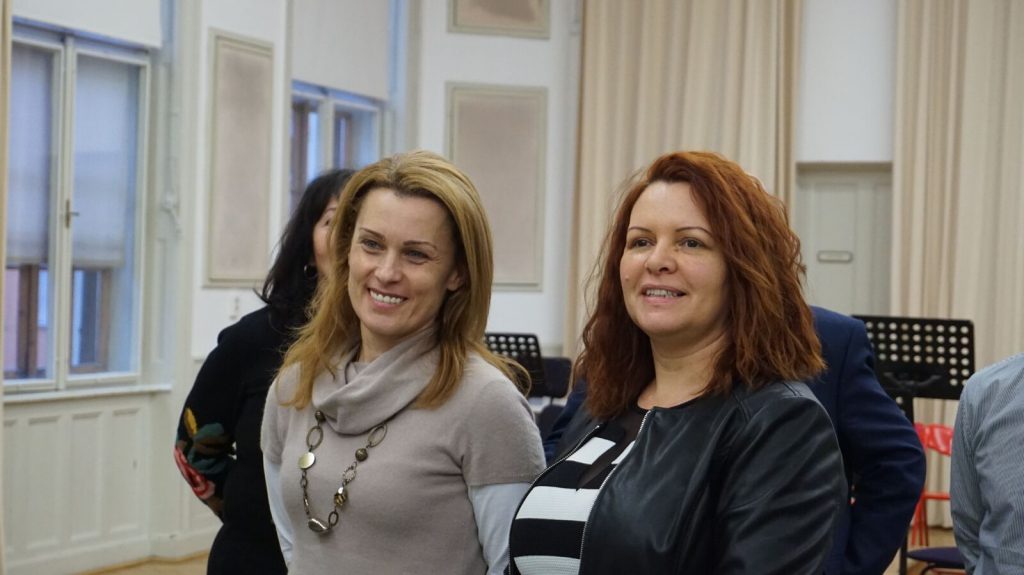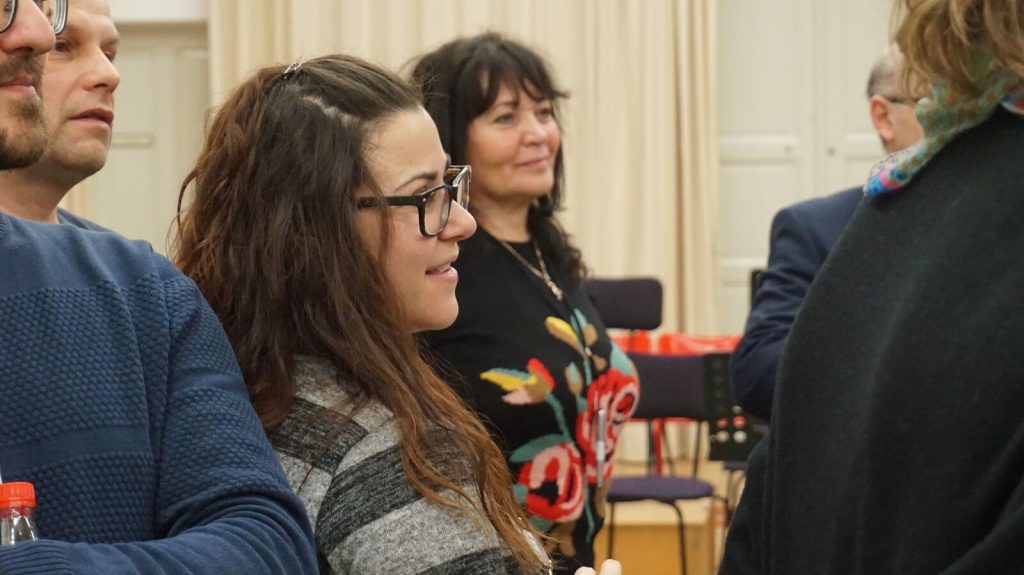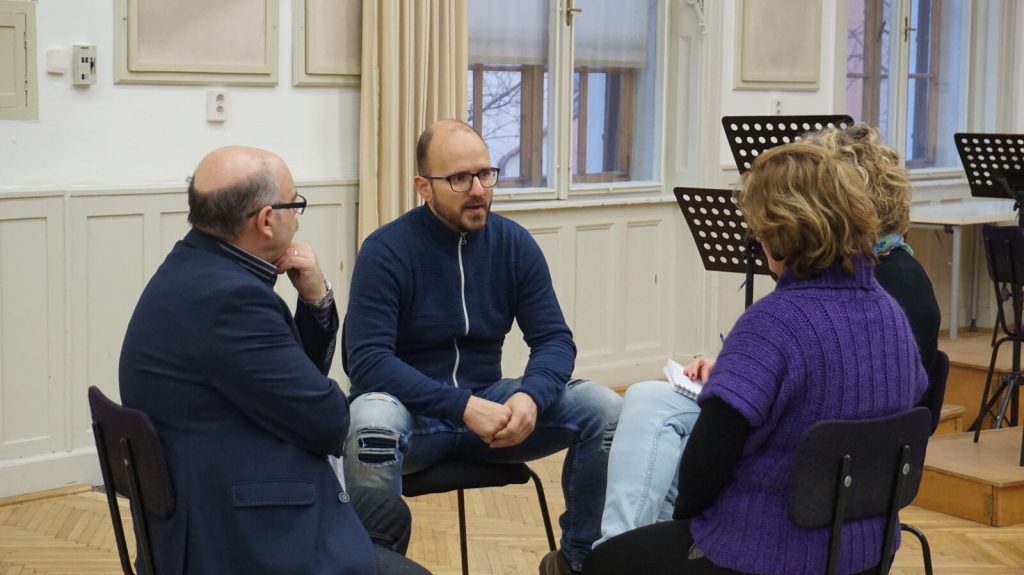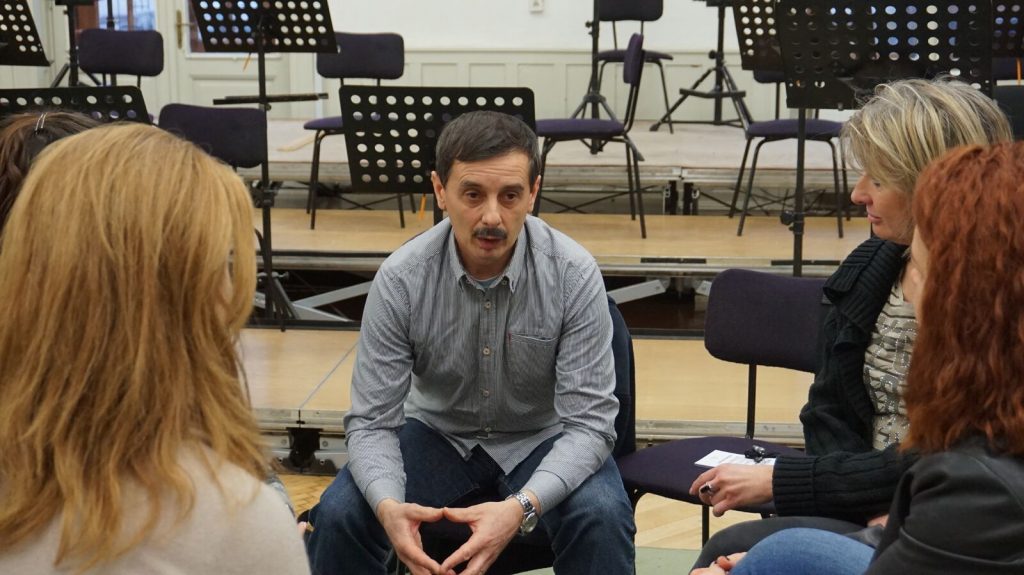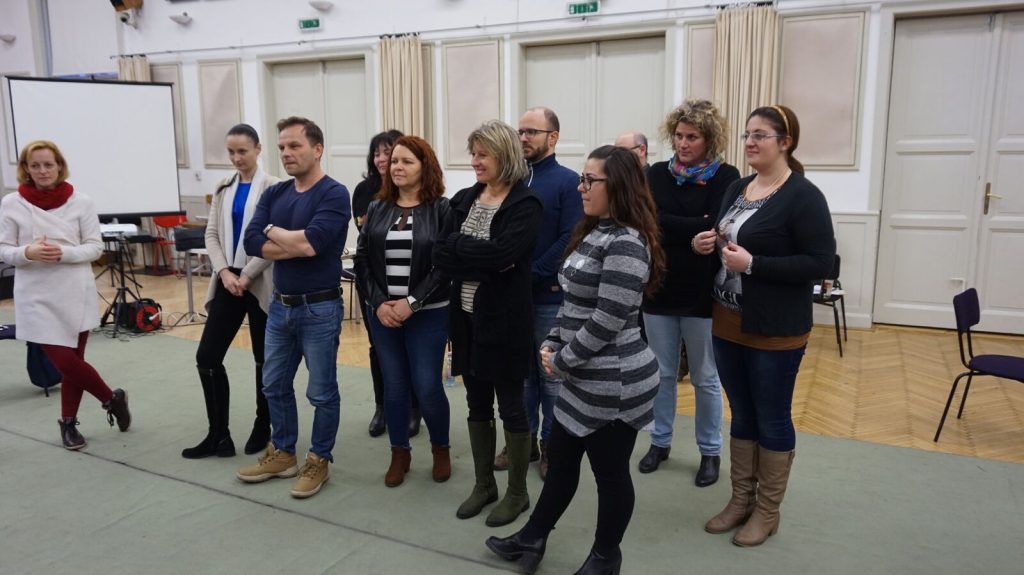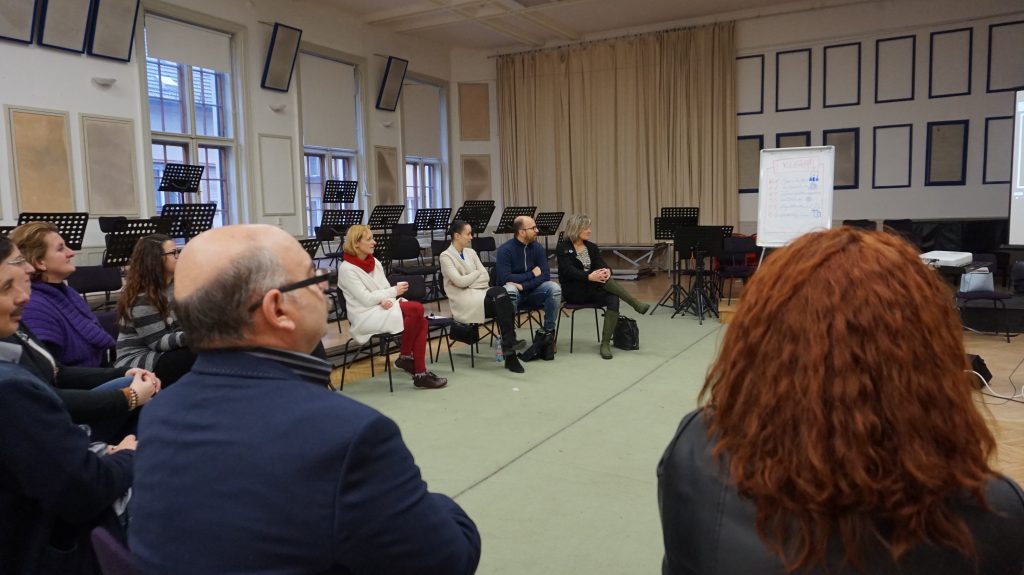 Open doors and superheroes in Hollókő
November 13, 2017, 2:54 pm
"The Dancing on the Square camp has opened my mind," said one participant after the camp.
This summer, for the second time, we had the opportunity to organise a summer camp for children participating in the Dancing on the Square project and their teachers. While we do have some expertise in organising camps and transporting children, these camps always still fill us with a sense of excitement and expectation.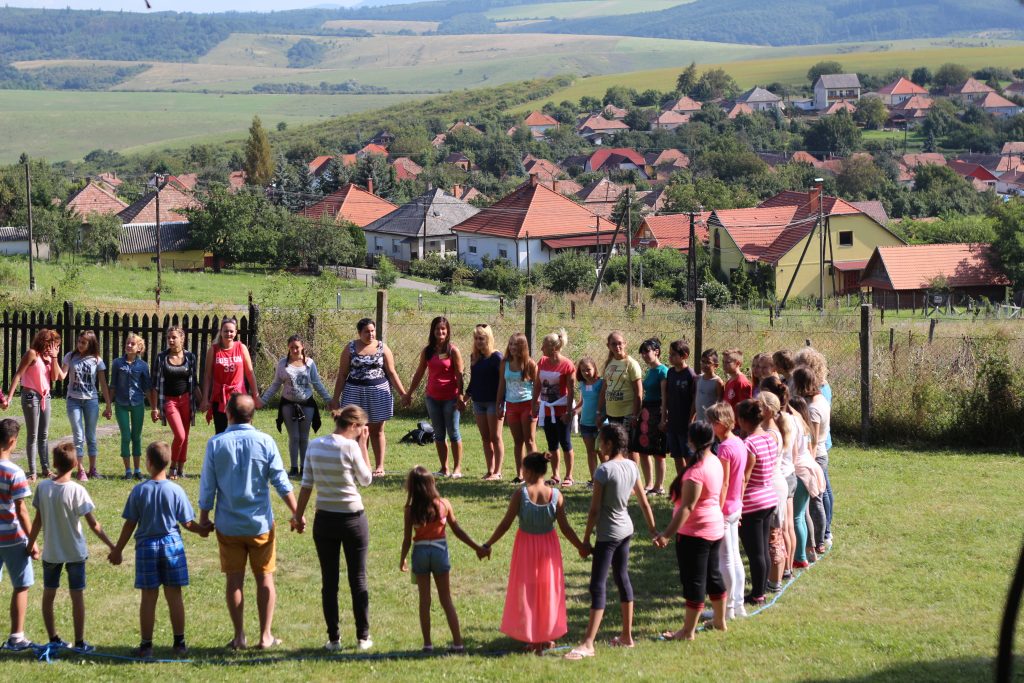 We wondered if we would be able to provide participants with the kind of experience that would be a worthy continuation of their involvement at Heroes' Square and their months of hard work getting ready for that performance. Following the success of the 4-day camp we hosted last summer, we also wondered if we would be able to offer something novel, exciting and also an experience for those who are returning participants, while also being educational. Oh, and of course it was to involve music! The staff of the Foundation for Democratic Youth (DIA) is well known for their creativity and their ability to cope with challenges. Still, this was an exciting situation even for them.
We looked at what made last year's camp so good: at what we should be keeping and what new elements we should be incorporating.
What worked well last year:
establishing and adopting rules shared by all
creating and sustaining an atmosphere of mutual trust
mutual respect
the peaceful resolution of conflicts
plenty of exciting developmental games and activities
personal attention
plenty of music and plenty of physical activity
We retained each of these elements, but structured the entire camp around the theme of "superpowers". Why, you ask? Because the camp hosted children of highly diverse backgrounds, coming together from very different places. Many of them lack self-confidence; many of them may not be particularly successful in school; and many may not be aware of their own skills, abilities and opportunities. While we are well aware that four days is too short a time to overcome all of the disadvantages that these children may have accumulated, it is still enough to provide an experience that can serve as momentum for teachers and children alike. We therefore chose to focus on superpowers and on helping each participant – children and the accompanying teachers alike – to explore their own superpowers as well as those of others, and to consciously learn to master them.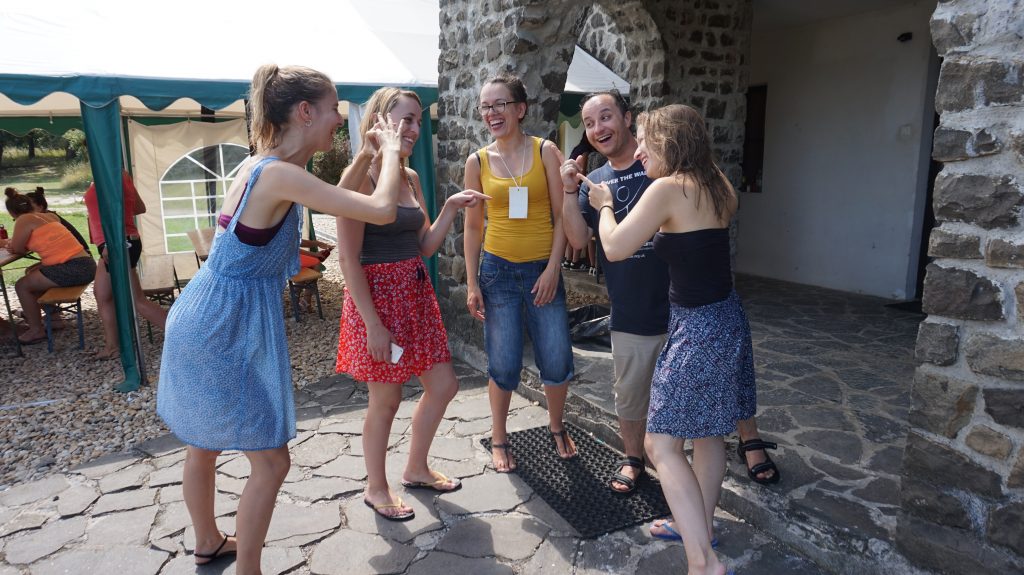 We therefore had to create an environment, and do so quickly, where this process of exploration may take place. What did this require?
an incredibly enthusiastic, committed and creative team
a long and thorough planning process
plenty of previous experience
plenty of developmental games and activities
a flexible venue
rules established and respected by all
open-minded children and teachers
constant reflection
So what ultimately happened? Well, actually, nothing all that special, just a minor miracle which involved 45 children and 10 adults, who together were very quickly able to become attuned to one another and to create, play, think, explore, make friends, and get to know one another. There were team games, debates, coconut-chocolate dessert sessions, missions impossible and plenty of challenges. And of course, plenty of music, provided by Lasho Drom, the Melodika Project, young musicians of the Snétberger Centre, and Edina Balog. The singing dog – a portable amplifier – of the Festival Orchestra was another key character, which various enthusiastic members of the ensemble would tow behind themselves while playing excerpts from classical pieces, inviting participants to join the activities. Another uplifting experience was when two members of the DIA team, Andi (our financial specialist) and Balázs (who was completing his professional internship with us) played the guitar together for the children by the virtual campfire. The drought made it impossible to light a proper fire, so we ended up projecting a neat campfire on the wall indoors, lighting a number of candles and playing music and singing into the wee hours.
The highpoint of one of the camps was when the children themselves proposed hosting a talent show, which they then proceeded to organise. Three teams took part, and at the end of the show, one particular little girl got up on stage to dance. In the preceding 3 days she was unwilling to join any activity and did all she could to get us to send her home. But we did not. Her performance, however, was well-deserving of the heartfelt applause it received.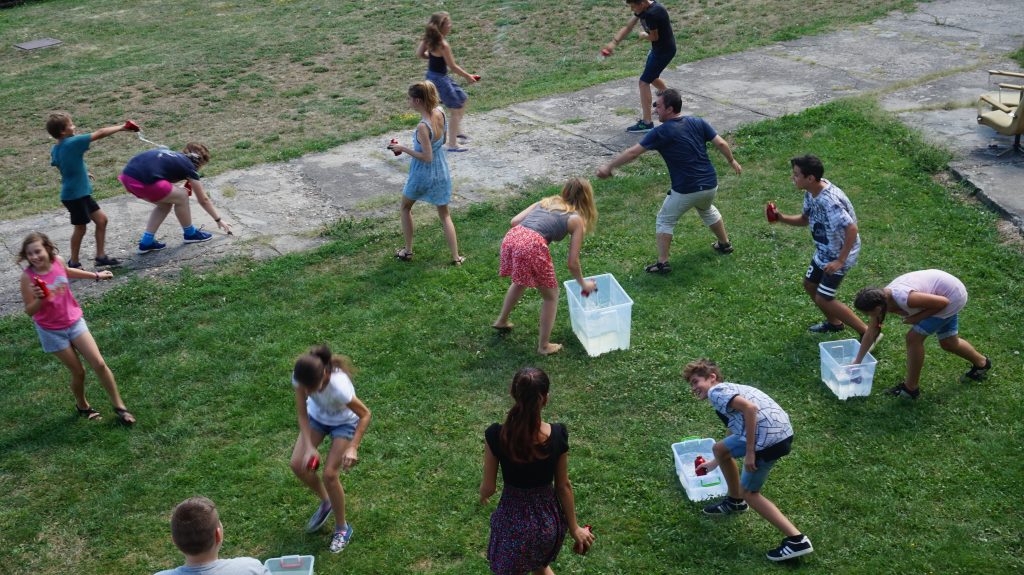 Another highpoint was when the Lasho Drom group held a sensitivity training session for participants before their concert one evening, just as the sun was setting. They discussed what it is like to be Roma in today's Hungary; the prejudices and false beliefs surrounding the Roma; what makes the music they play exciting; and what coexistence is really like.
We should also mention, of course, that the heat wave was unbearable even there, in the Hollókő hills, and was compounded by the happy sounds of frolicking in the water at the imposing wellness centre that had been built in the vicinity. But we let nothing get in our way, and got hold of some water guns and organised an impromptu water fight.
So what was it about open doors? Well, the main gate of the camp on the hillside was open the entire day. We only closed it at night. But not one person walked out that gate. Everyone respected the common rules. Of course, one of the greatest tests of strength was the expedition to the village the teams had to organise. This meant that they were, actually, able to leave the camp on their quest to find crucially important pieces of information such as the name of the cashier in the shop; the largest livestock in the village; the oldest building; and the type of musical instrument housed in the church. Scoring was based primarily on the creativity of the team and how much effort they put into their expedition. It was fantastic to listen to their enthused accounts of how they sang songs to get Aunt Rózsi to come outside while making pork chops, how they supported their teammates wilting in the 40 degree heat, and how they found the BFO pins hidden around the campsite.
We are proud of how it was not just the children who would gladly have stayed on, but also the adults escorting them, who volunteered their free time and summer vacation to accompany the children to the camp. It is important to note that their group included preschool educators, primary and secondary school teachers, dormitory teachers, dance instructors, after-school mentors and a volunteer helper whose day job is as a pharmacist.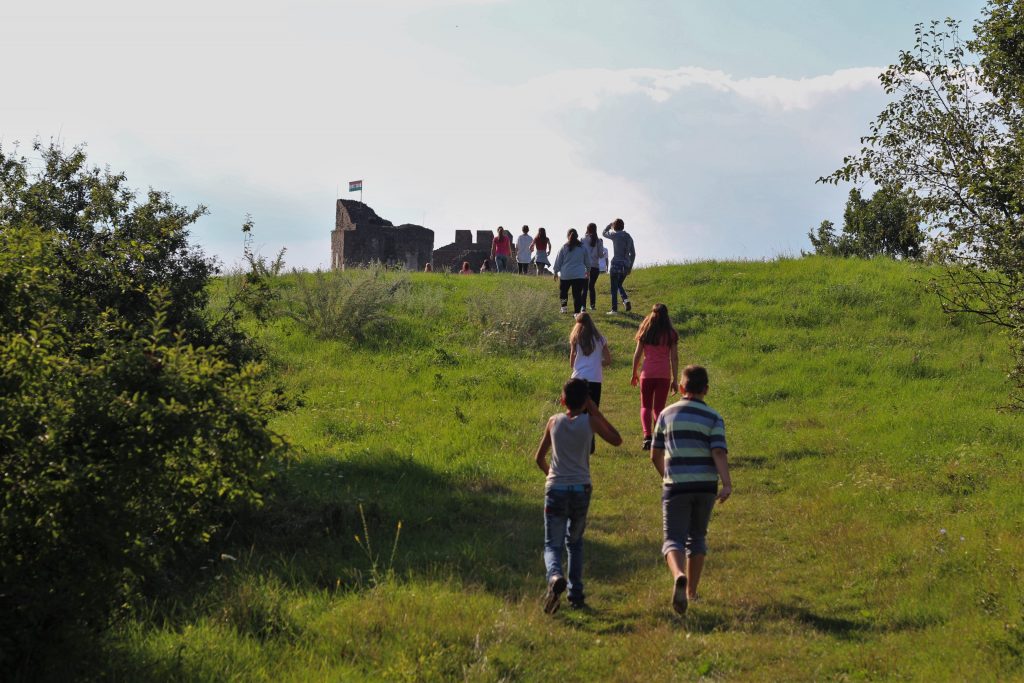 One of the key objectives of the Dancing on the Square project is to bring children of various backgrounds together and share with them the joy of creating together. This is something we were able to reinforce quite a bit in the camps, and we were also able to provide inspiration to the accompanying teachers to continue their work. We agree with Iván Fischer: it is through projects like these that the world becomes a better place, little by little. We are happy to have had the opportunity to be a part of this adventure.
Rita Galambos, Director, Foundation For Democratic Youth
"The camp opened my mind"
August 23, 2017, 10:43 am
The young dancers of Heroes' Square did not stray far from the Dancing on the Square project during the summer: the fantastic team from the Budapest Festival Orchestra and the Foundation For Democratic Youth organised one summer camp in July and one in August for the children and the accompanying adults, who, like the youngsters, also learned and experienced a lot and of course had loads of fun in Hollókő.
The goal was to teach participating kids from disadvantaged and better-off areas about cooperation, communication, creativity and critical thinking in a playful way, to help them learn as much as possible about one another and themselves, and to keep an open mind in their interactions.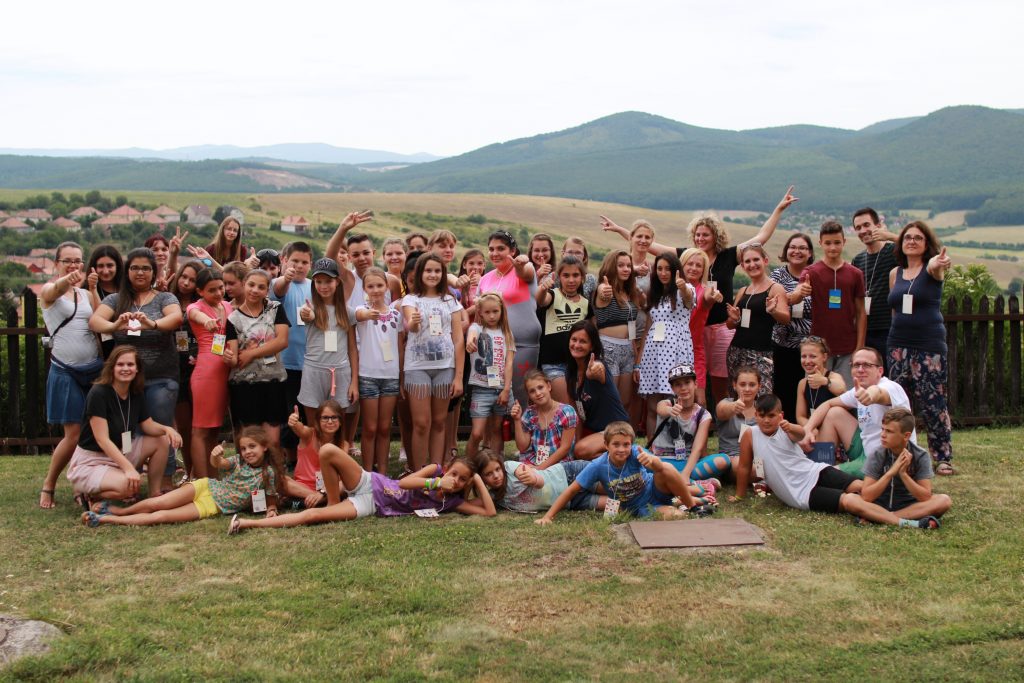 FDY created a genuine "Hero Academy" for the kids, where they could face challenges and adventures in a constant learning process, mostly about the heroes of their own lives – themselves – and of course about their own superpowers.
Not a day passed in the camp without music and dancing. All activities took place in mixed groups involving cooperation and, while each day ended with some reflection on their own performance, their progress, and any mistakes they had made.
The reactions of the kids spoke for themselves: "Couldn't we stay for another week?", "I've made so many new friends!", "Everyone's been so nice to us, there was no yelling", "I'd love to take all the organisers home in my backpack", "the camp opened my mind to things", "I liked the music and had lots of laughs during the activities".
It was a wonderful experience full of goosebump moments and laughter. A big thank you to all the participants! And now, let the photos do the talking: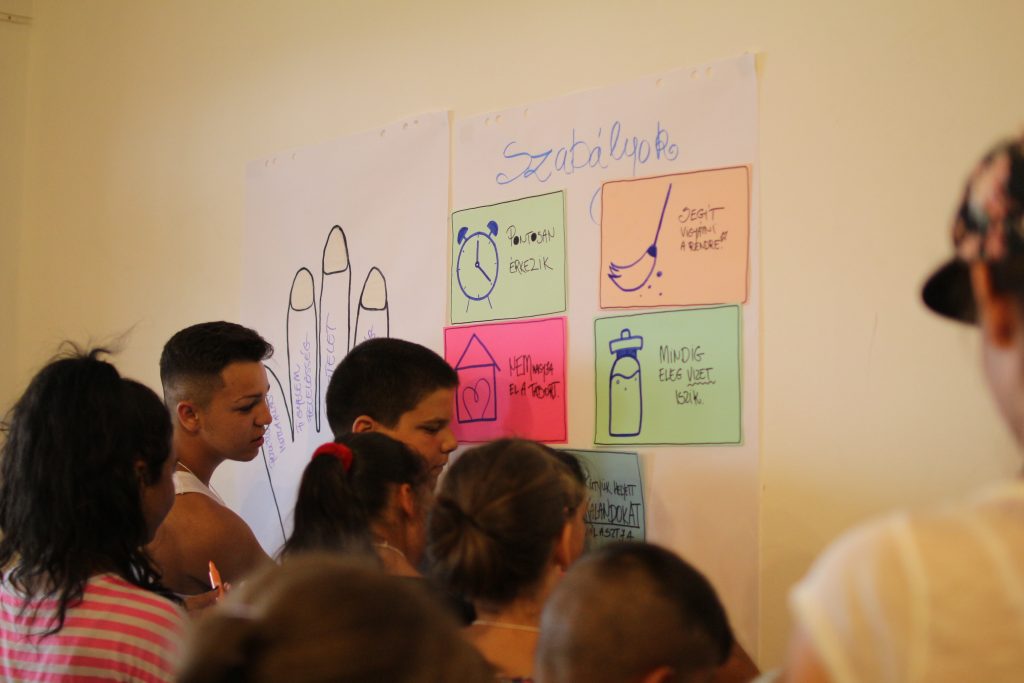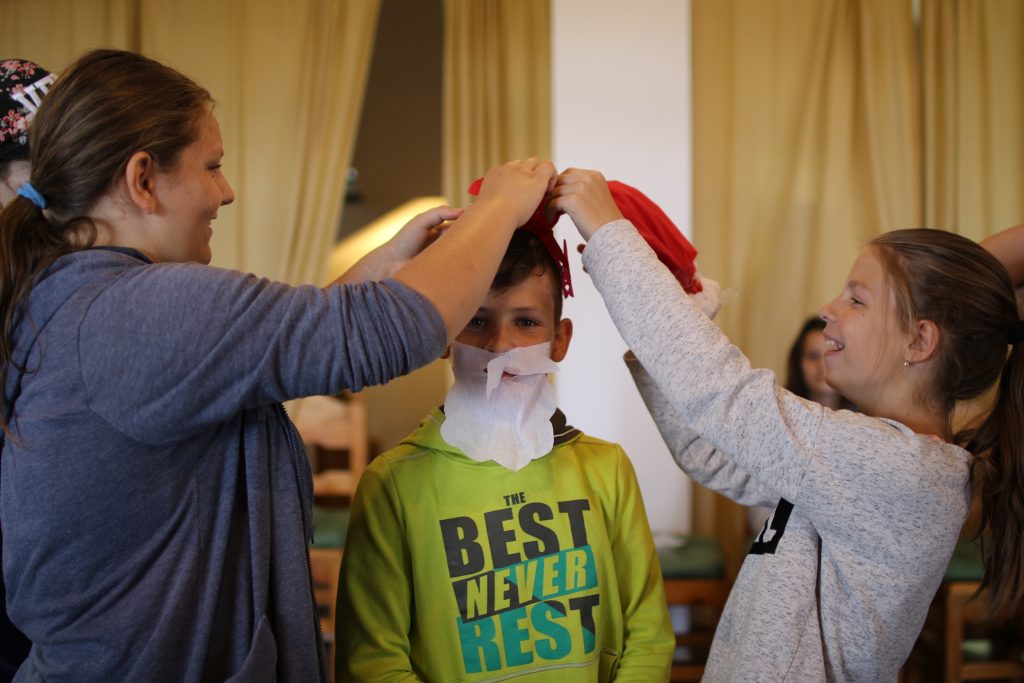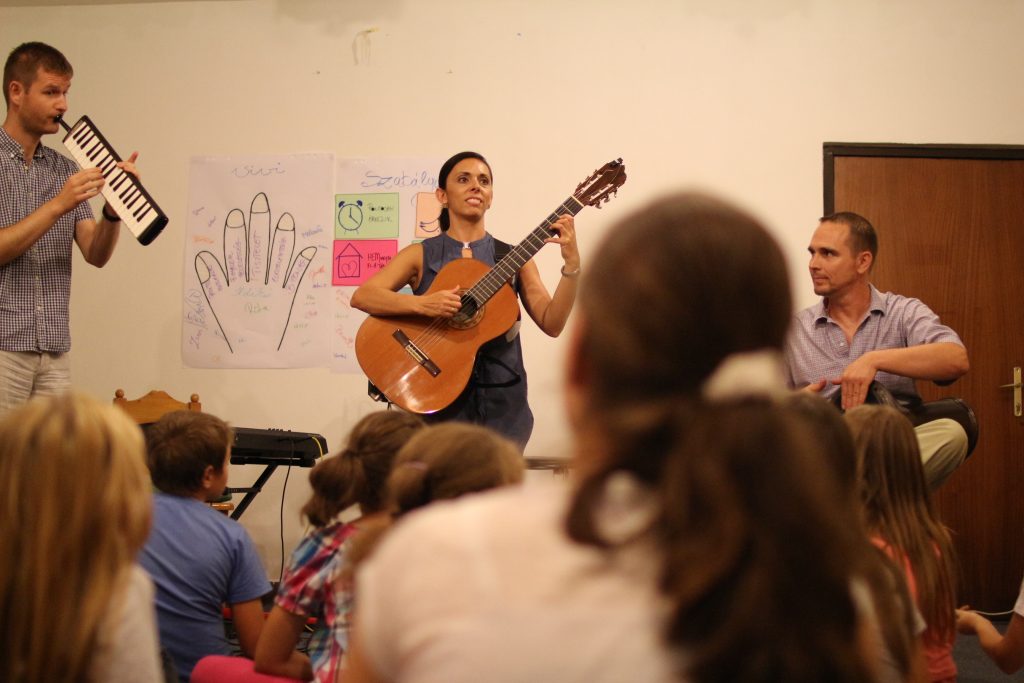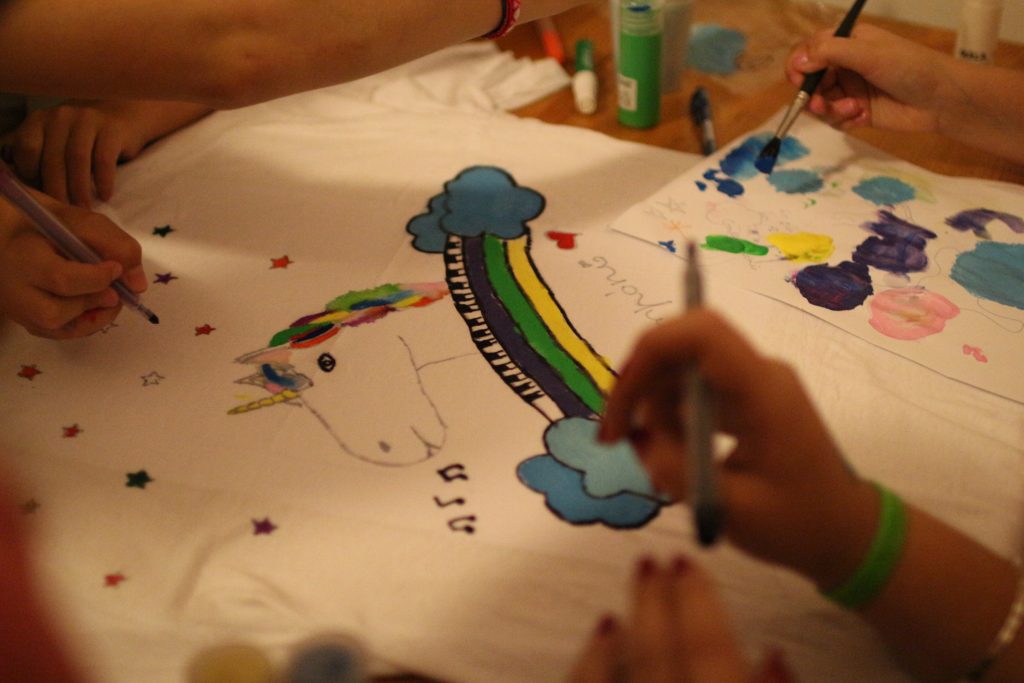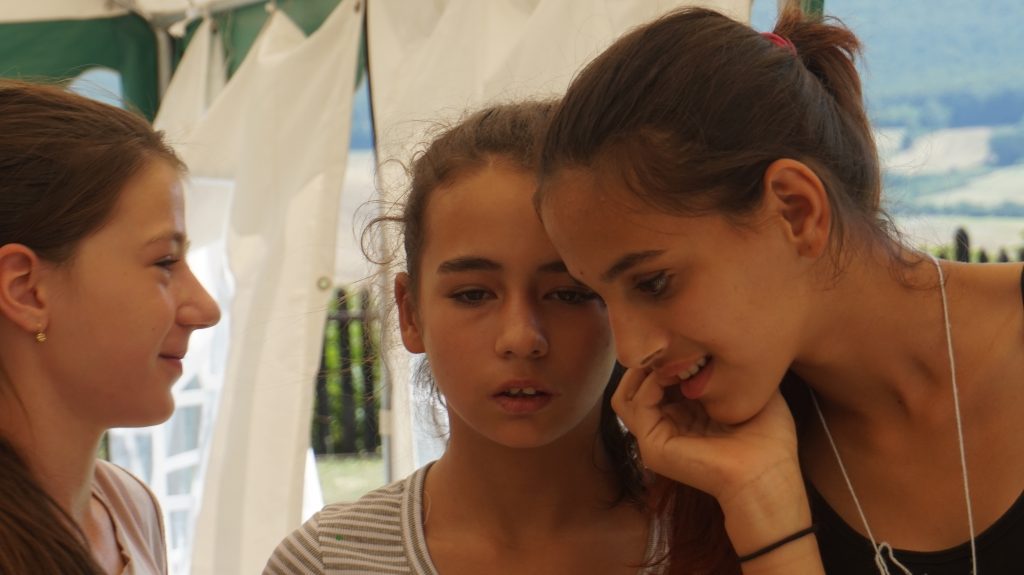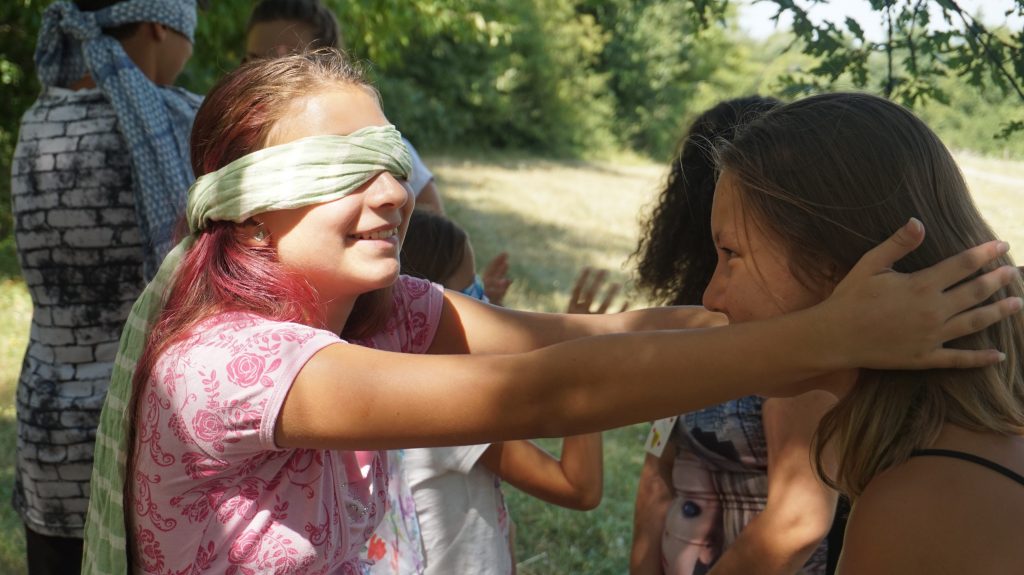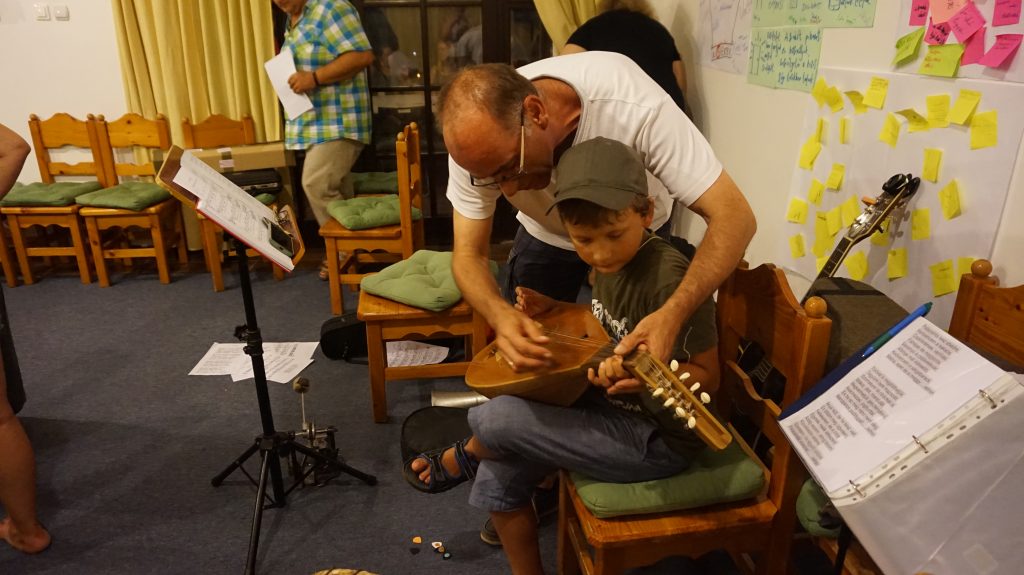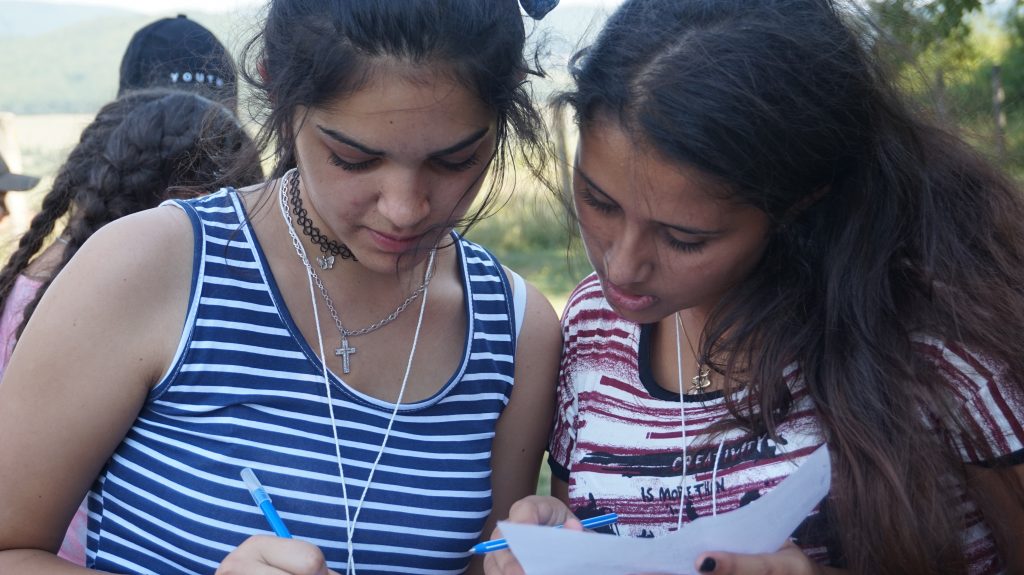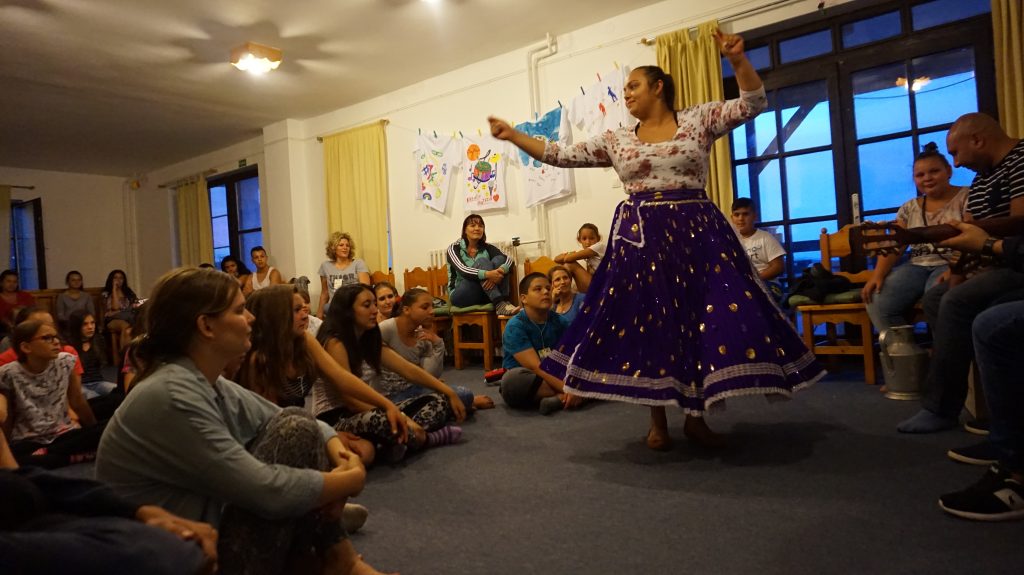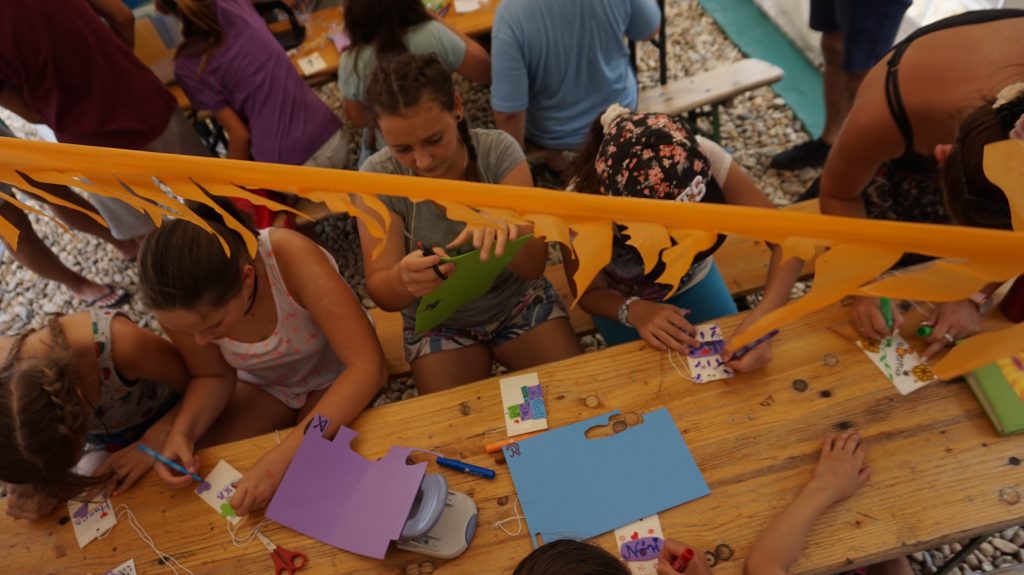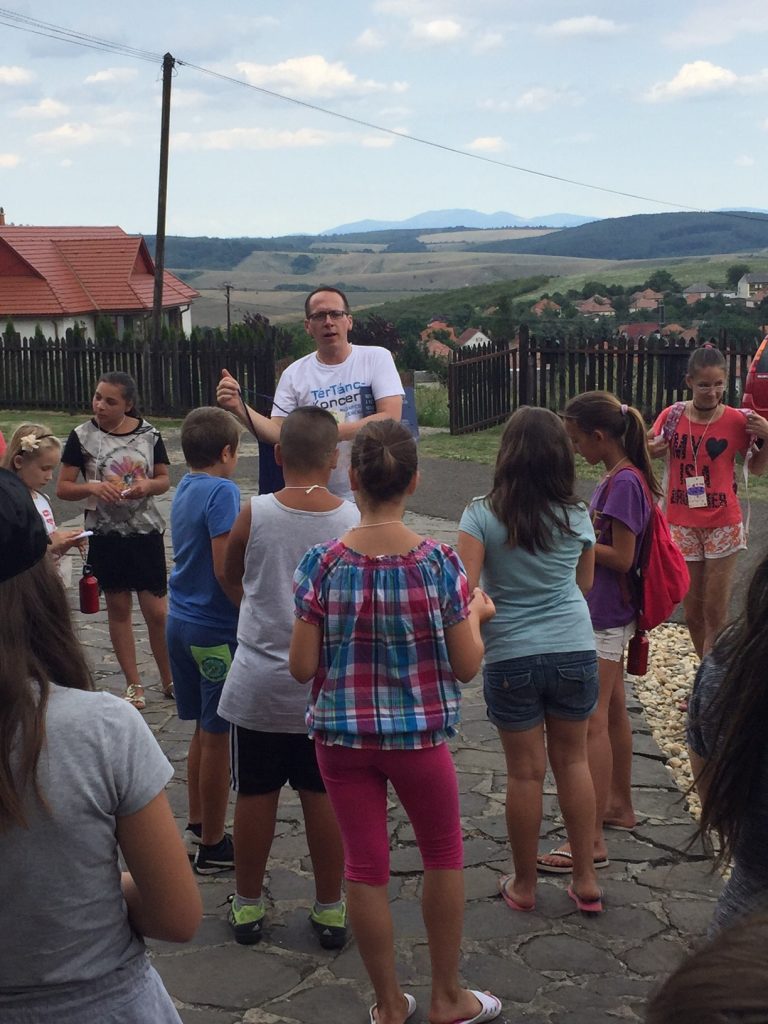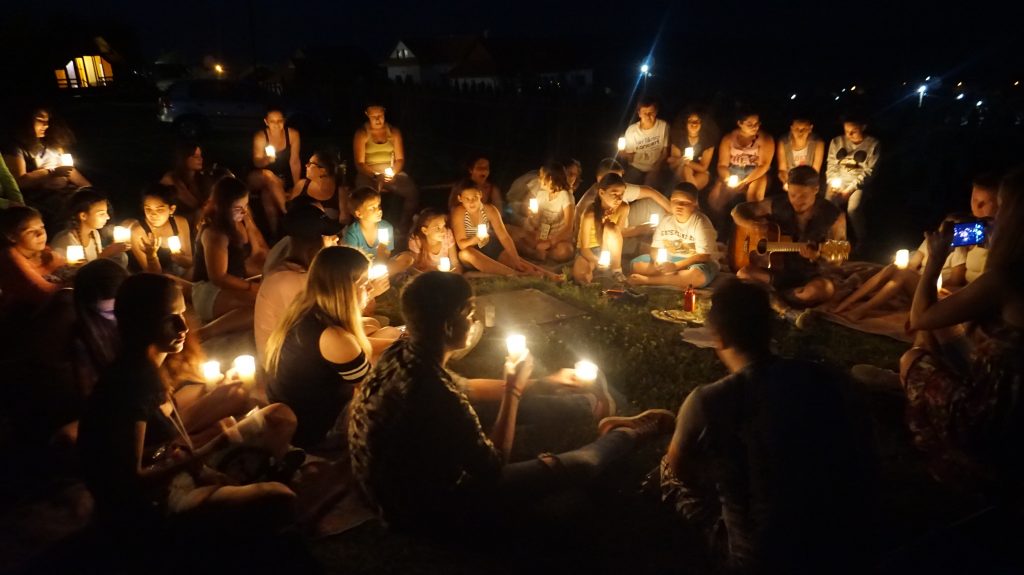 "They have a face, a life and tousled hair…"
June 16, 2017, 3:55 pm
The writer and poet János Lackfi, an ambassador of the Dancing on the Square project, provided a crystal clear description of what it felt like to be a spectator in Heroes' Square and to share the joy of 10 June.
I appreciate the opportunity to have been one of the ambassadors of the BFO's Dancing on the Square project. It was terrific to sit in the sunshine on Heroes' Square – on recycled chairs, in fact! – for this true celebration of joy.
I was thinking that it is these types of things which advance the world: these critical moments filled with quality music, a historic atmosphere, precise sound amplification and children of very different social backgrounds immersed in the music.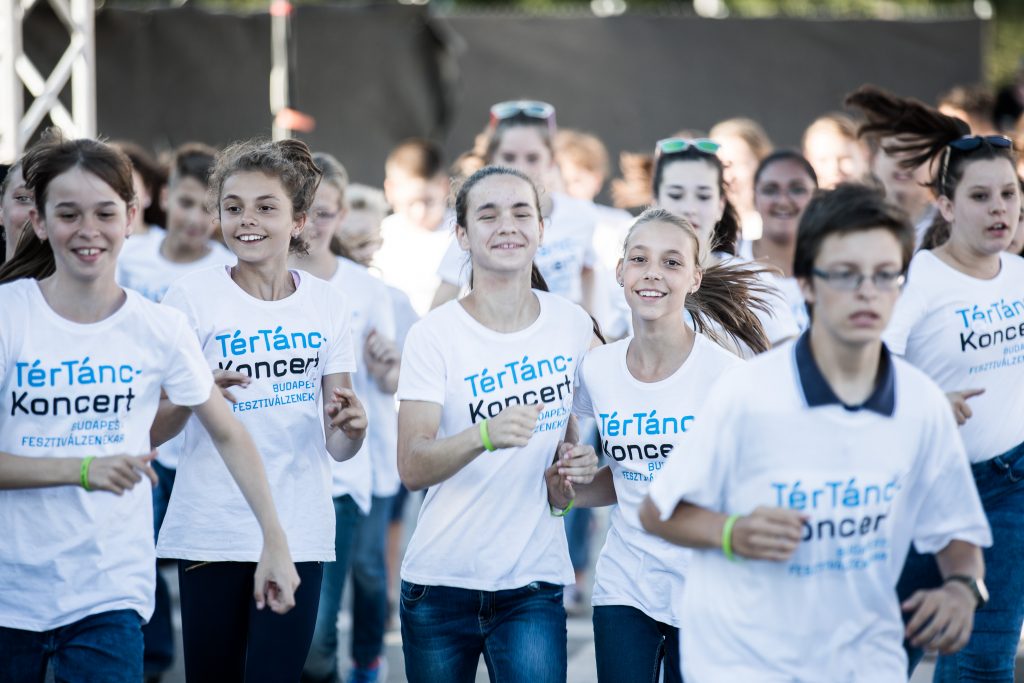 And yet the concert is by no means sterile. There is always a little bit of pushing, cell phone use, of 'hey, man, where's Melinda, I can't see her', 'scoot over, let me film this', 'look, he's waving' and 'old man, relax already'. And then there are the music aficionados, who try to shush others as though they were in Müpa – which is of course true, but we also entered the lives of so many for whom this was an amazing event – one that they rarely have the opportunity for. They wave as they perform the choreography; they have a face and a life, their hair is tousled; and while they each stand out from the crowd, wearing their identical t-shirts, they blend into and become a part of the whole. This is how we really come together!
Heroes' Square full of dancing children
June 16, 2017, 1:43 pm
Thousands turned out once again in Heroes' Square last Saturday (10 June) for the Dancing on the Square performance led by Iván Fischer, where five hundred fabulous young people danced together to the music of the Budapest Festival Orchestra.

The heroes of the day on 10 June were clearly the children who danced in Heroes' Square before an audience of seven thousand people, performing choreography created for them by Harangozó Award-winner Bertalan Vári, to the live music of the Budapest Festival Orchestra. The young people, both Roma and non-Roma, some from disadvantaged regions and some more fortunate, spent months preparing for this day in 25 different schools around the country. The culmination of the project was their performance as a group, demonstrating what they are capable of – as in previous years, it was a cathartic moment. In addition to the performance itself, the Festival Orchestra organised cultural and community programmes for the children, who will also be able to attend the Dancing on the Square summer camp, hosted by the BFO and the Foundation for Democratic Youth.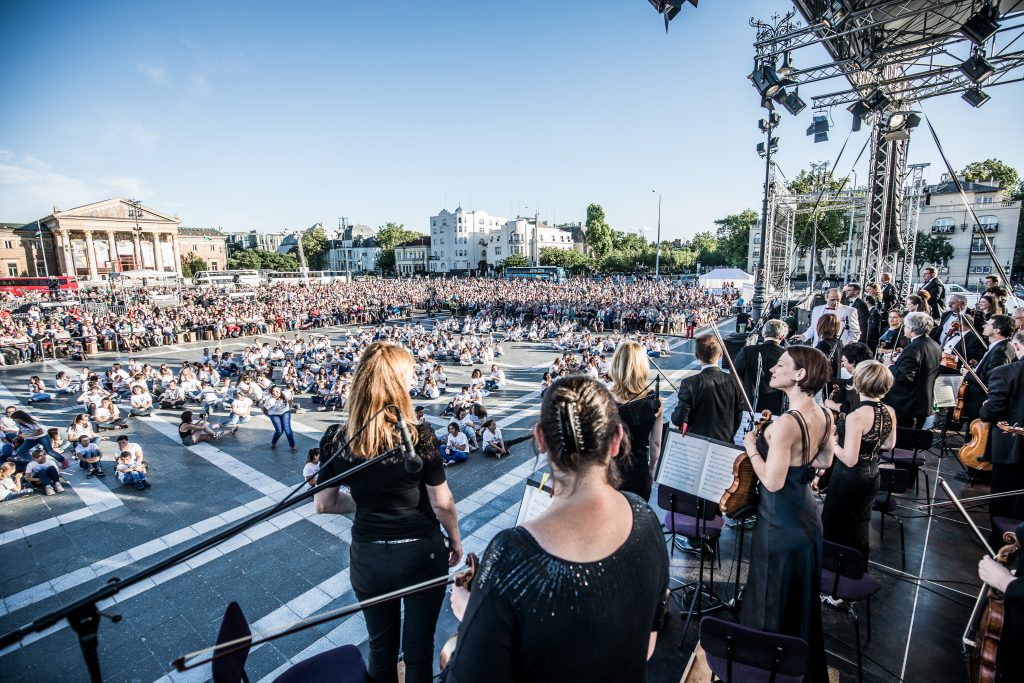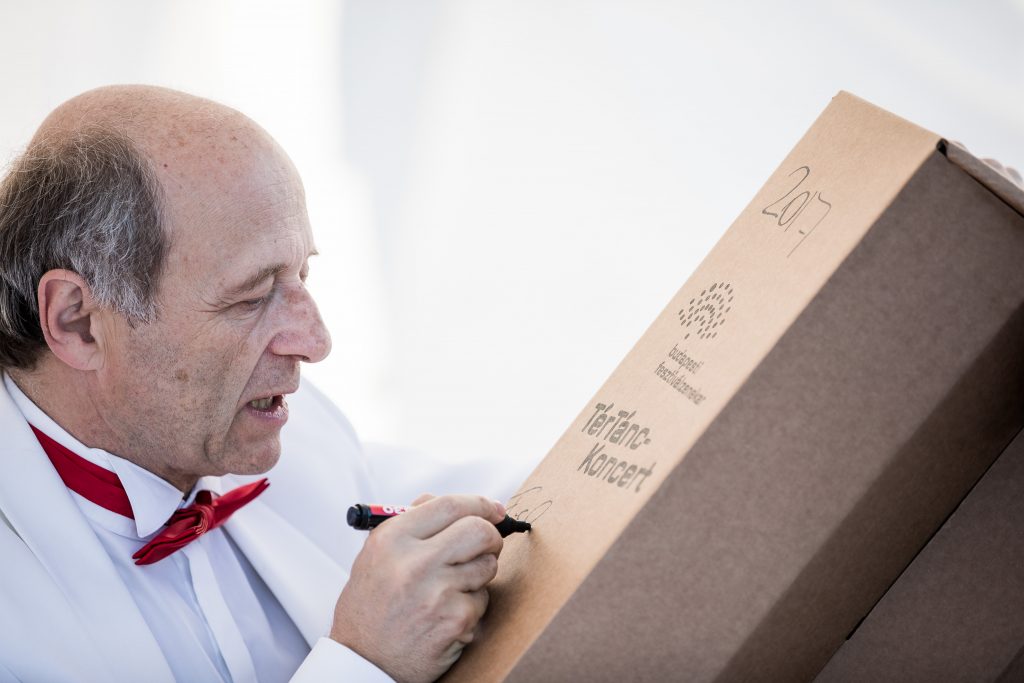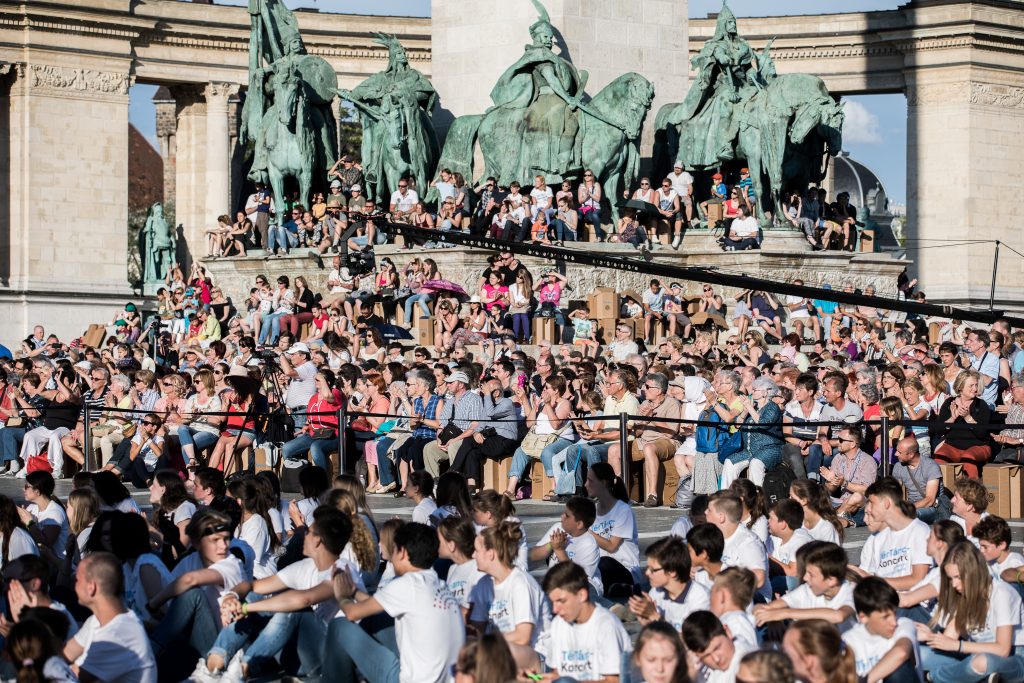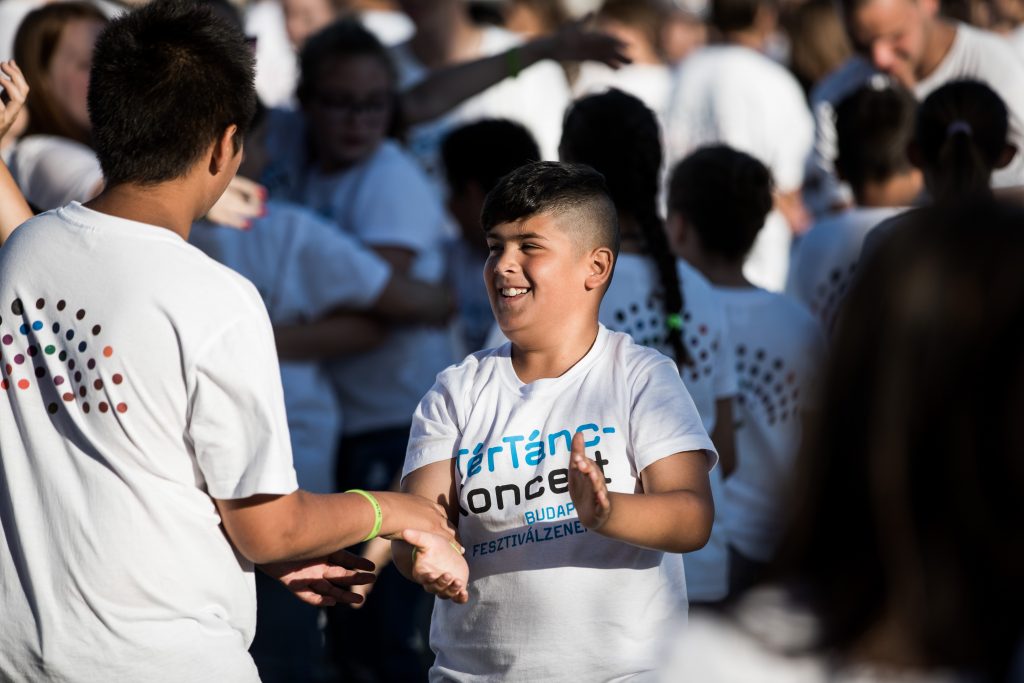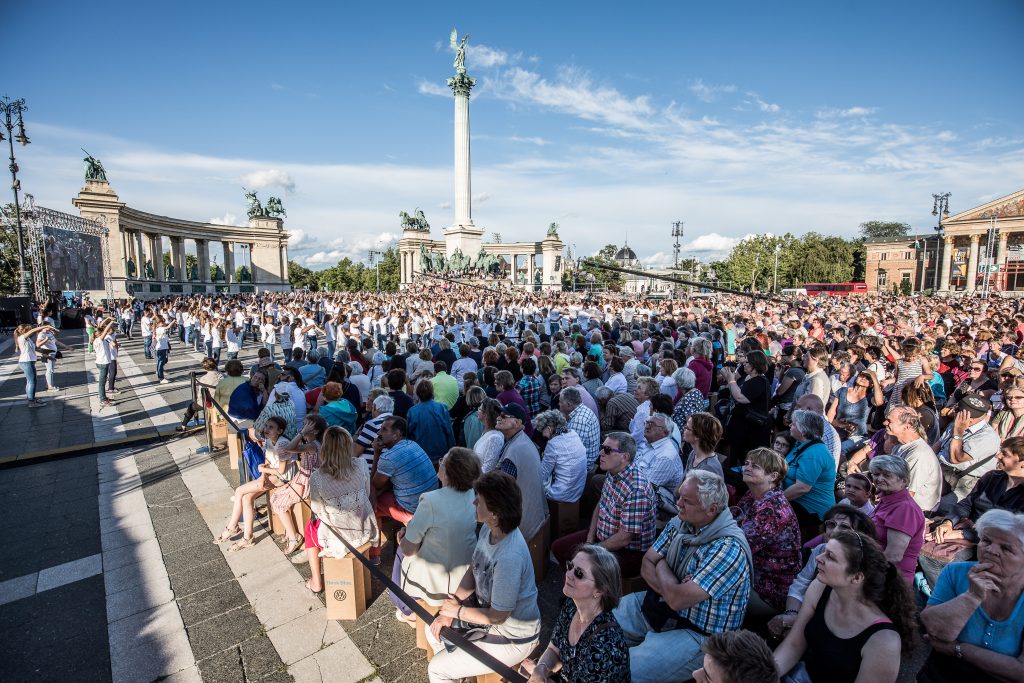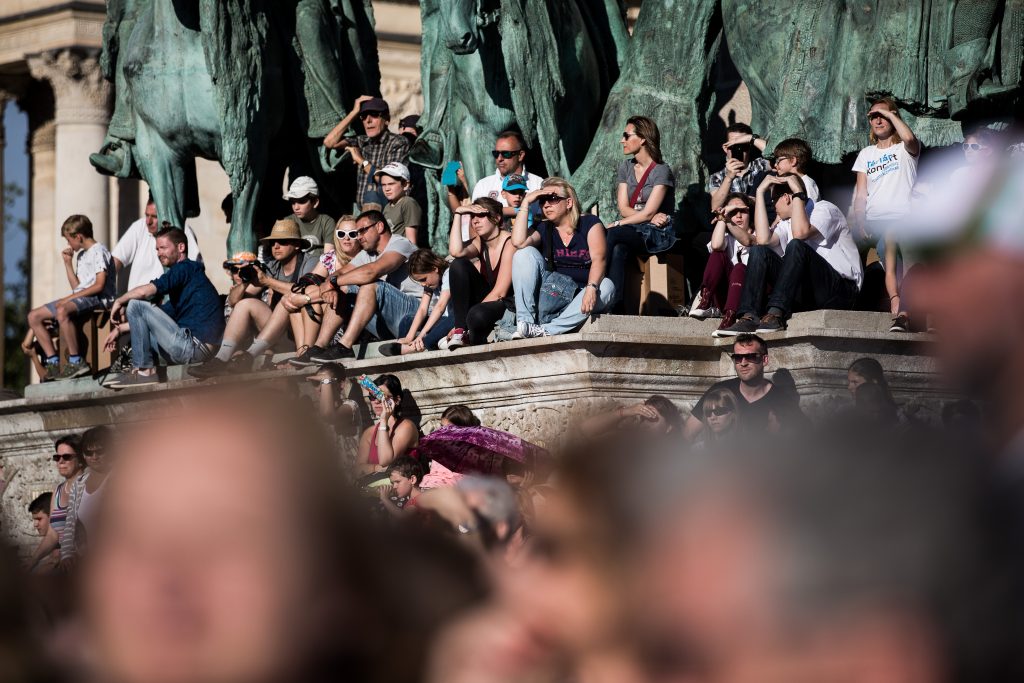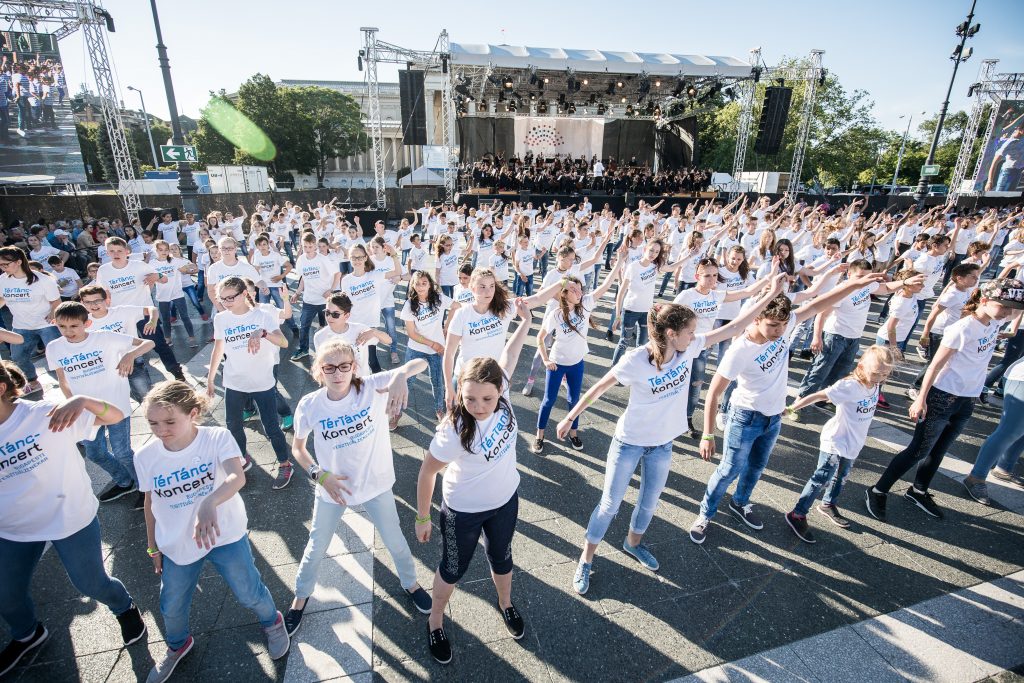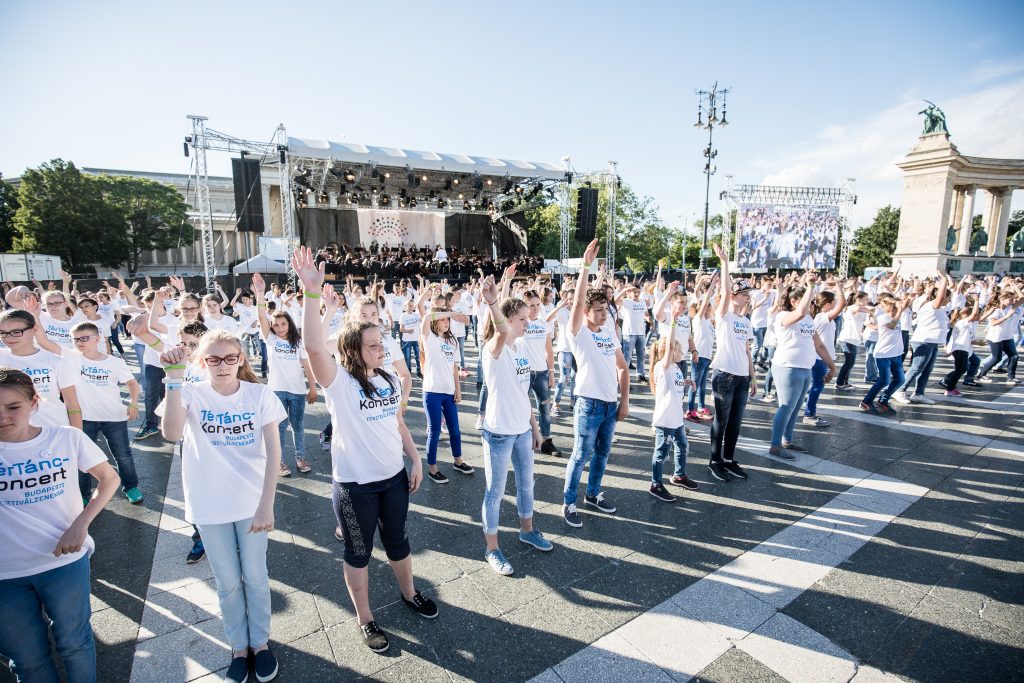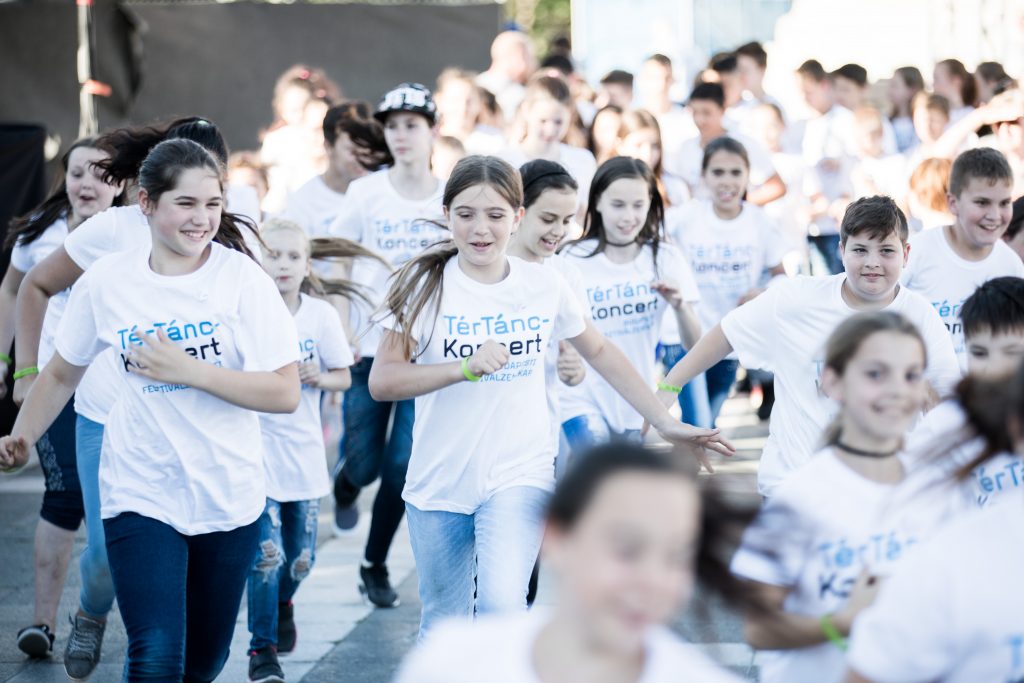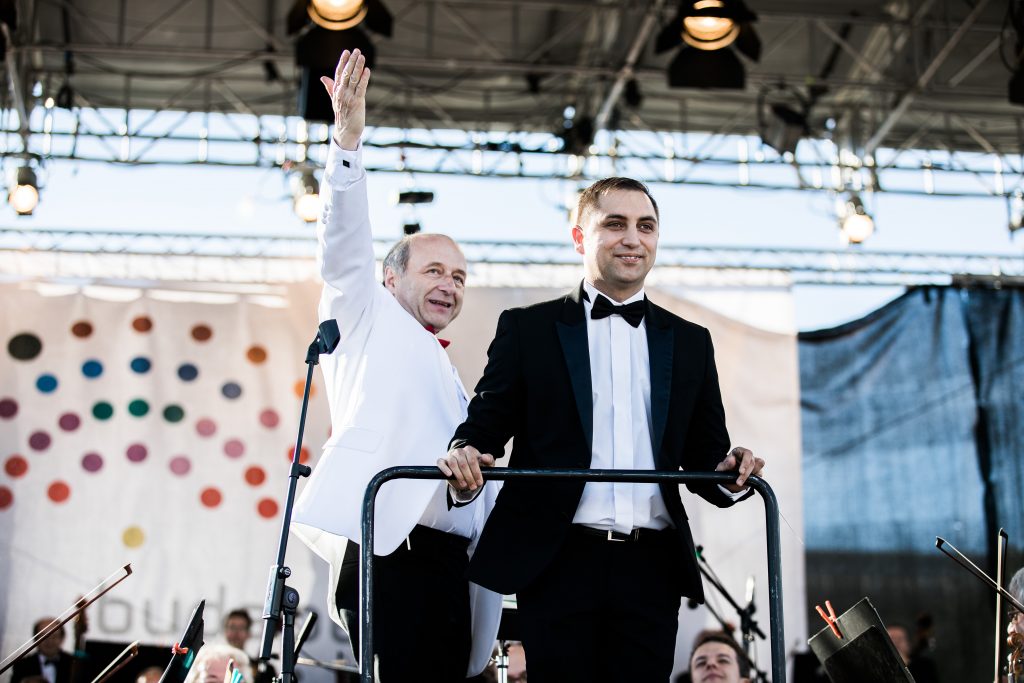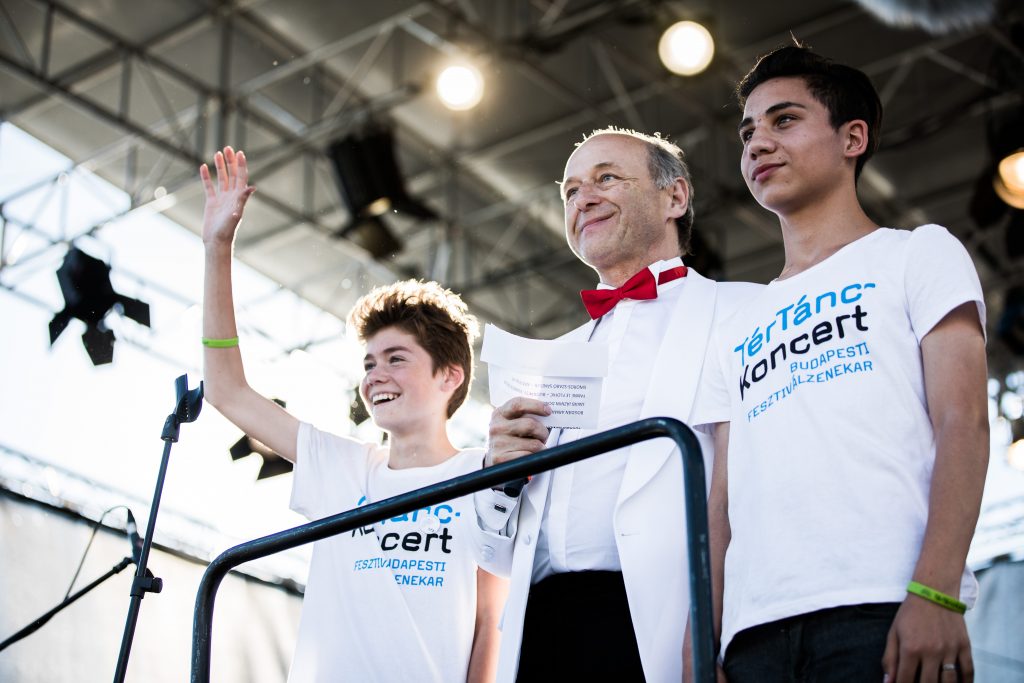 Marshmallow Dreams
June 15, 2017, 2:29 pm
"The best part was sleeping in bunk beds, roasting marshmallows over a campfire, talking even after lights-out and wandering around the forest without Mum…and I also liked that our uncle, who lives in Budapest, was also able to see us dance!" – the children from Karcag summarised their experiences in Csillebérc preceding the Dancing on the Square performance on 9 June.
The teams already arrived in Budapest the day before the event in Heroes' Square in order to meet, become acquainted with one another and to make friends. The Foundation for Democratic Youth, as before, provided invaluable assistance with this. Following their separate sessions, they rehearsed their dance as a group under the leadership of Berci Vári. The photos, taken by István Z. Tuba (an enthusiastic volunteer from Morgan Stanley), speak for themselves.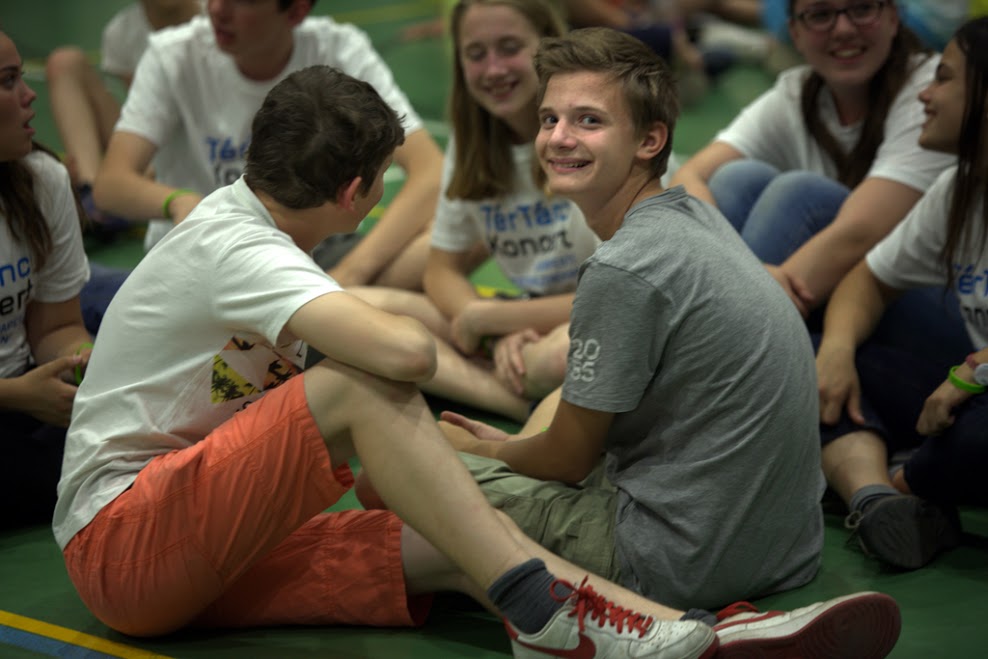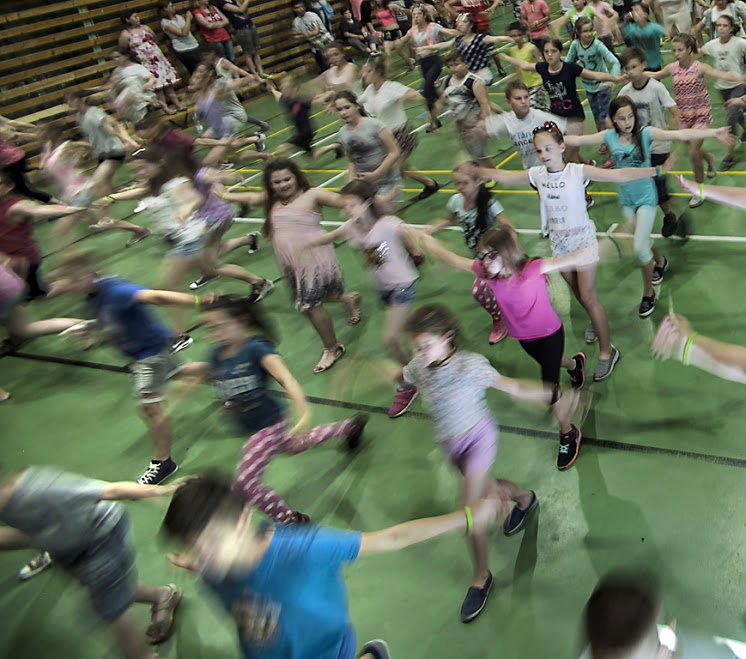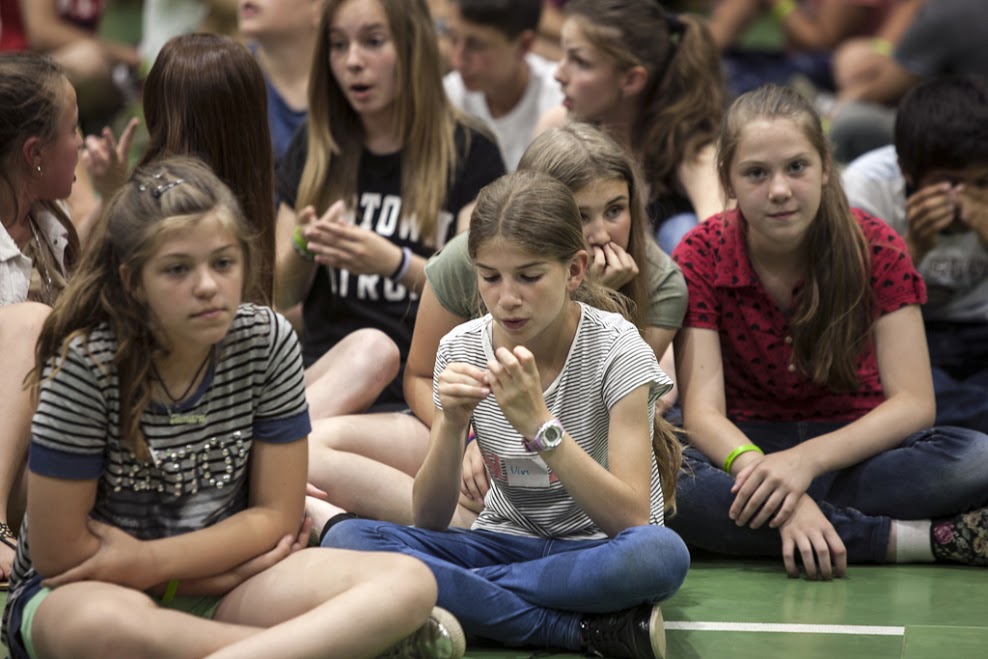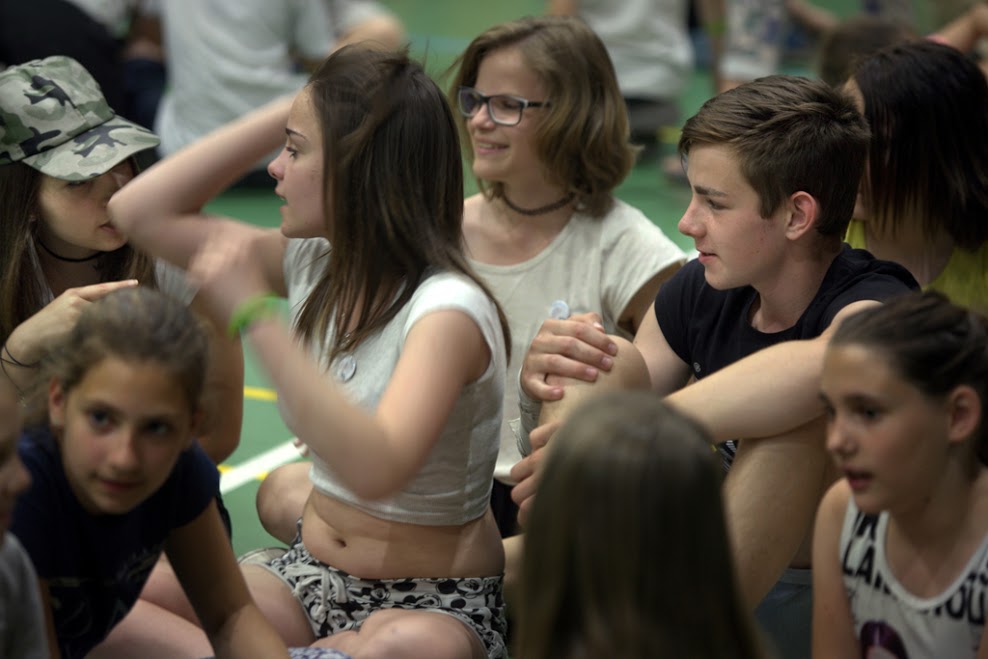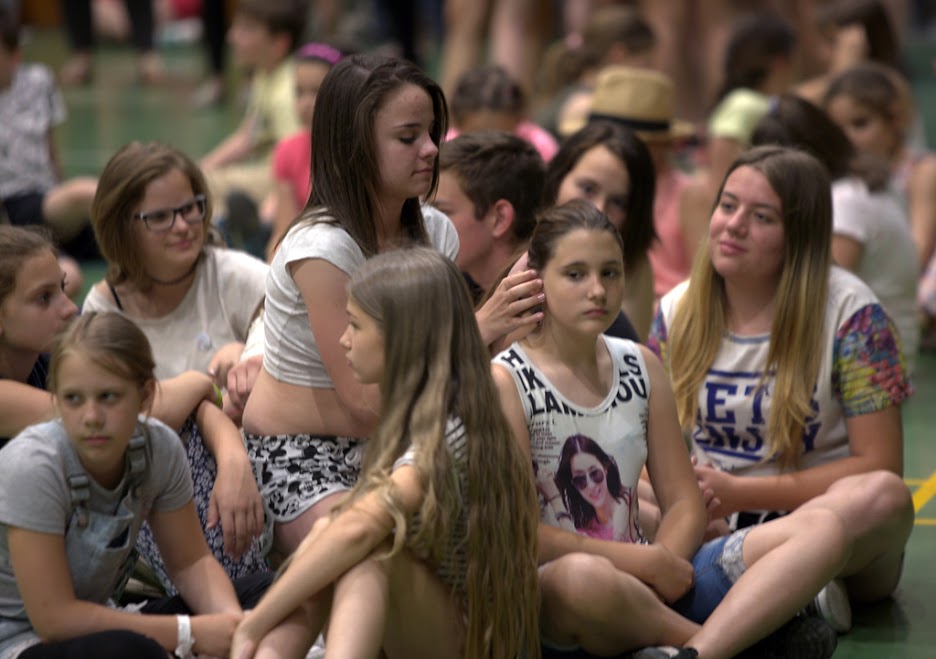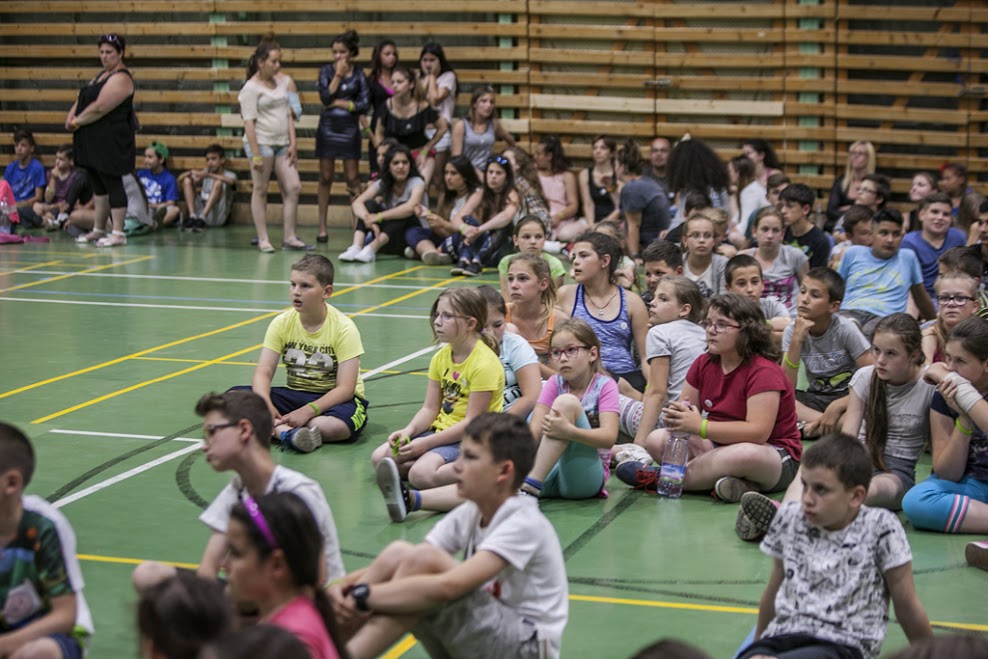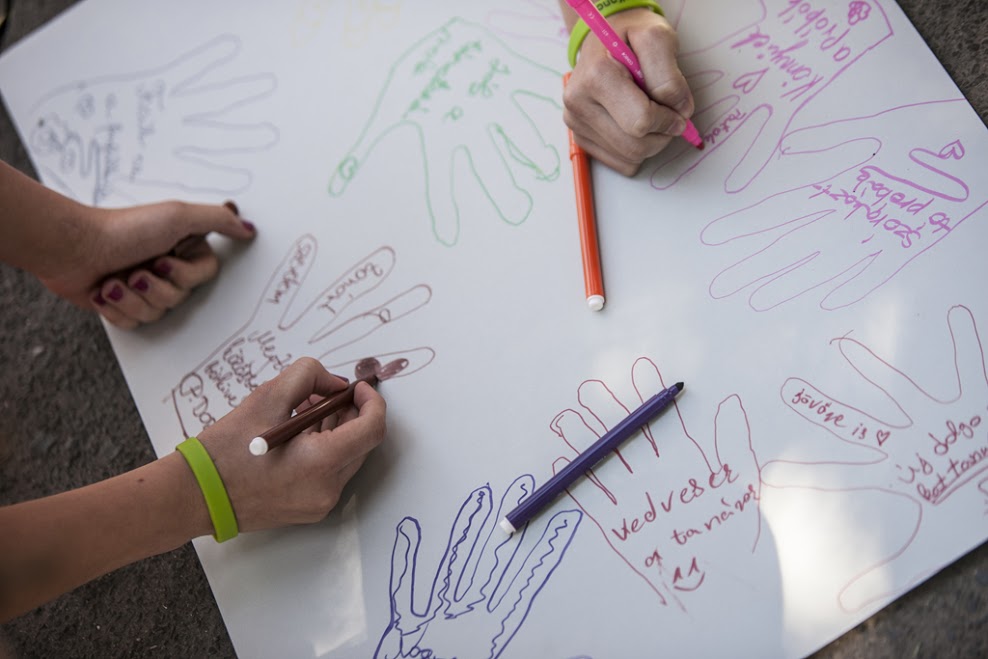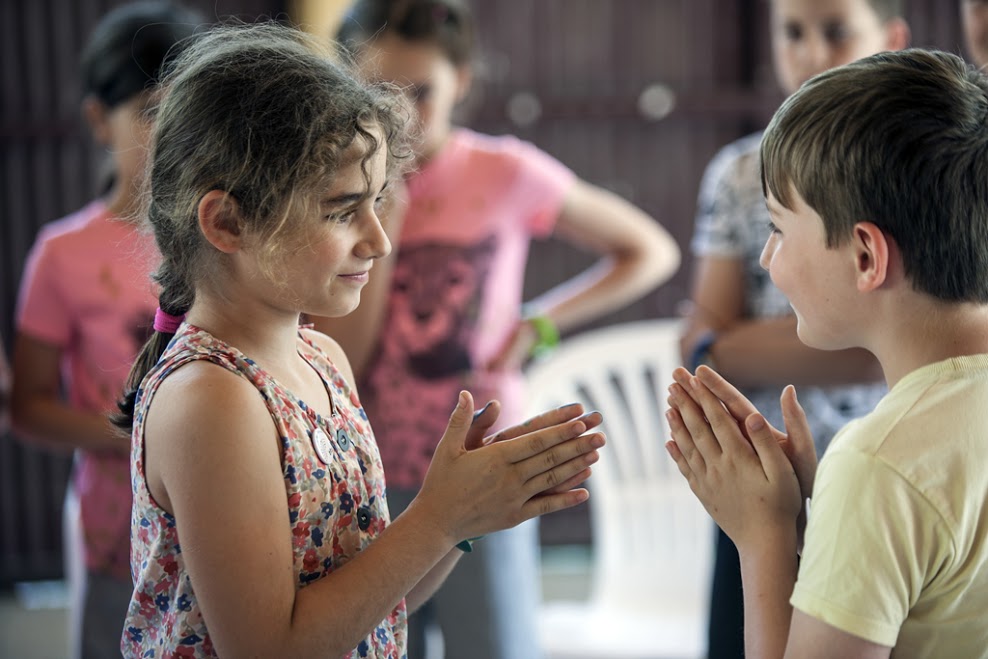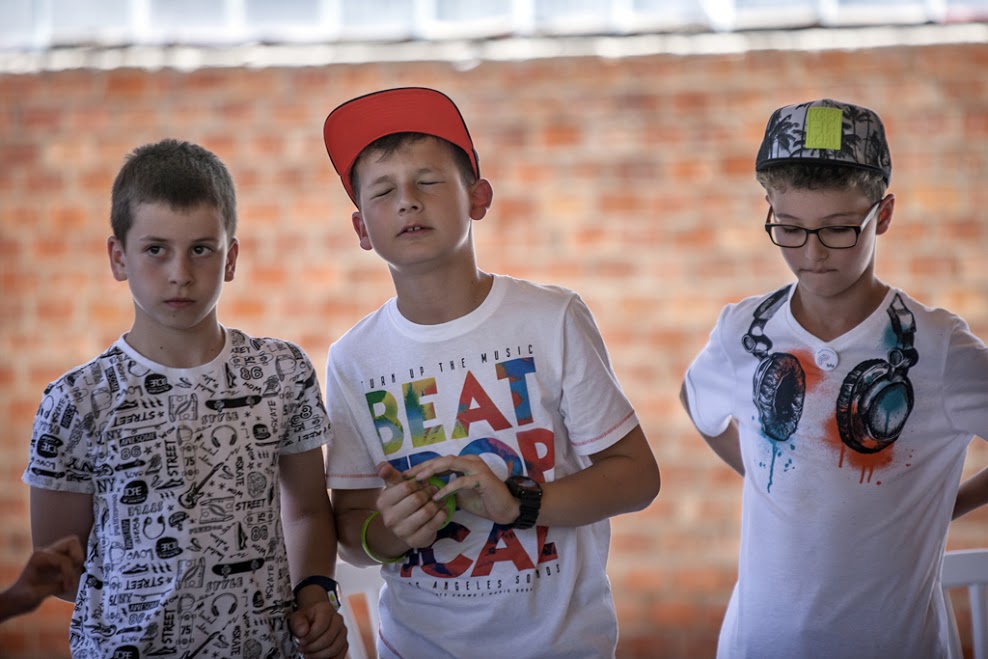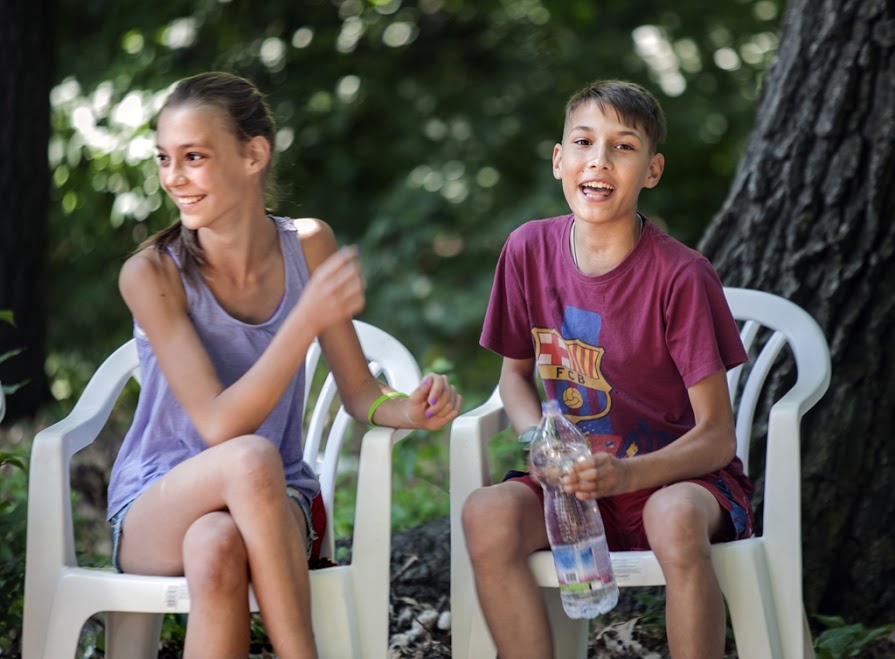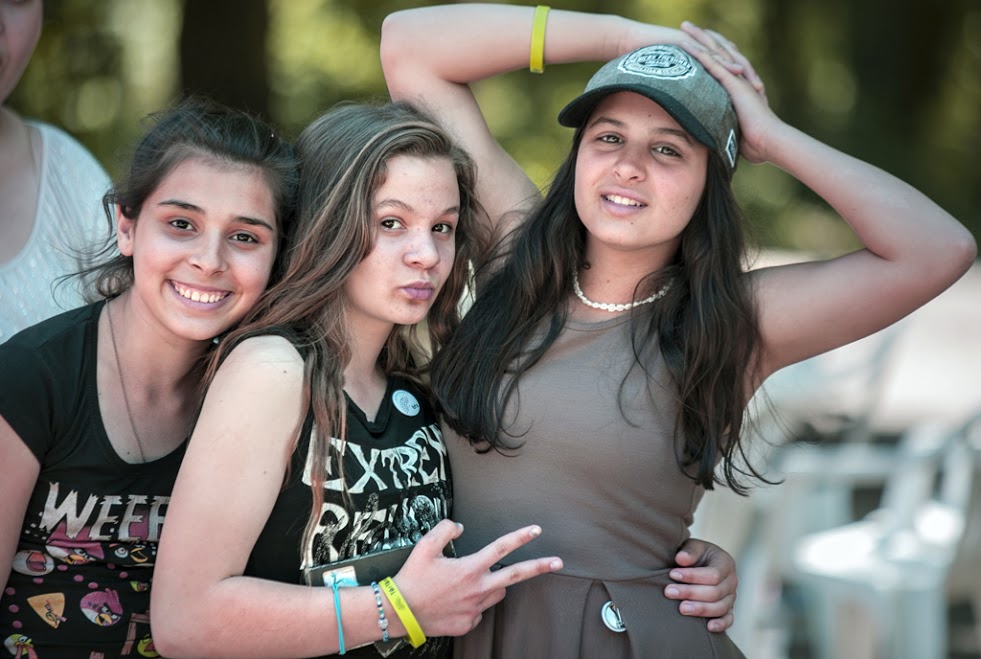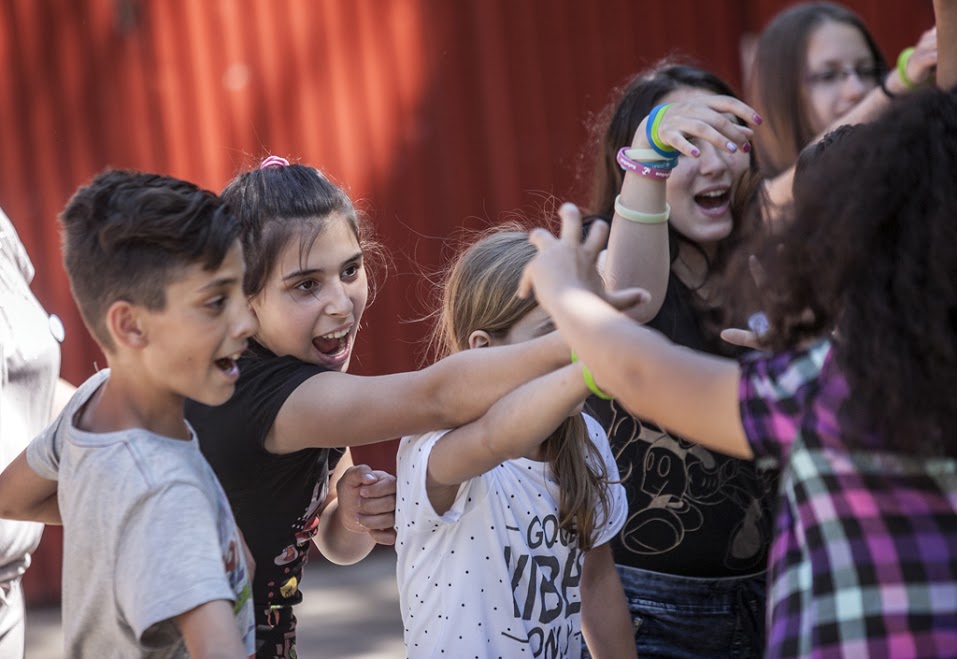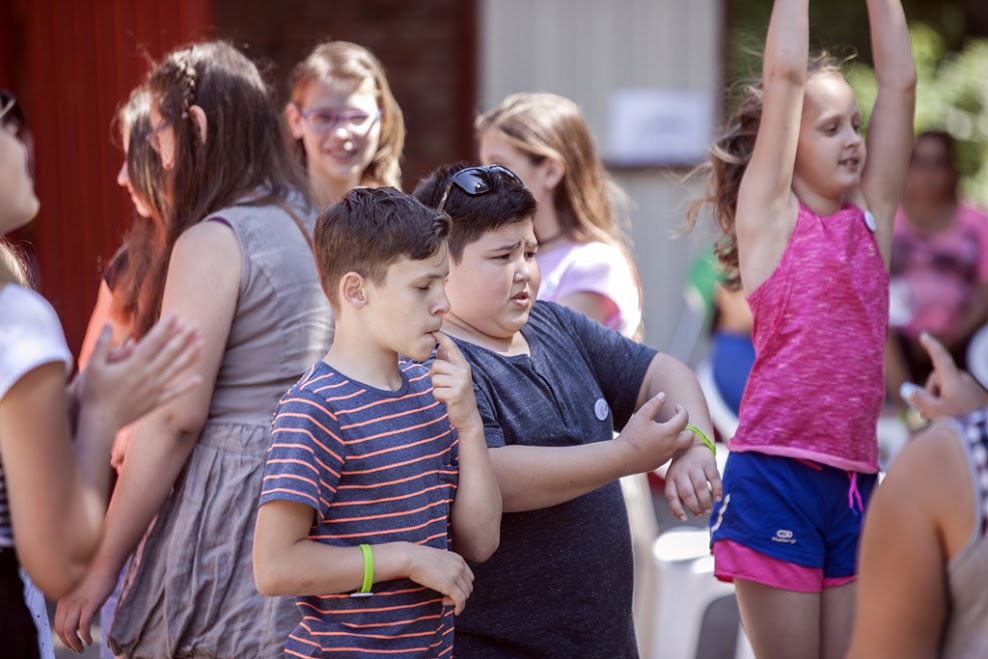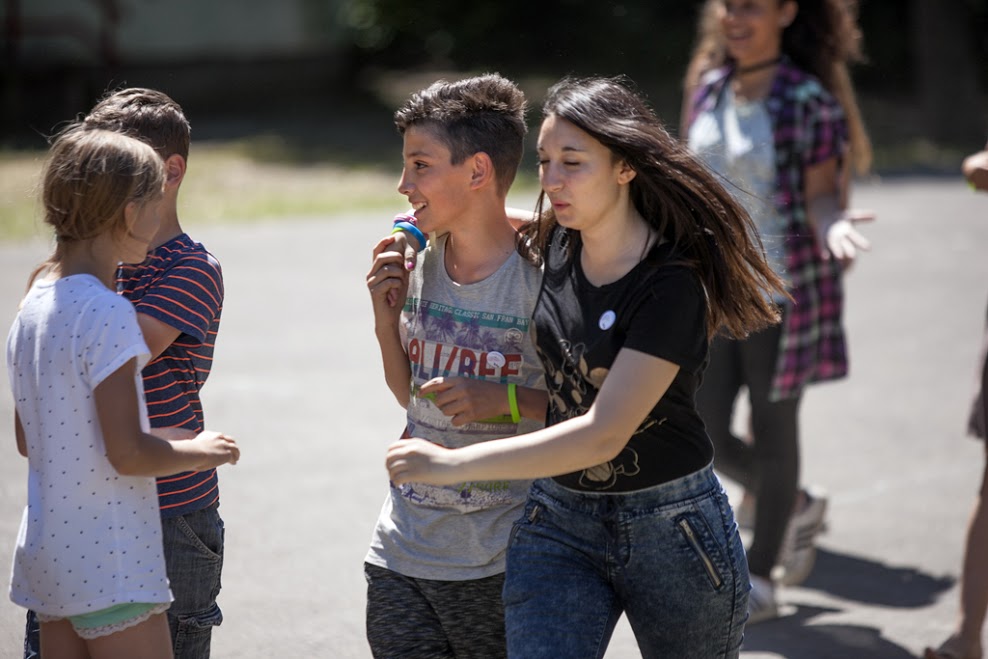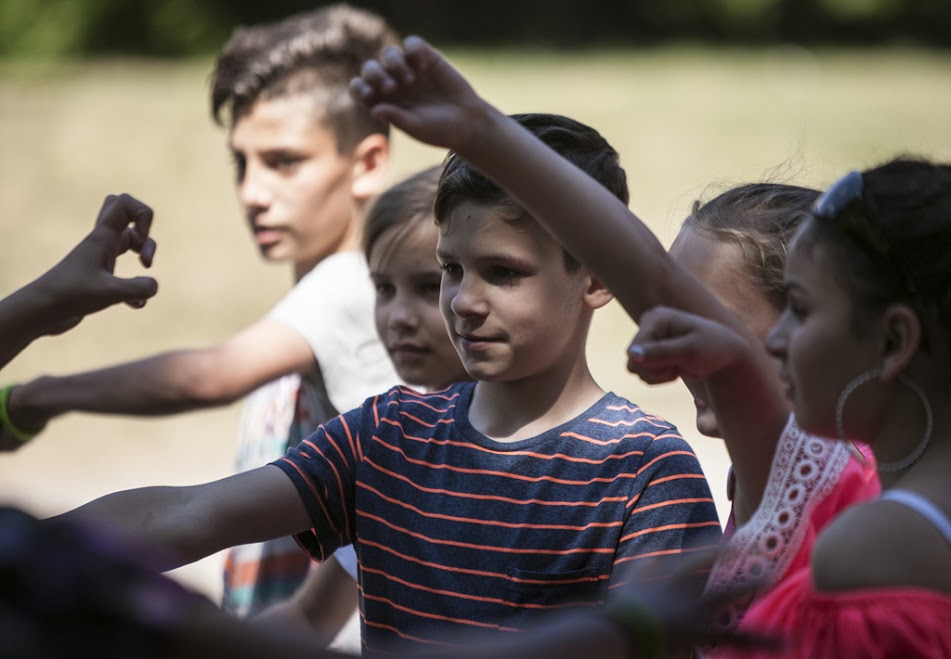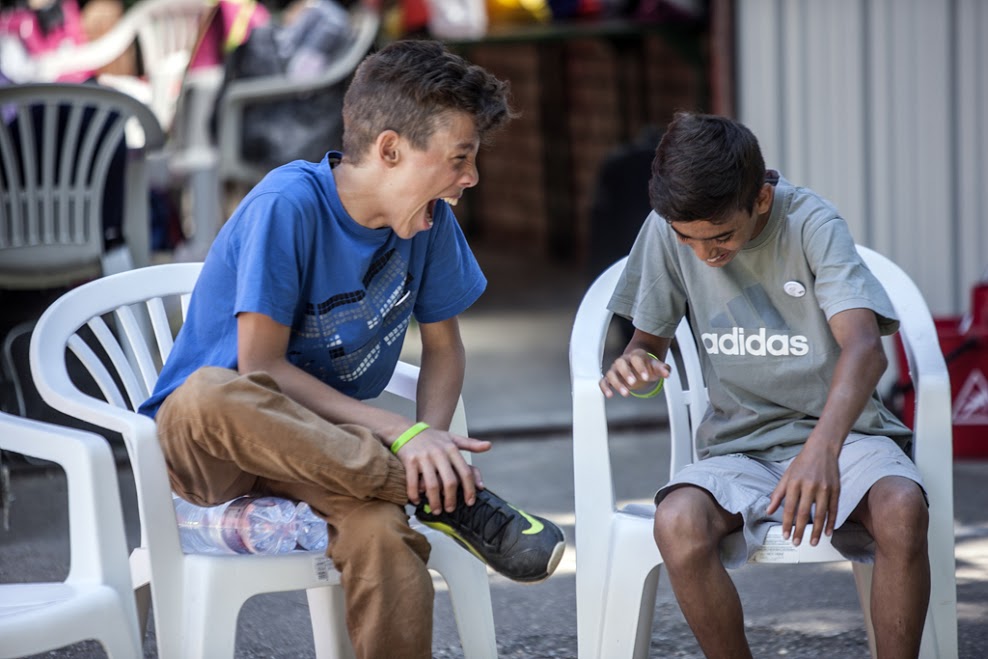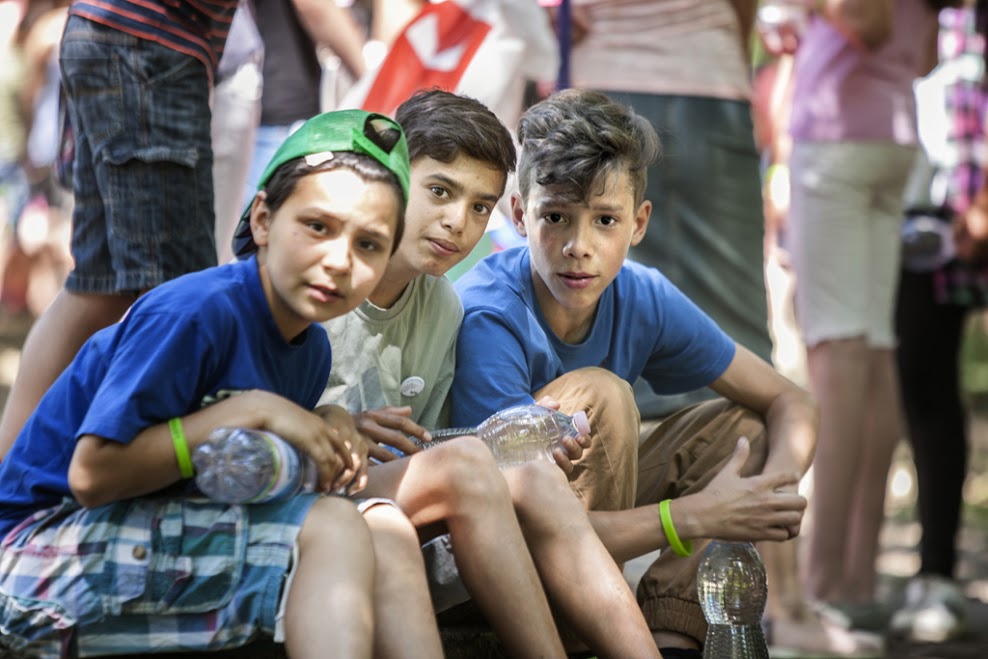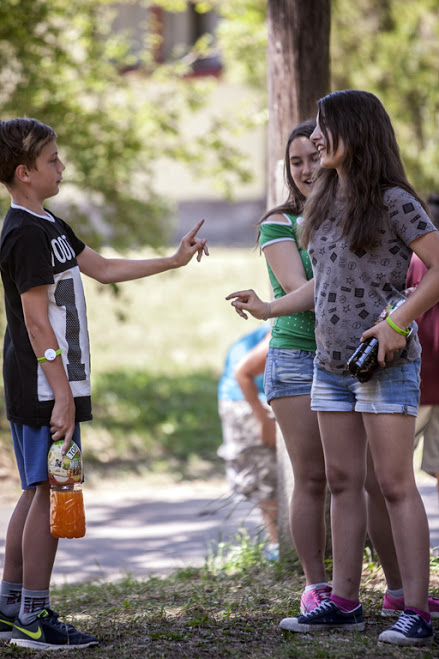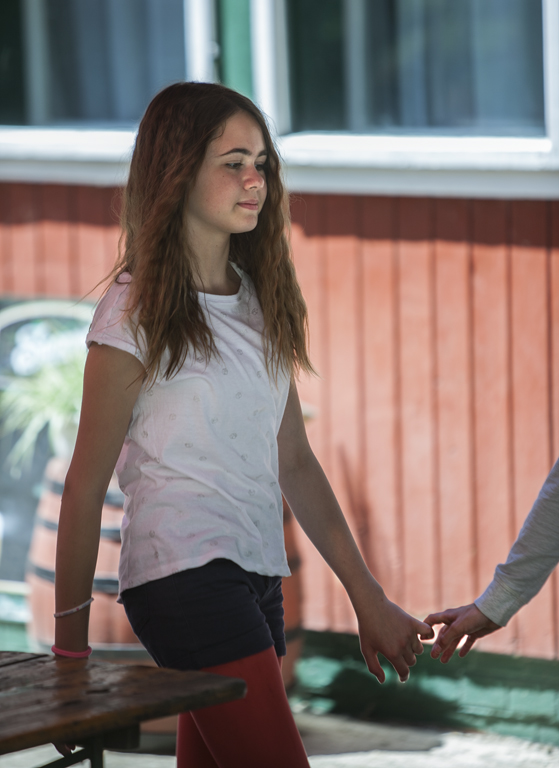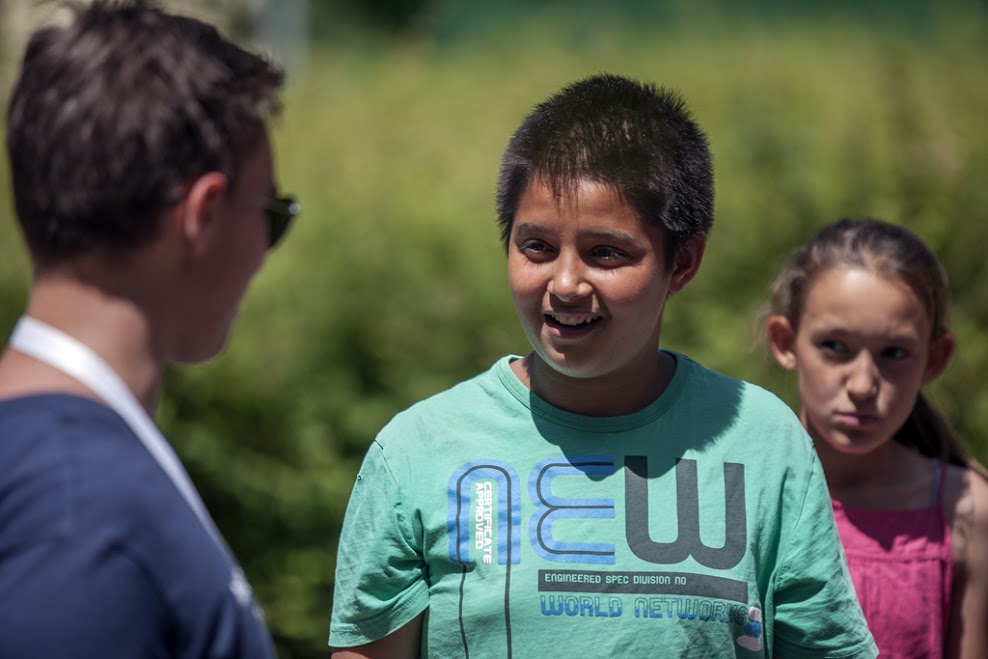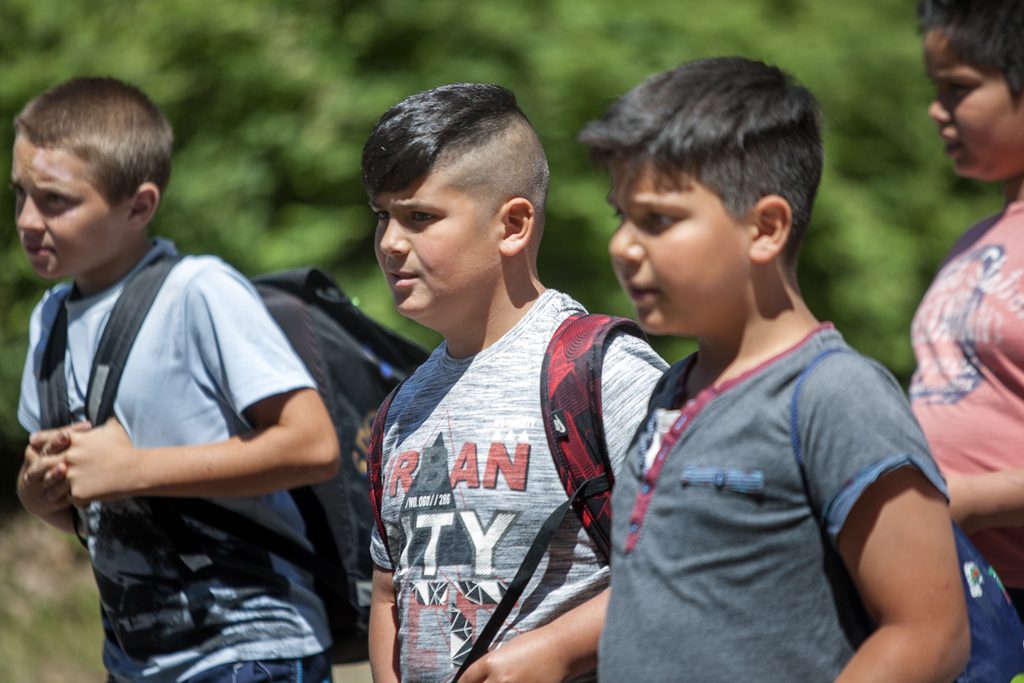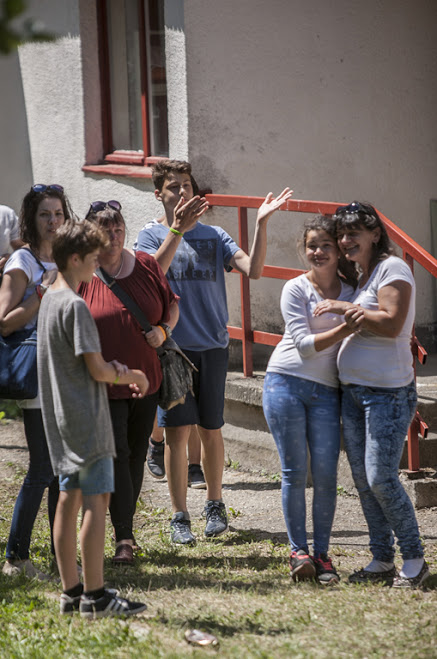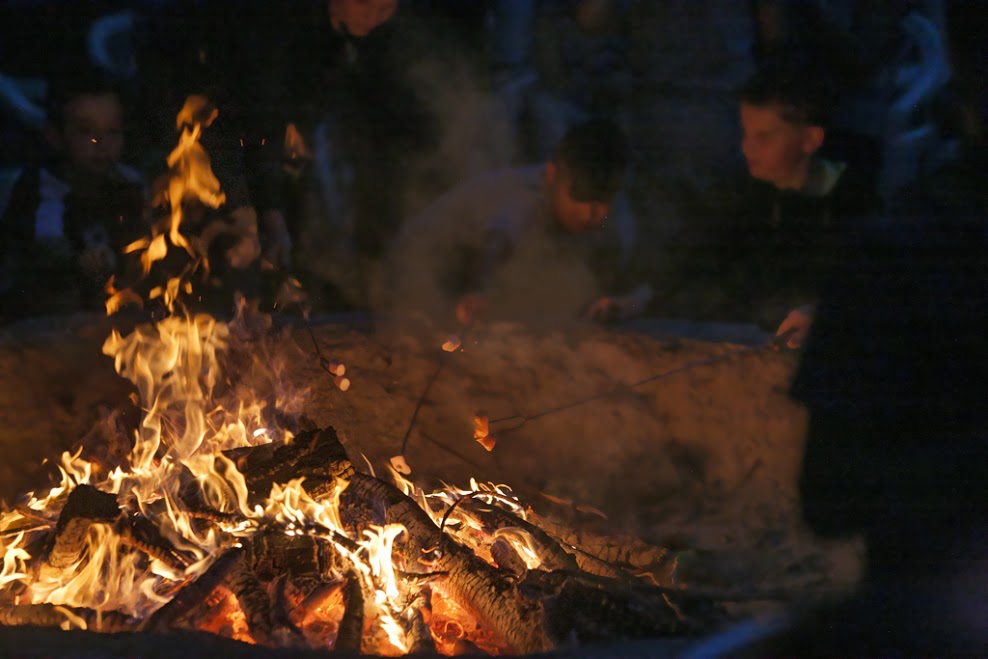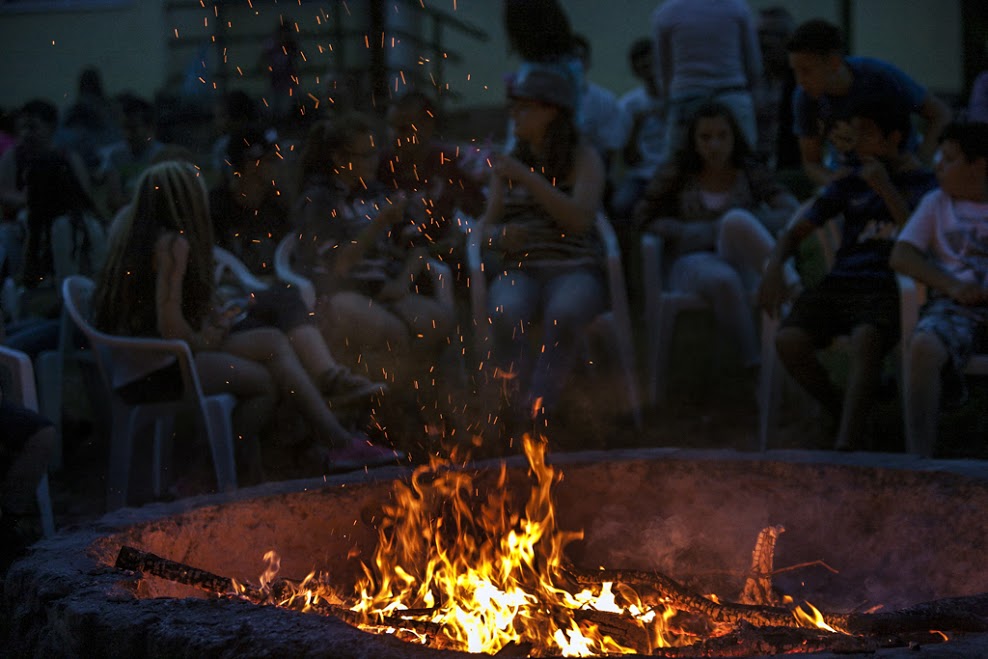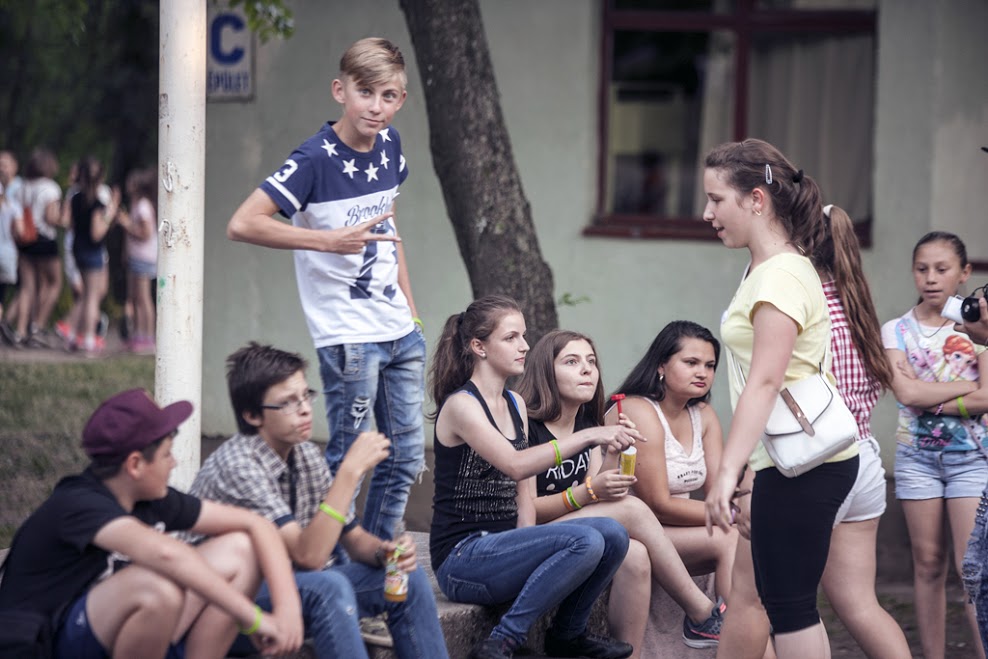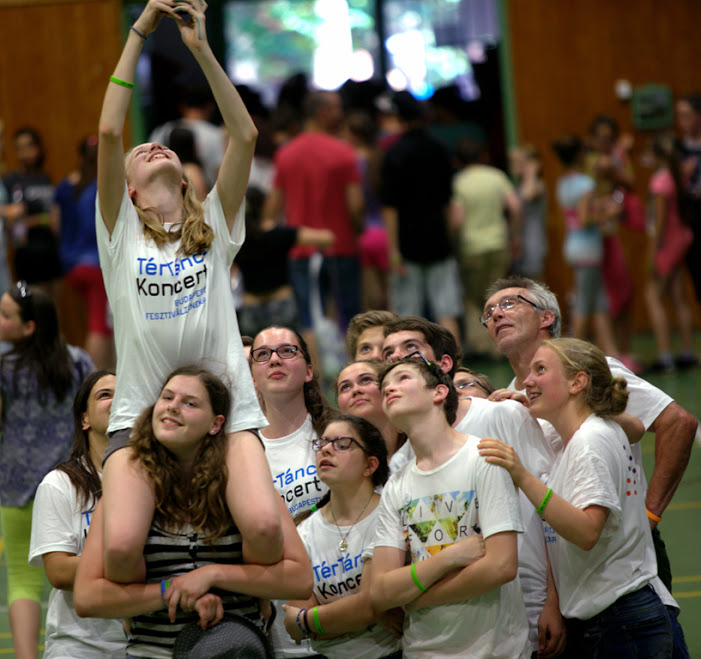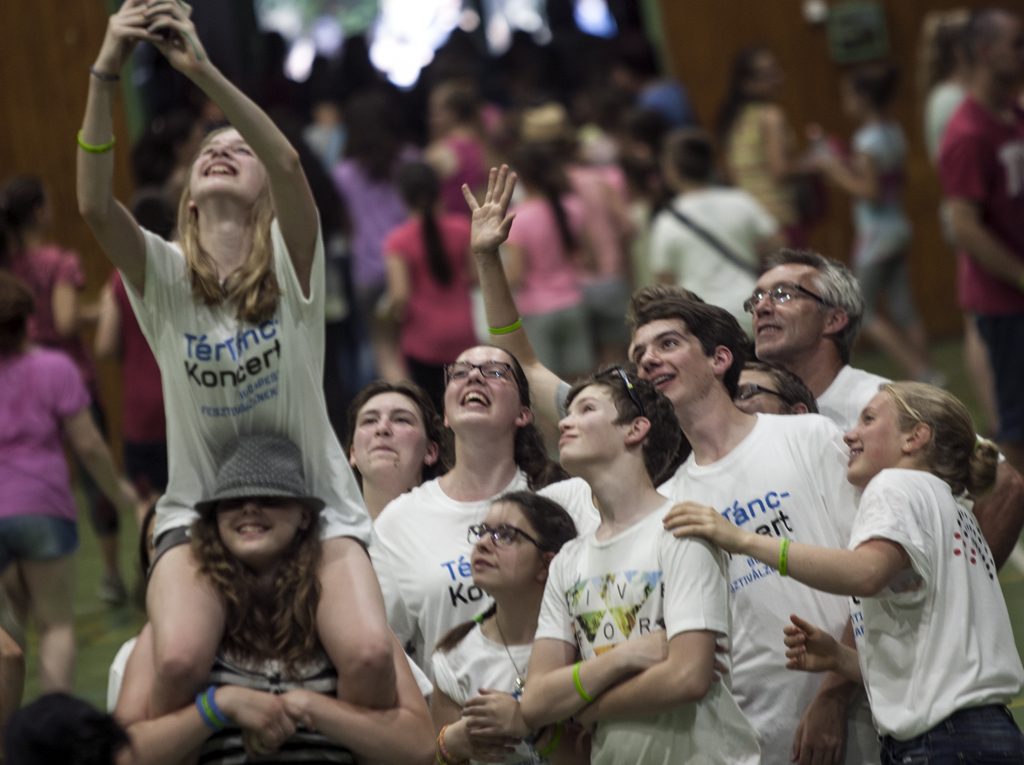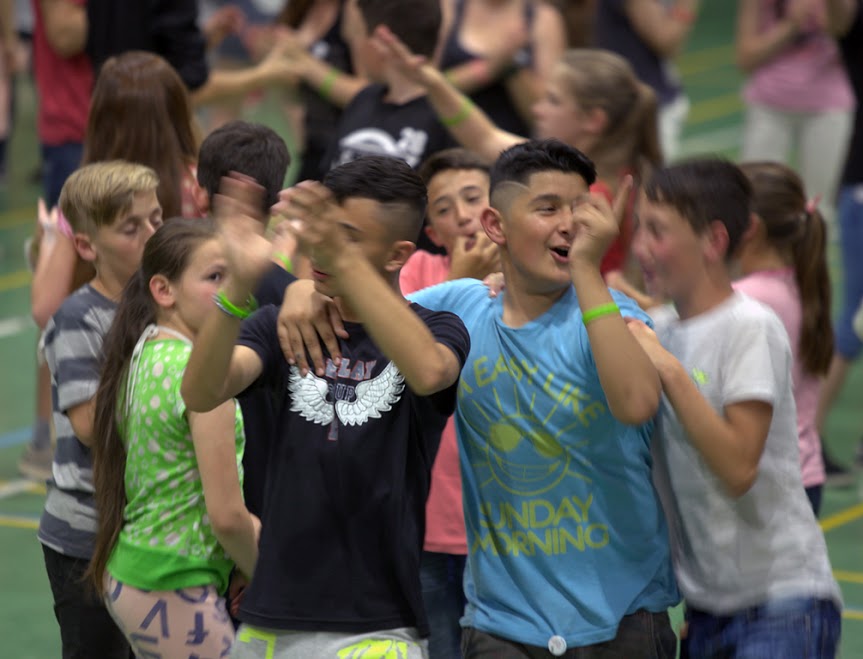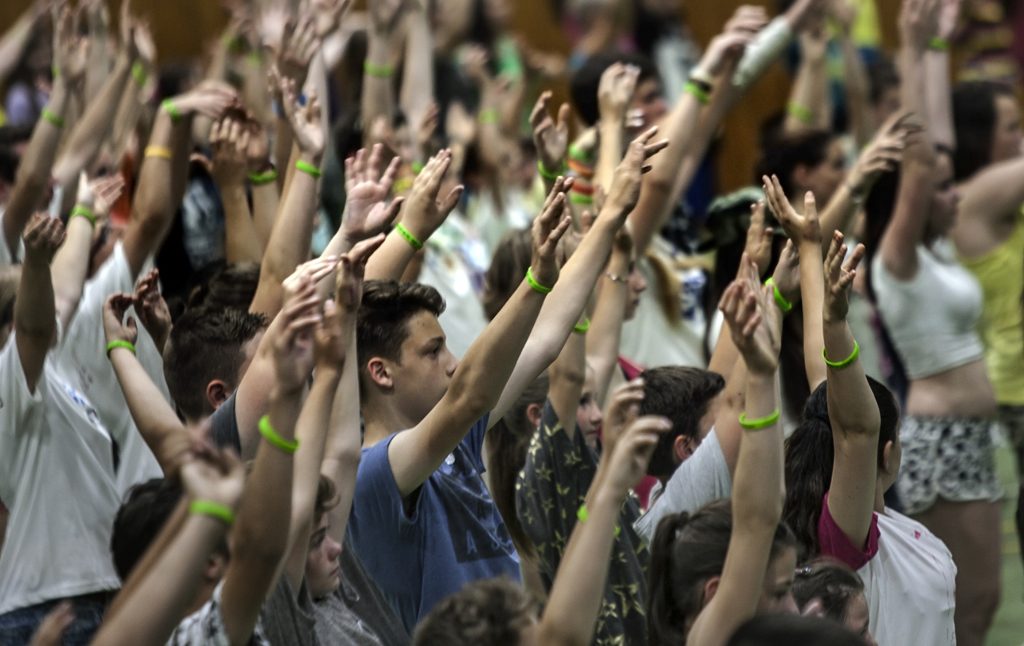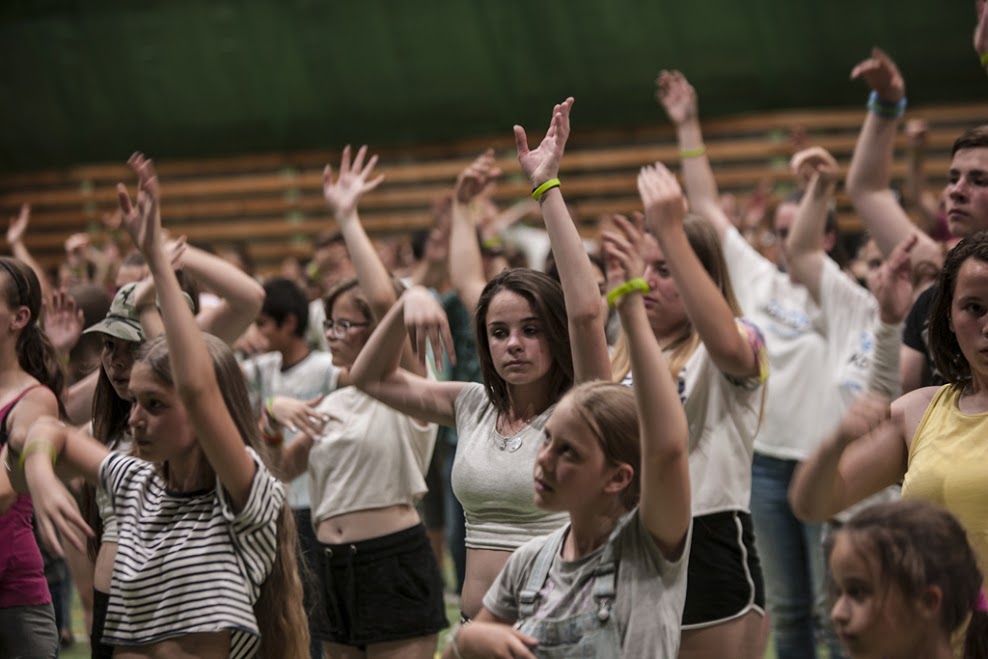 "Not because Fischer is such a big shot"
April 27, 2017, 2:58 pm
"We never had any pop bands come to play here in Cserdi. And so long as I have any say in the matter, I'd rather have the Festival Orchestra. And not because Fischer is such a big shot", Cserdi's mayor László Bogdán, and one of the Dancing on the Square project's ambassadors, tells Fidelio (a Hungarian arts periodical). He doesn't care about the celebrity and renown of the Festival Orchestra – "what matters is that these artists are so talented, open and spontaneous".
László Bogdán and the inhabitants of Cserdi gave the dancing children and musicians their usual warm welcome.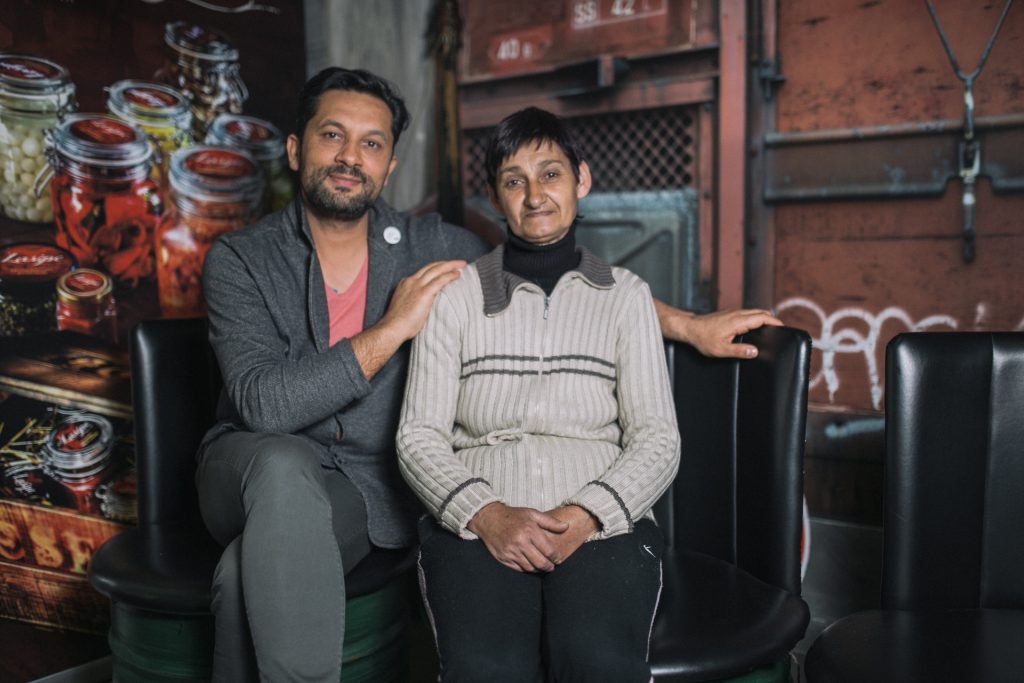 New friendships: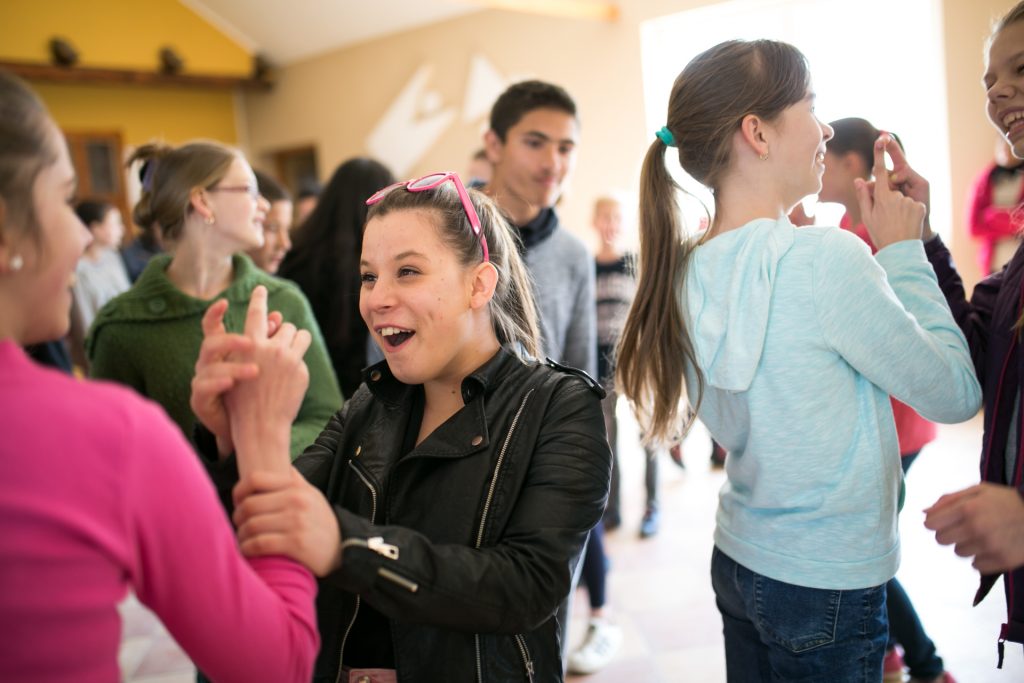 Working fast together: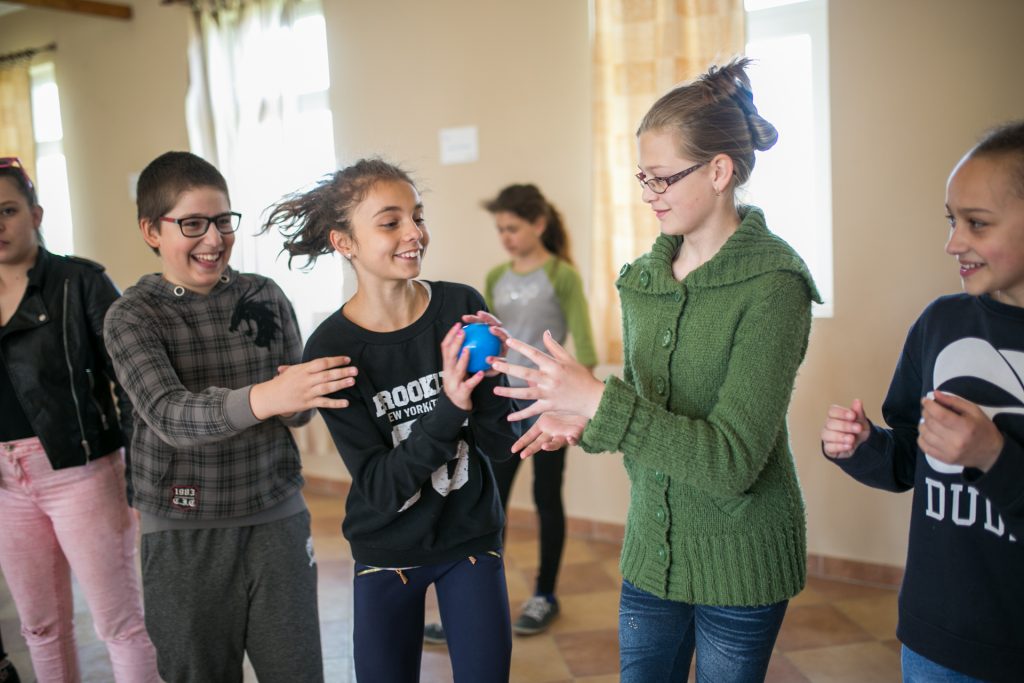 Dance!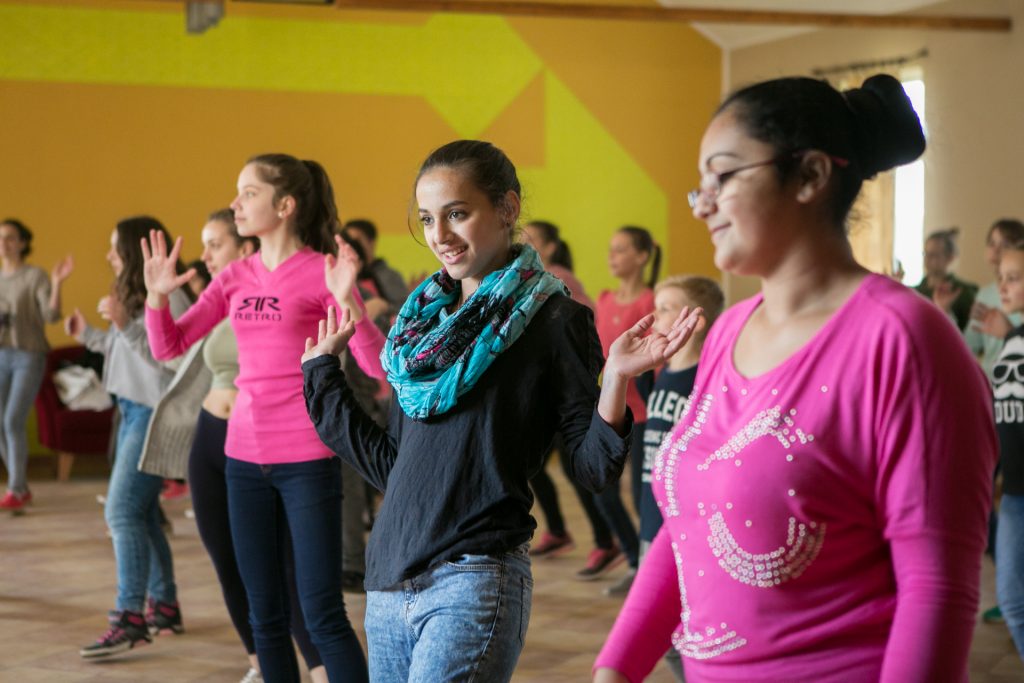 Instrumental acrobatics 🙂
And a drum roll please!
Of course we couldn't miss out on a spontaneous edition of "choose your instrument".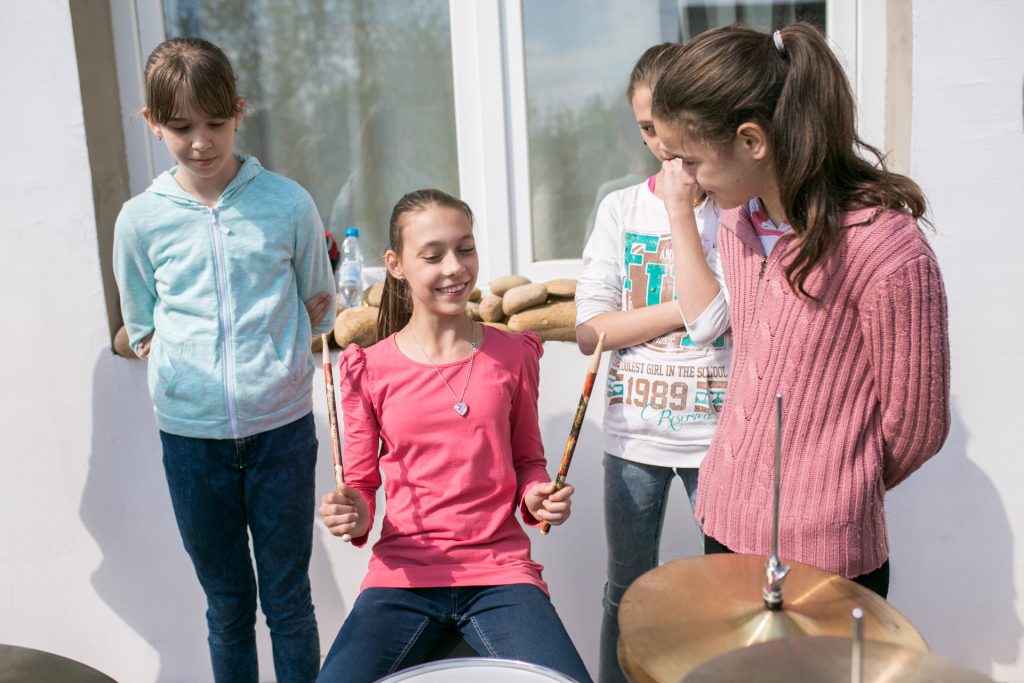 The brasswinds sound better with an oilseed field in the background.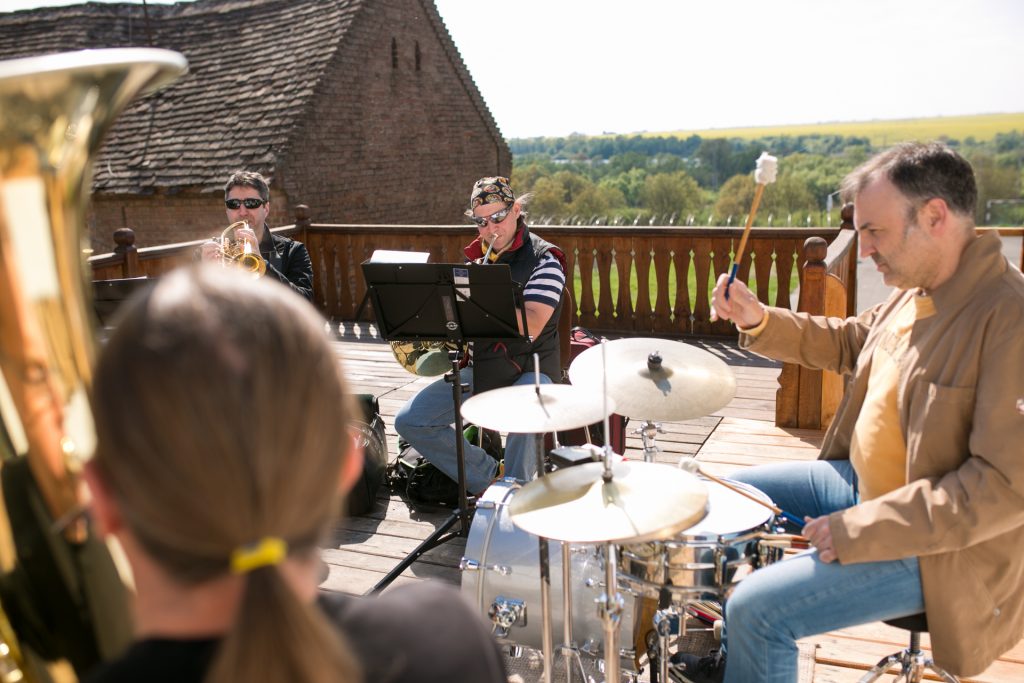 The musicians played in the dazzling sunlight after the April snowfall.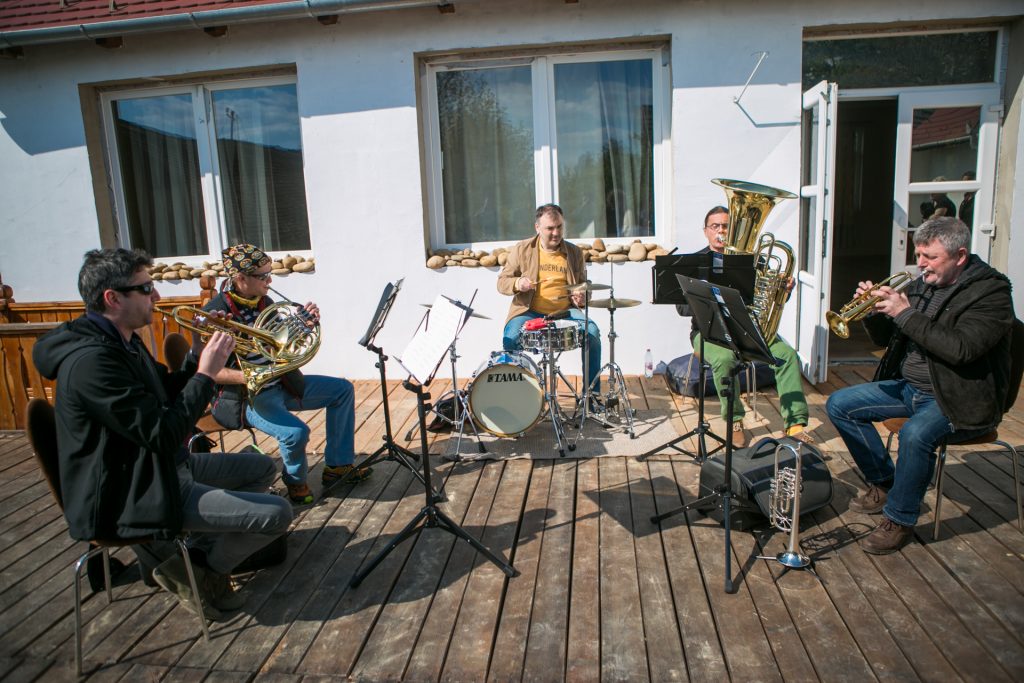 Getting in the mood: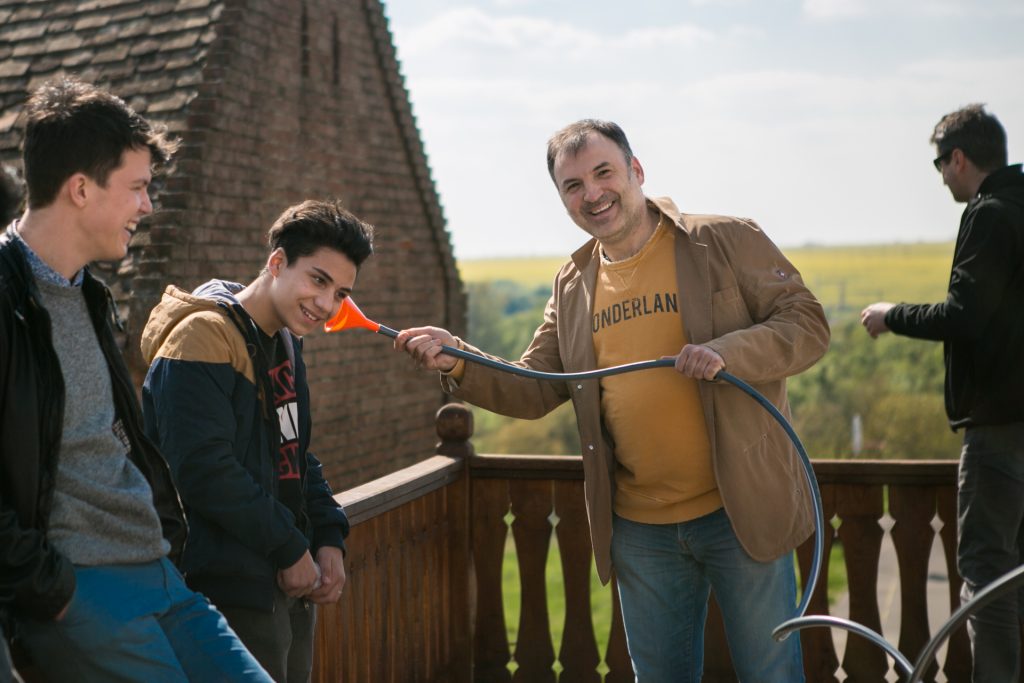 It's worth recording every minute.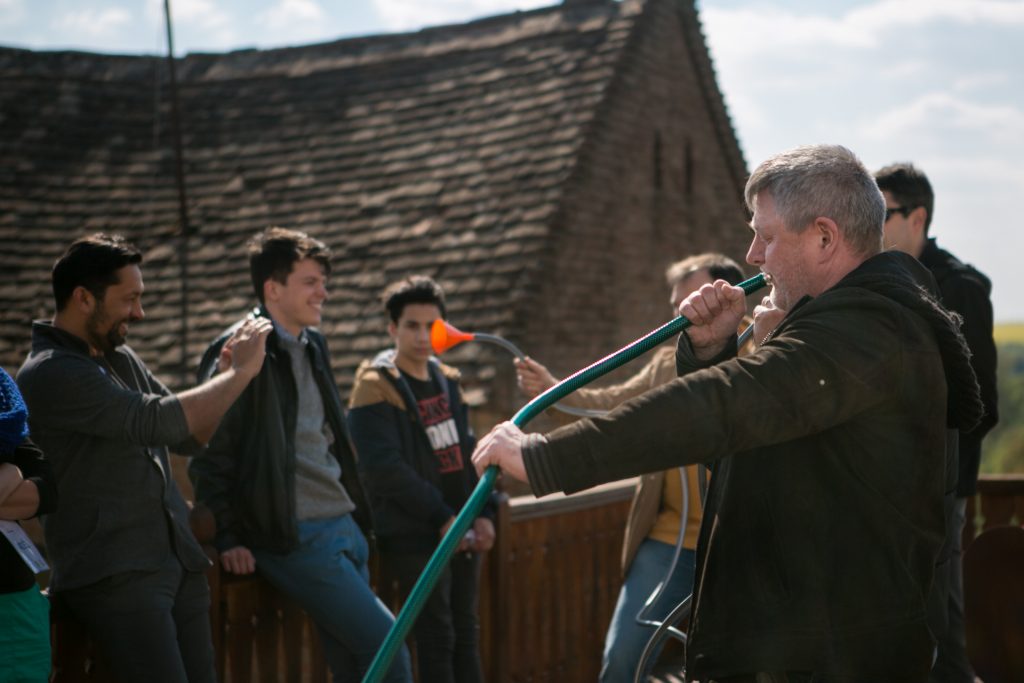 Photos: Fanni M. Benkő
"The Dancing on the Square project is my life"
April 27, 2017, 2:44 pm
"The Dancing on the Square project is my life." Thirteen-year-old Ramóna Rácz from the Hungarian town of Salgótarján plans to be a hairdresser, but as long as she can remember, she has wanted to dance. This is just another reason why the Dancing on the Square project – which she is representing this year as a junior ambassador – is an exceptional opportunity for her. "I'm a bit scared and a bit nervous, but I want to show the world what I can do. If you want to dance, you have to put work into it." Besides dancing, Ramóna would love to learn to play the harp – she had the chance to try out the instrument at the Festival Orchestra's Choose your Instrument event, and immediately fell in love with it.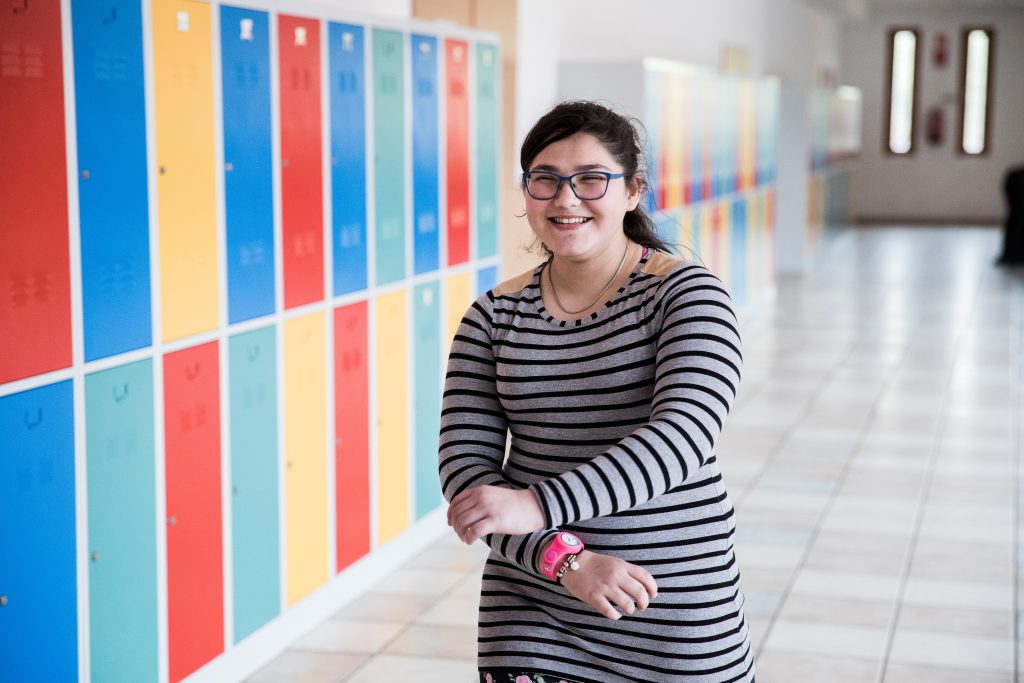 We met with Ramóna at the fourth regional assembly, held in Salgótarján, where the local team of volunteers organised great community-building activities, but it wasn't easy to deal with the 130 kids participating.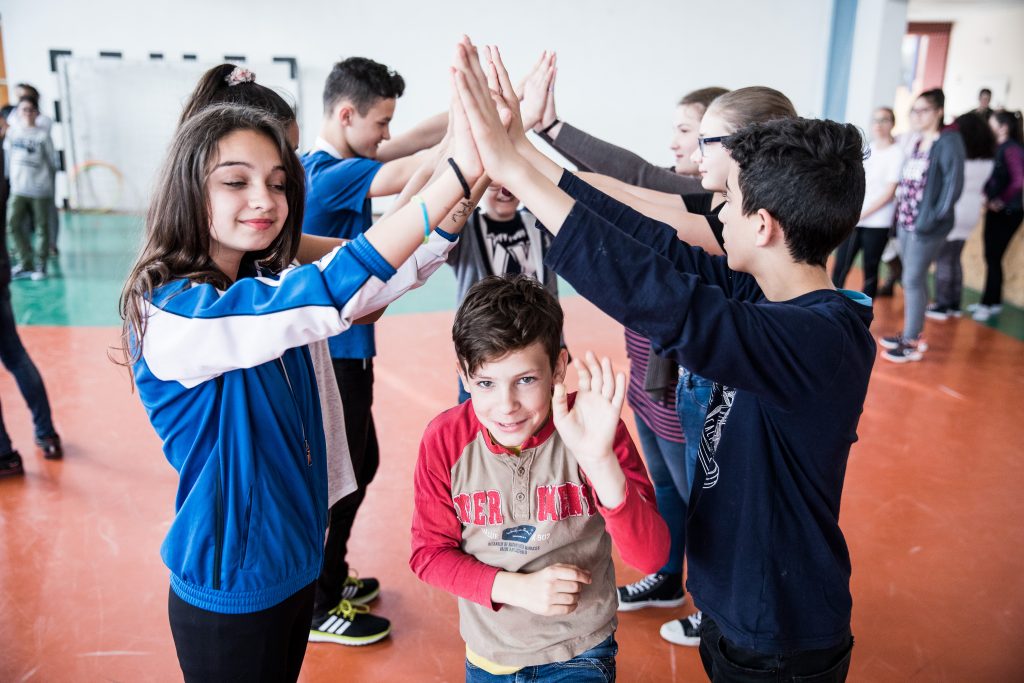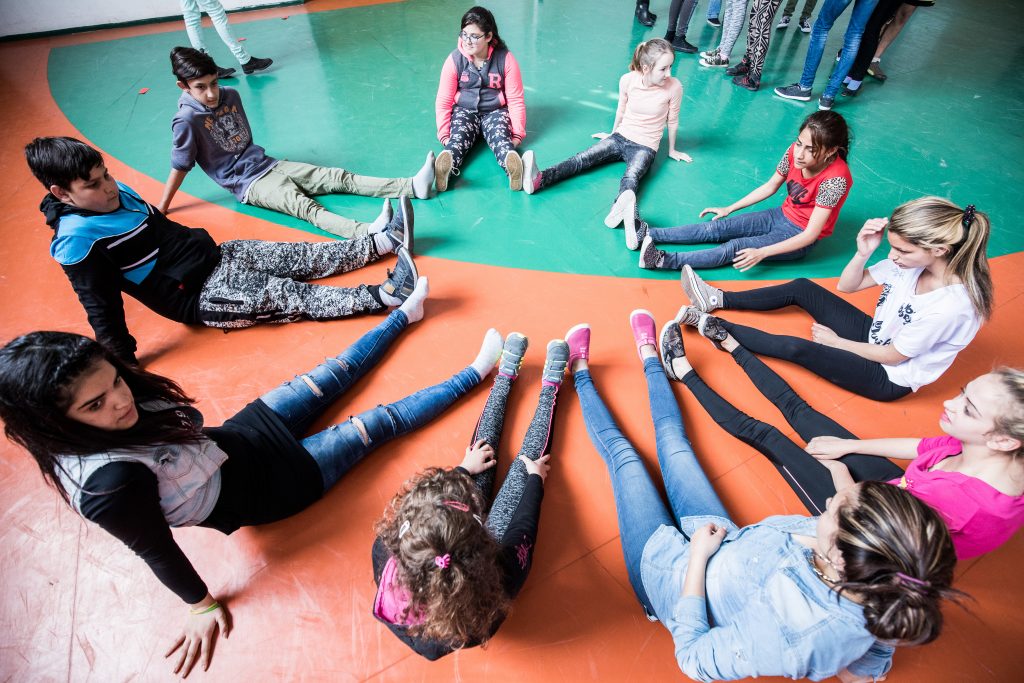 "A big haaand!", as our lead choreographer Berci Vári often asks the children.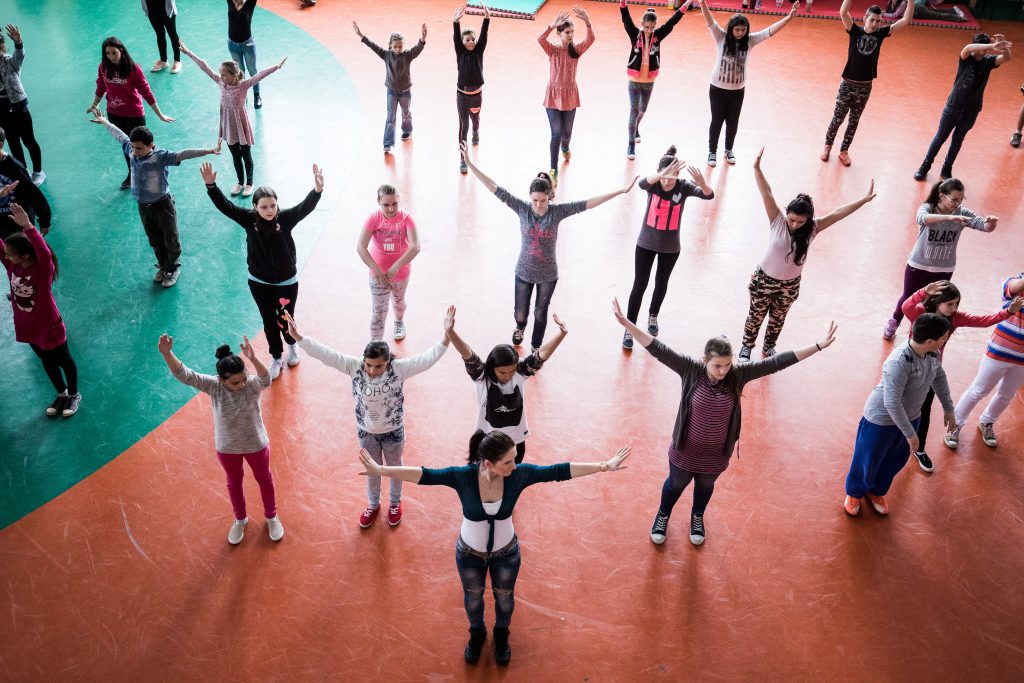 Higher, higher!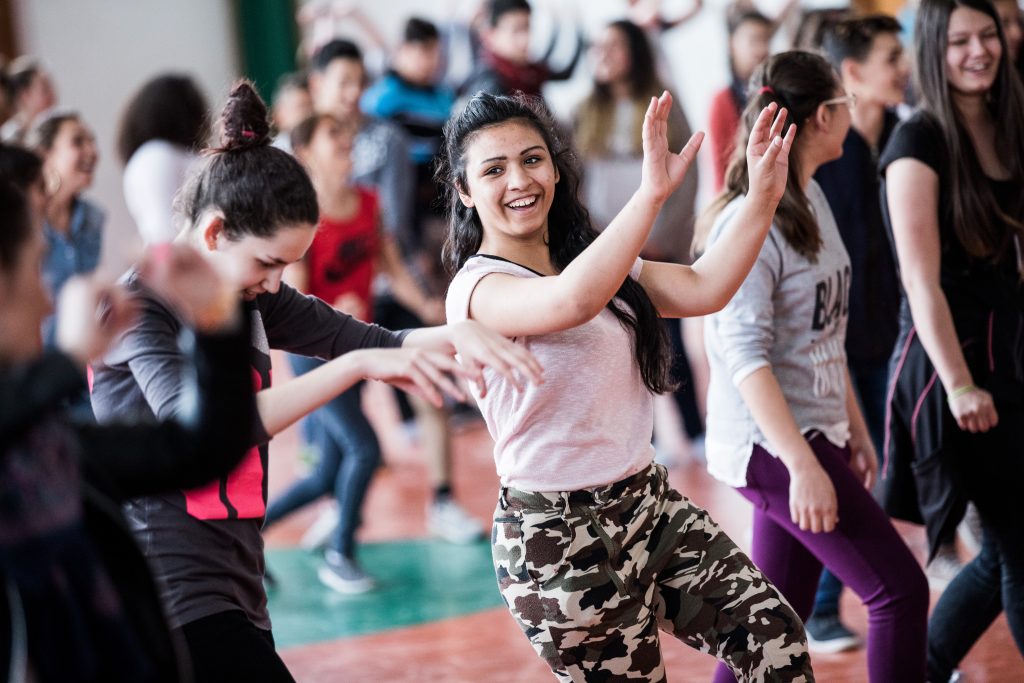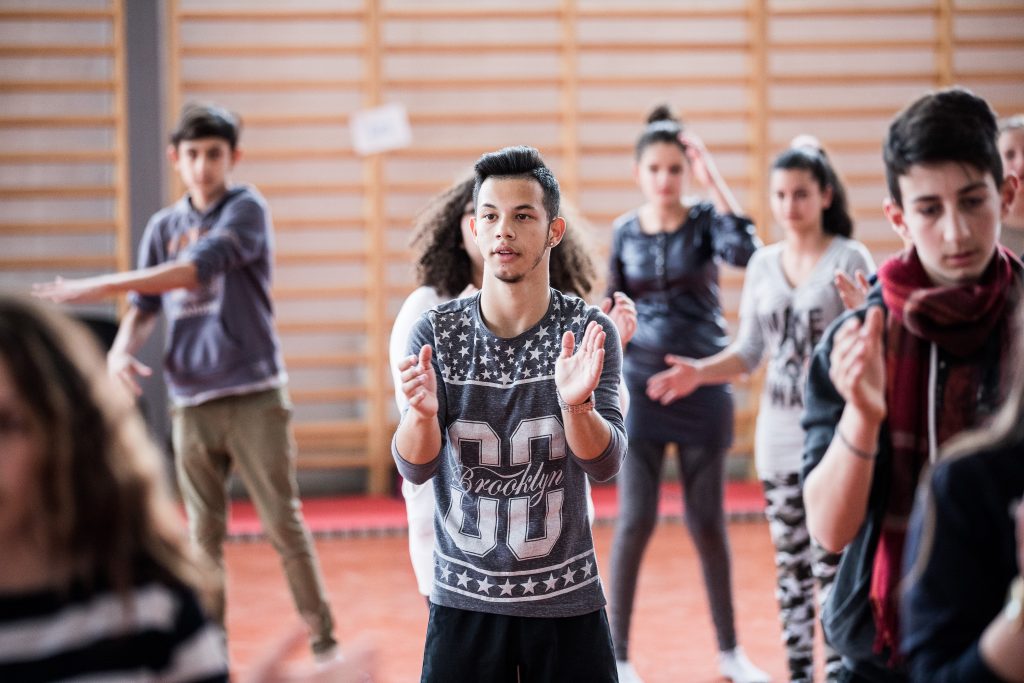 The garden hose was a big success in Salgótarján as well.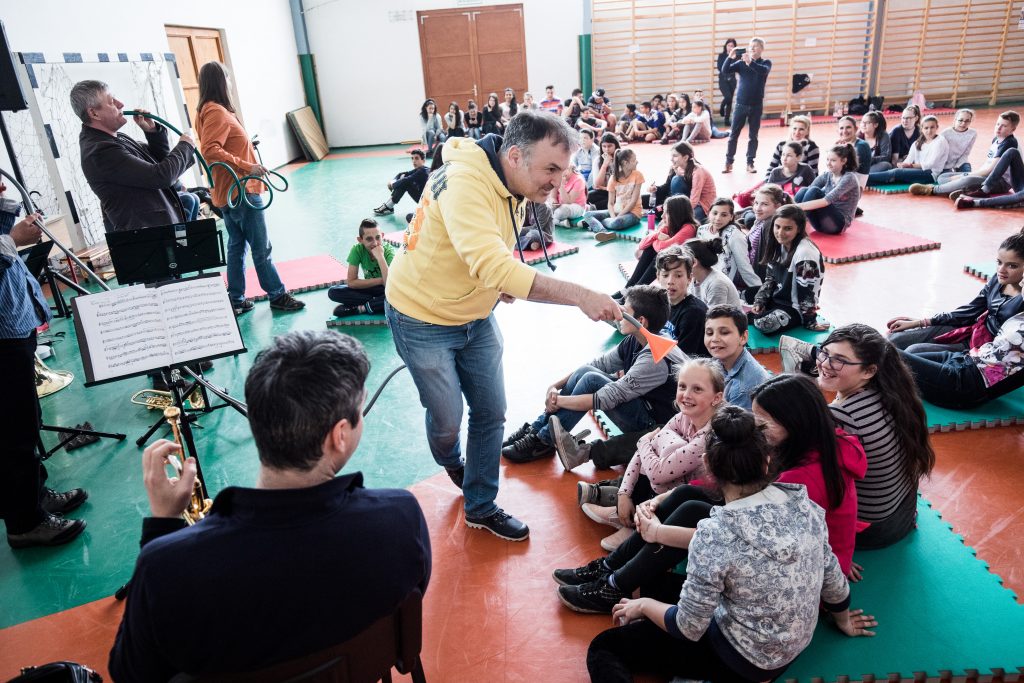 The most beautiful moments.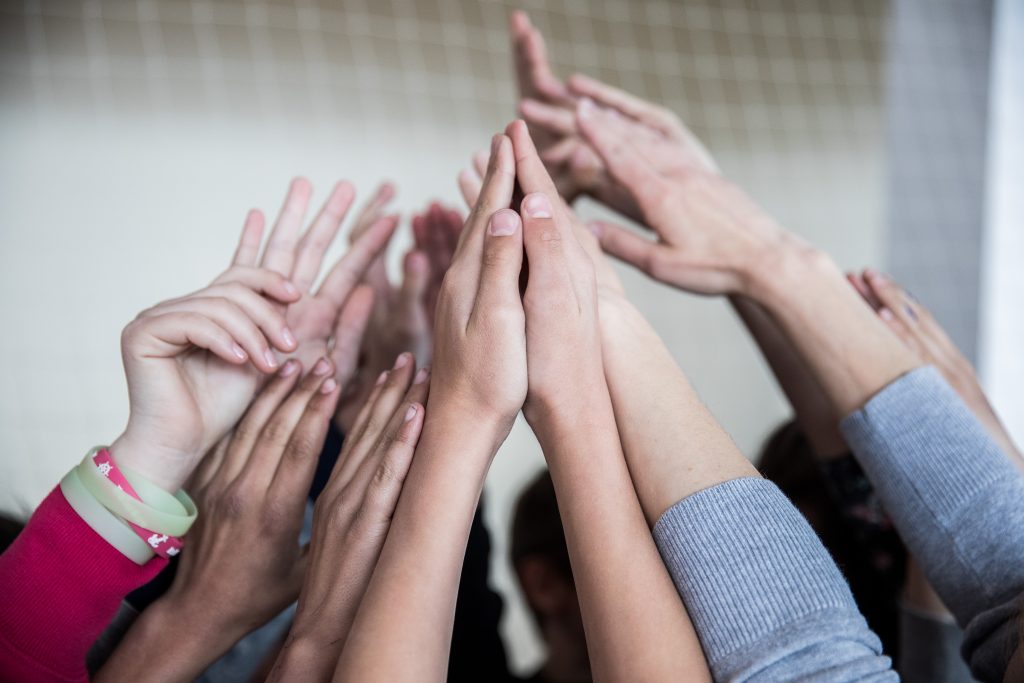 We went from the Renaissance to Harlem.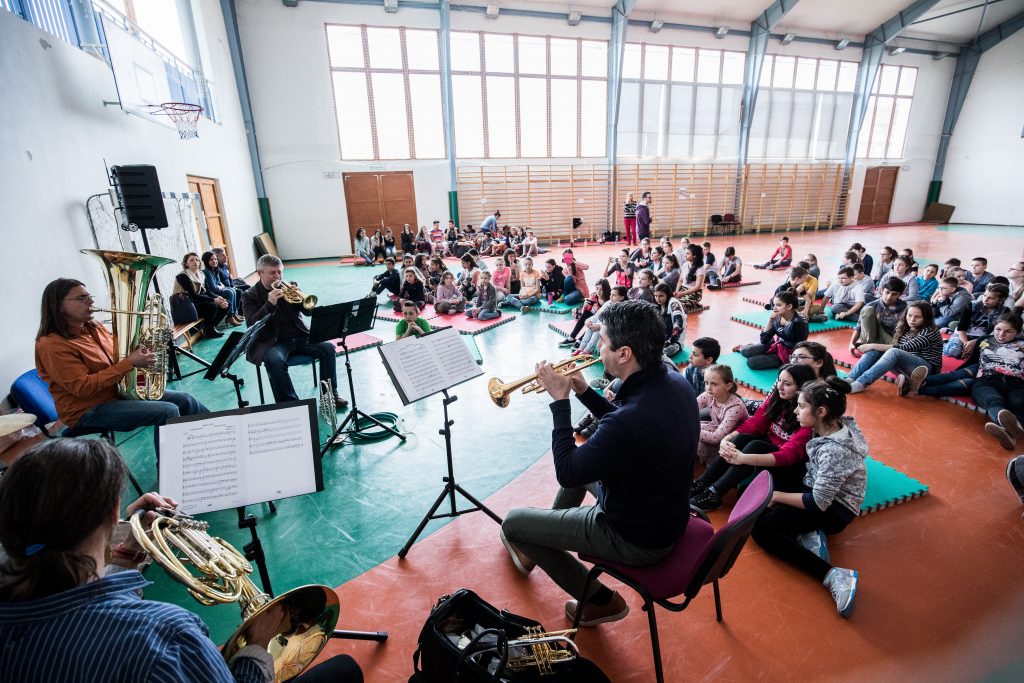 Even a gym can sound good.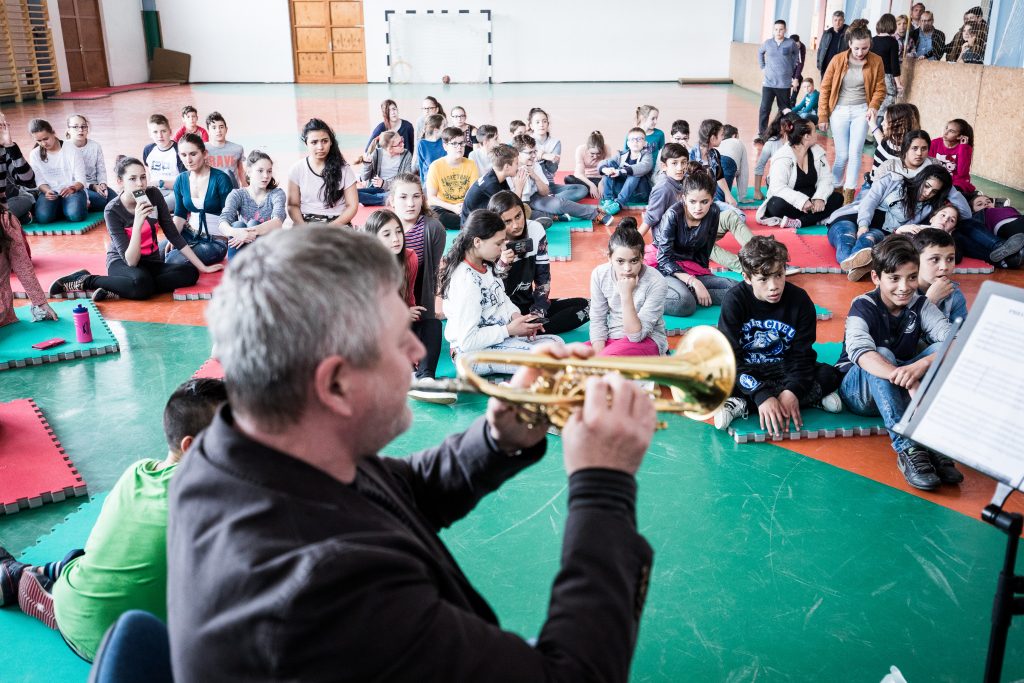 Photos: Ákos Stiller
"It's just so much fun!"
April 27, 2017, 2:28 pm
We met in Apátfalva on April 13, and finally had the chance to meet two of our junior ambassadors in person: Sándor Sinoros-Szabó and Domonkos Mátó Here too, there was plenty of song, dance and games.
"The first time it was exciting and interesting to perform at the Dancing on the Square concert; my legs were shaking a little bit, because there were so many people watching us dance. The second time it wasn't so scary, and then I was a bit more relaxed and got into it more. Now I can't wait for June, but for now, the main thing is to do my best at the rehearsals", said Domonkos. Sanyi chimed in: "Anyone who isn't at the Dancing on the Square concert is missing out on an amazing experience. Not everyone gets the chance to have a world-famous orchestra play for them. They're really good, it's great to be able to hear them live. It also doesn't happen every day that several thousand people are watching you on Heroes' Square, and they show it on TV too."
And of course, what matters the most: "it's just so much fun!"
One of the Festival Orchestra's generous supporters, Ágnes Németvölgyi sent the Dancing on the Square children some of her legendary "piano keys" cake. As usual, it was delicious!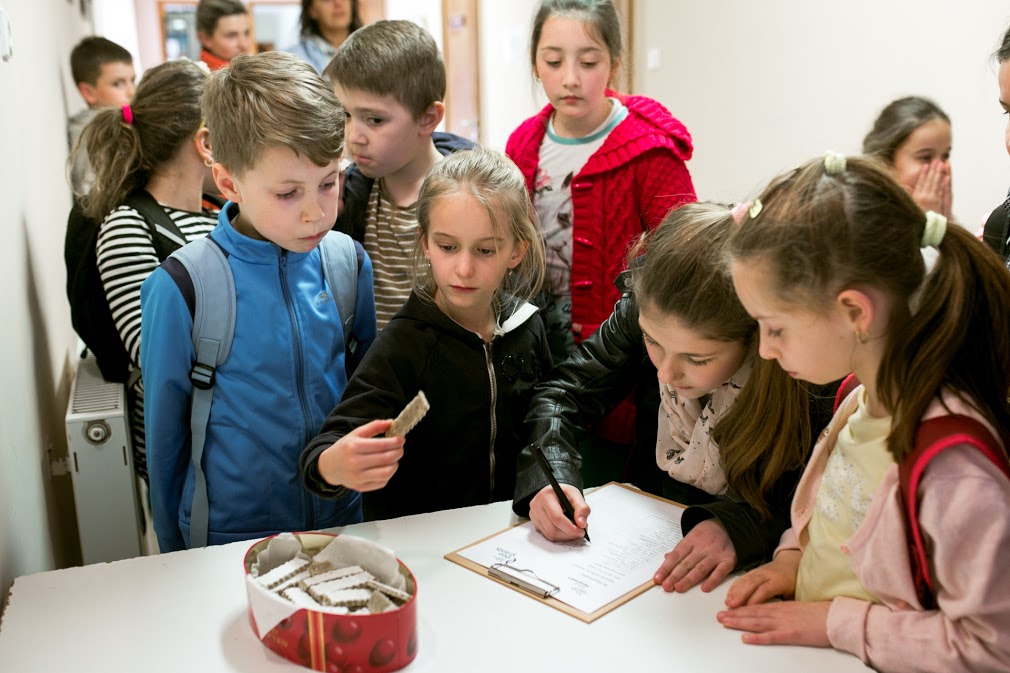 Time for some ball games! Rita Galambos had all the children moving in minutes.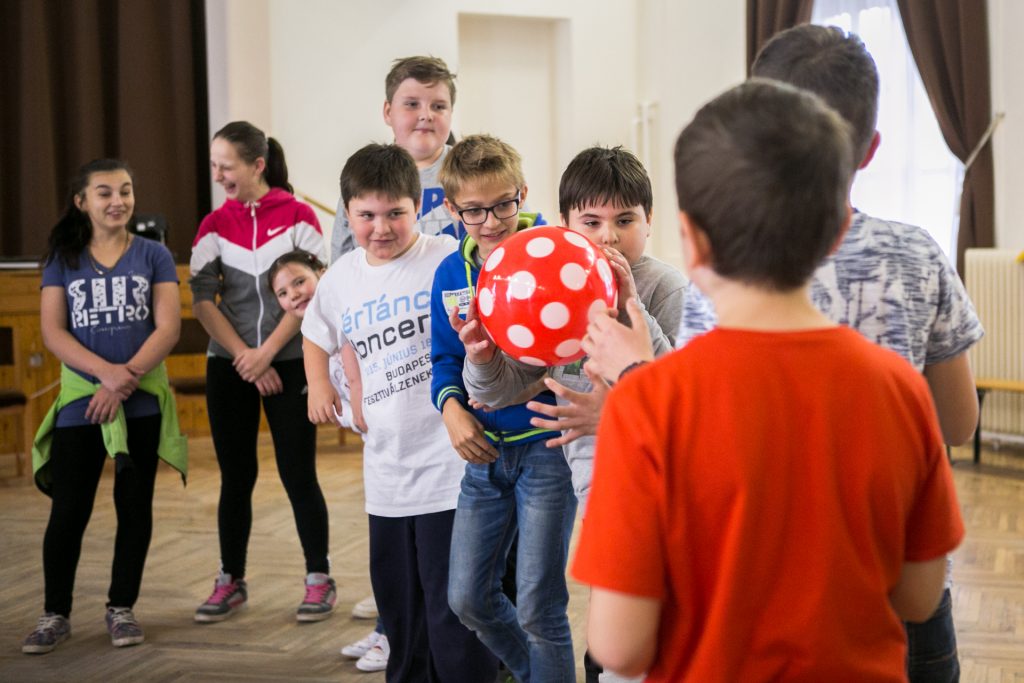 Let the dancing begin!
Position!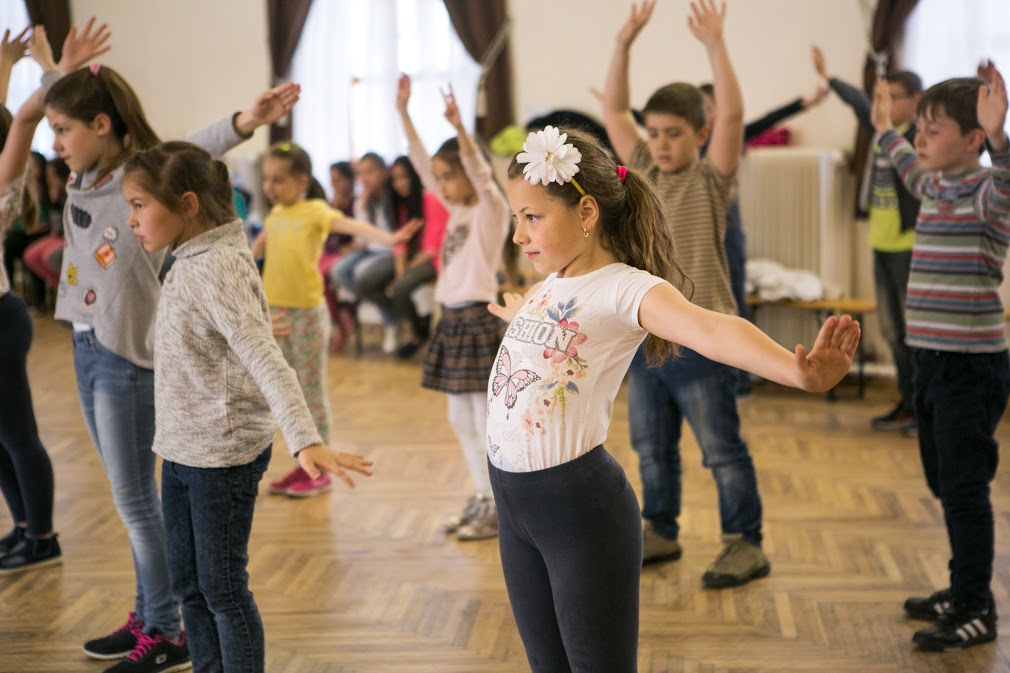 The joys of music.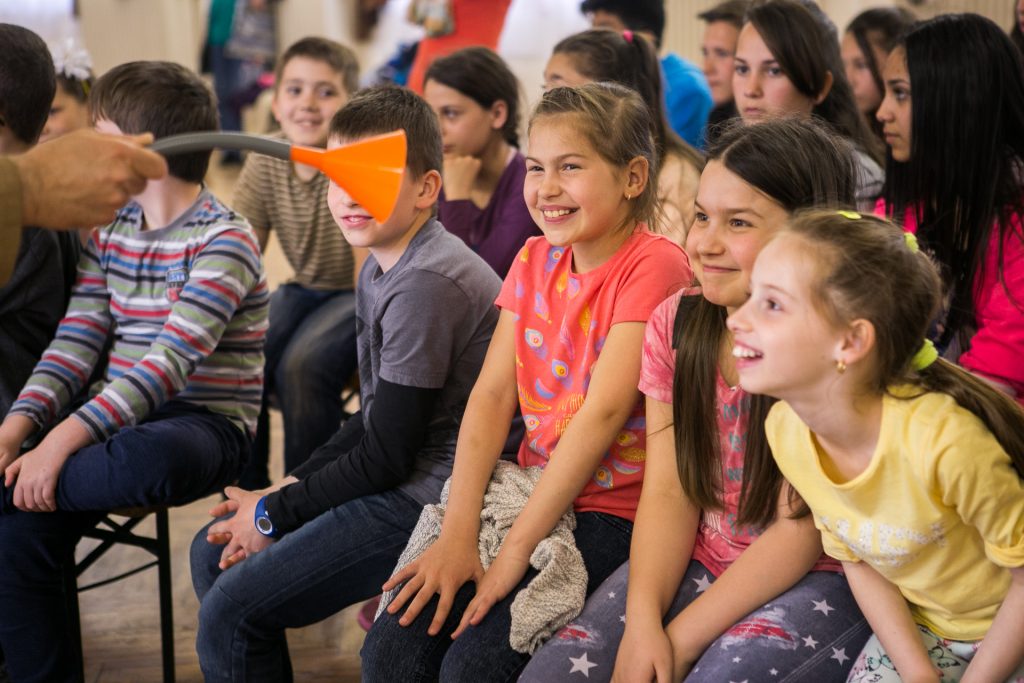 The Igazgyöngy Foundation's small delegation was a great team 🙂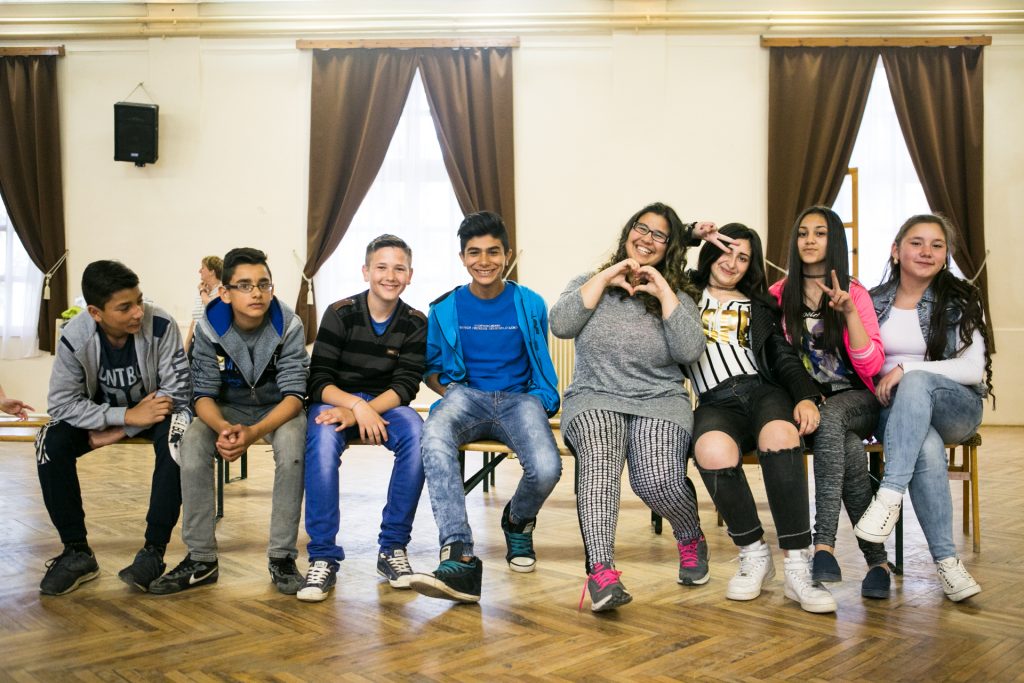 It's important to get closer to each other.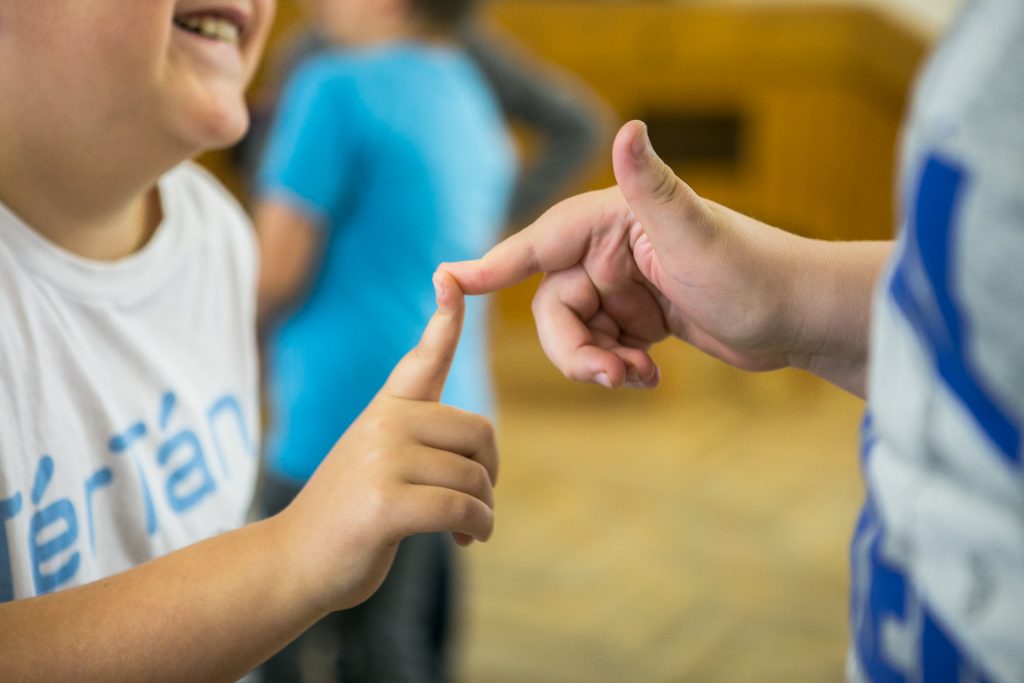 Focus, focus, focus! 🙂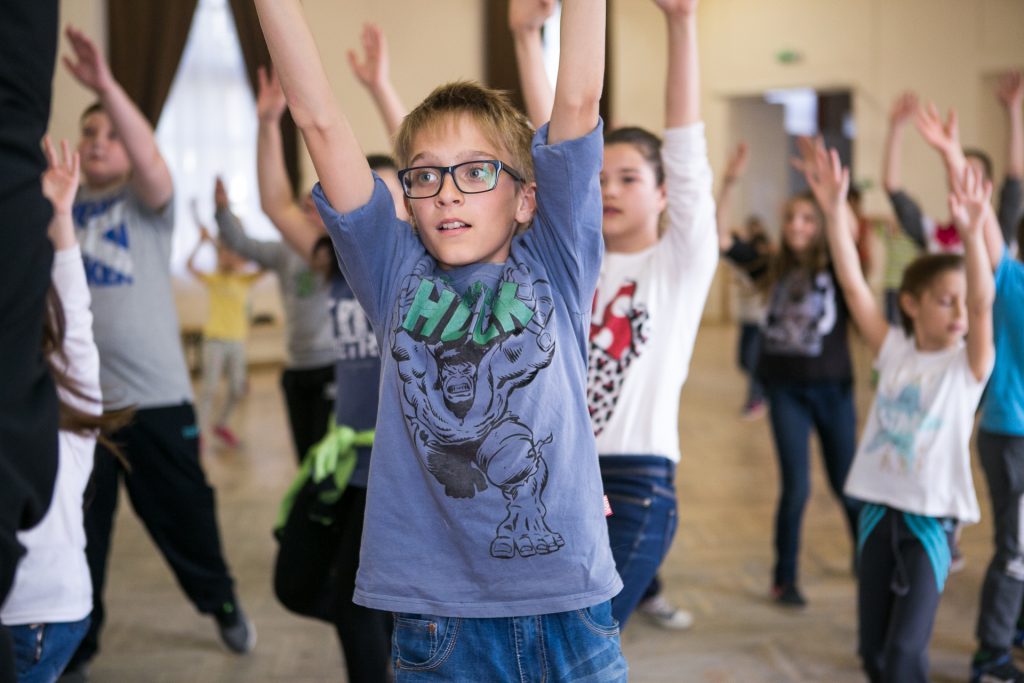 Jump!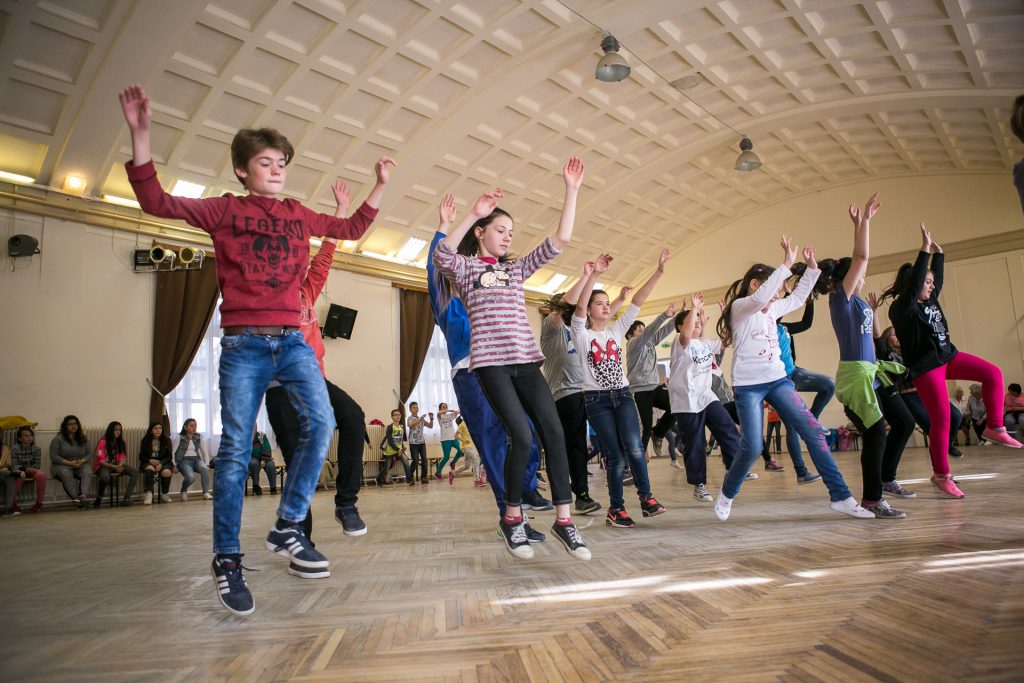 Photos: Fanni M. Benkő
"It's good to be together!" – Good times in Téglás
April 19, 2017, 6:27 pm
The second regional assembly was held in Téglás on April 11. It was wonderful to hear feedback from the children: "I love dancing!", "it's good to be together!" and "it's so amazing that we're here together and having fun". Our musicians even had their own "attendants" – check it out (and see how their eyes are shining):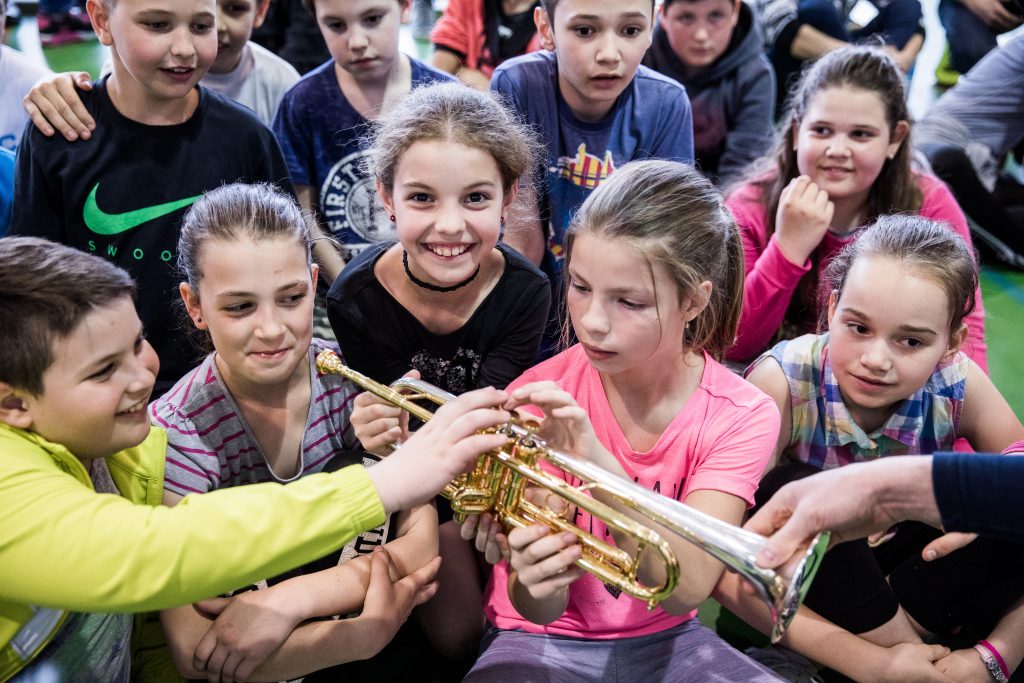 Who wants to help carry the drum set?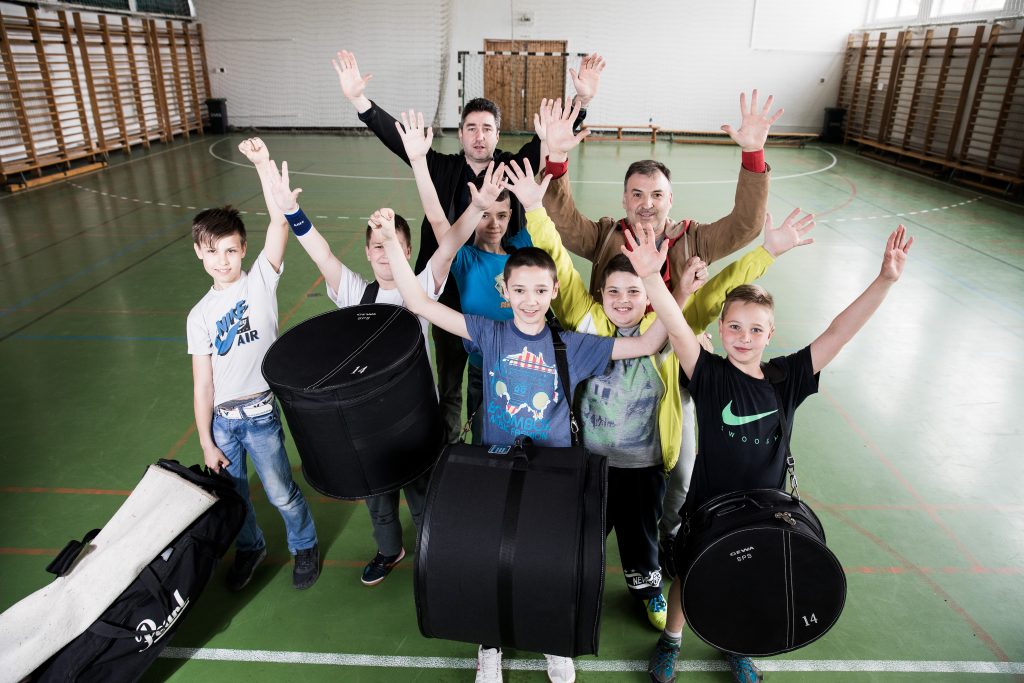 BFFs 🙂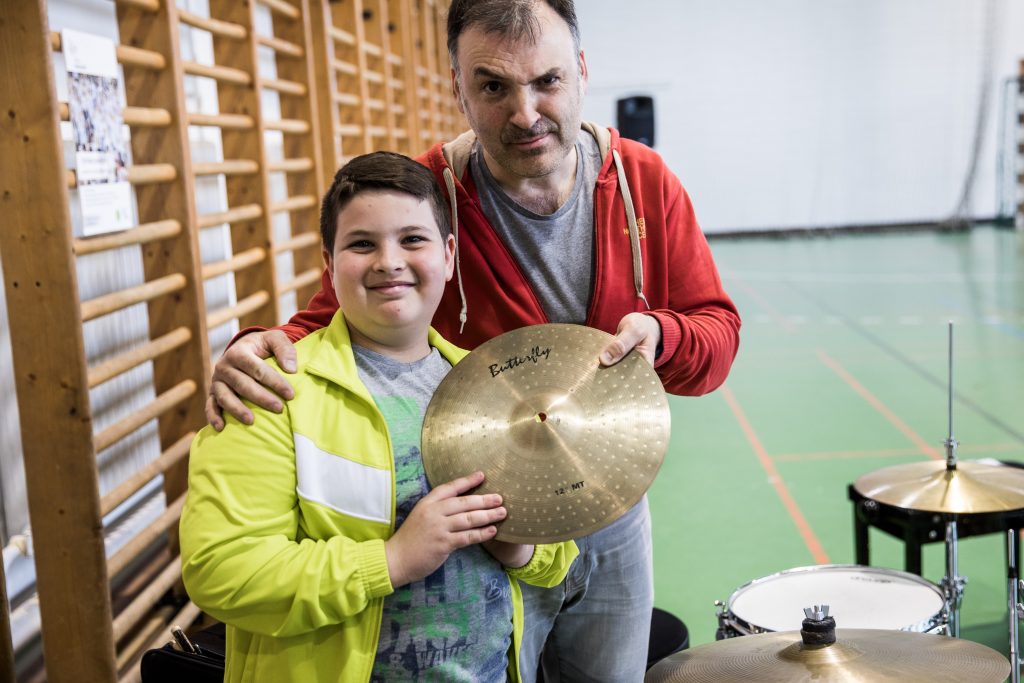 The bravest souls ventured even closer:
Even a garden hose can be a musical instrument: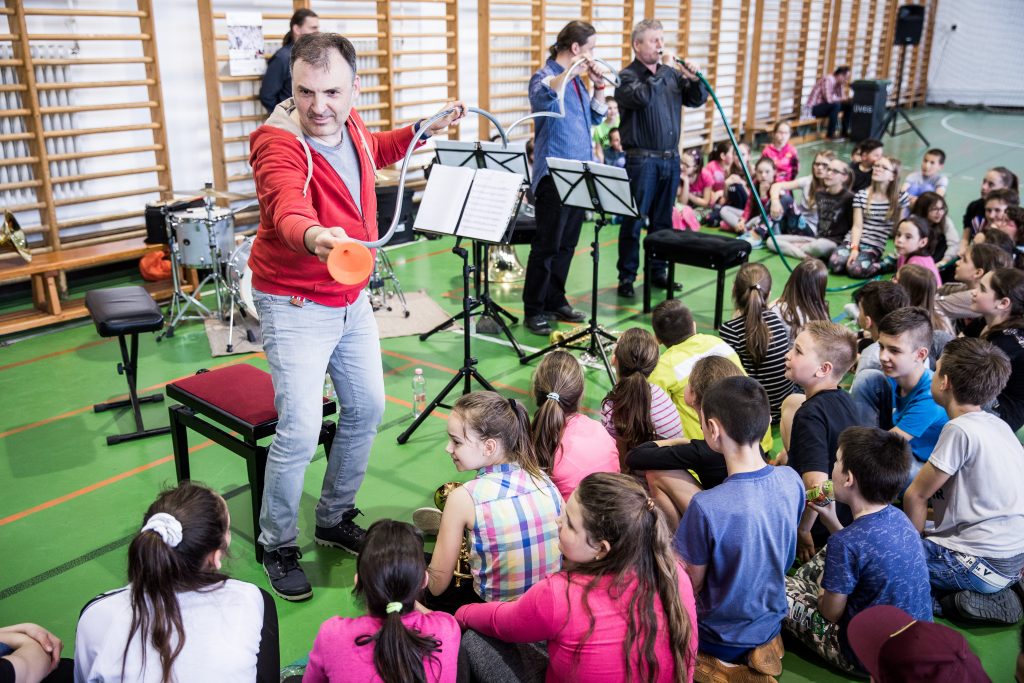 Dancing went great too:
Our lead choreographer, Bertalan Vári working his magic: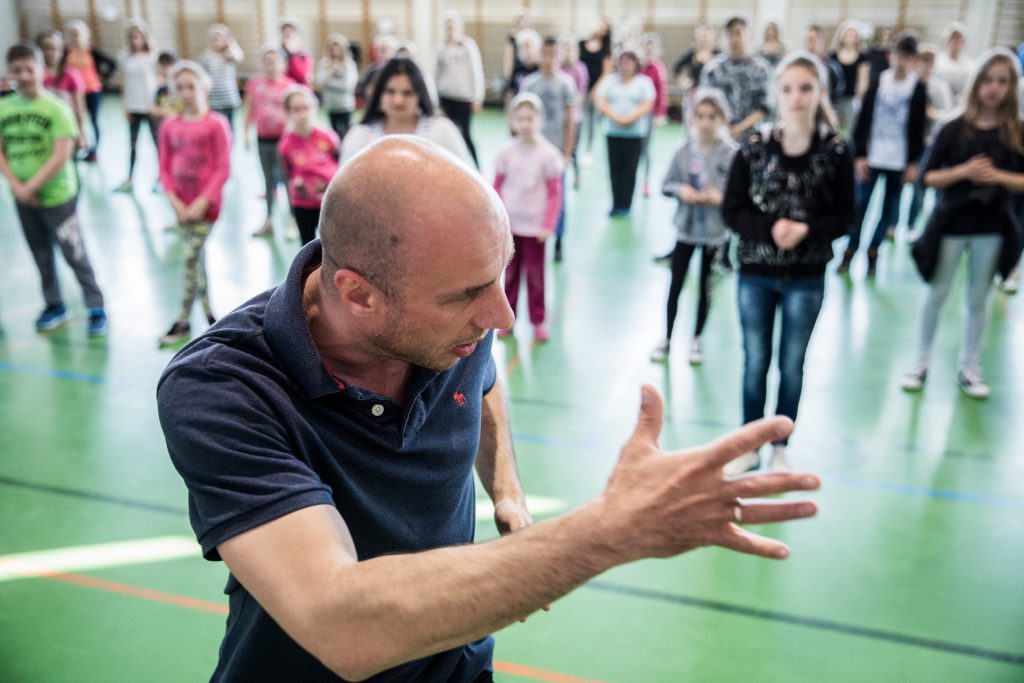 A dynamic team: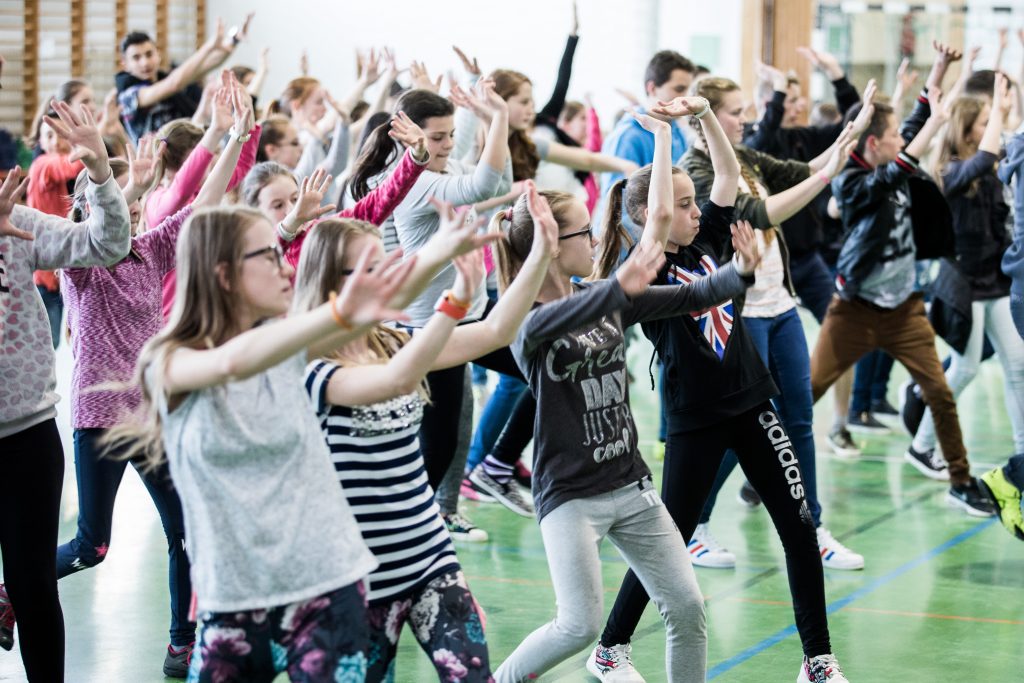 There was some running: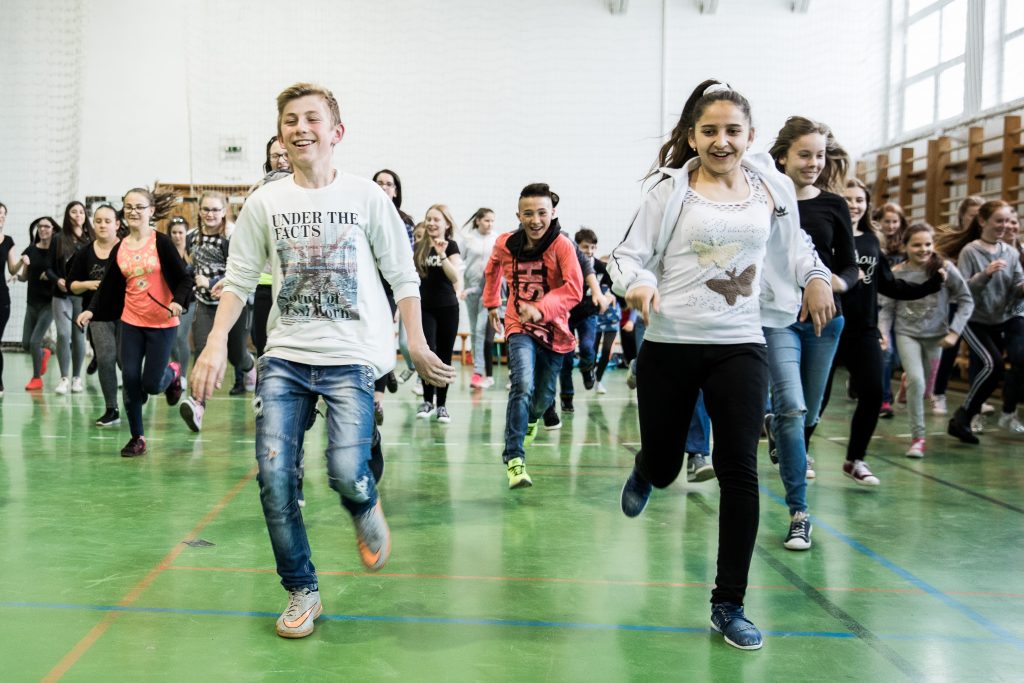 And some posing with friends relaxing at the end of the day 🙂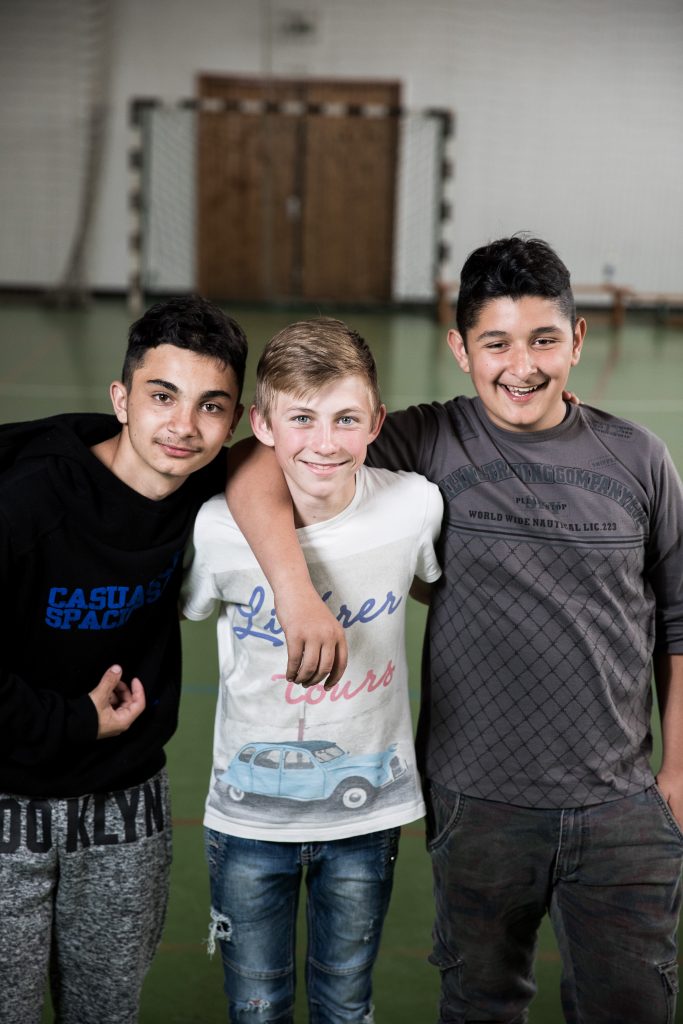 Photos: Ákos Stiller